Steve Holiner
coachfury.com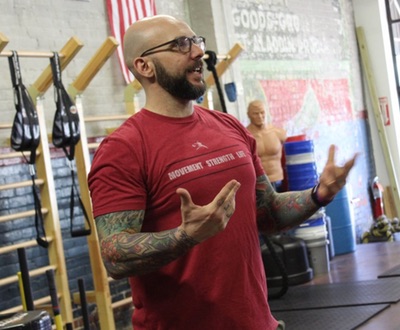 Steve "Coach Fury" Holiner is a trainer at Mark Fisher Fitness Bowery and the class design manager for both MFF locations. In addition to loving giant monsters, heavy music and Star Wars, Fury's a Master RKC, Master DVRT,  Original Strength Lead Instructor and a Strength Faction Mentor. He's a film major that went bald young and is getting hitched this year. Fury's mission statement is to provide strength, hope and Godzilla for a better life. He wants you to live a long vibrant life and to die mighty!
1. You're never going to get anywhere if you don't first take that active step to get what you want.
2. Approach humans as humans and approach everyone where they are at.
3. Teach don't just train! Create fitness nerds 🙂
In this episode we talk with Coach Fury a DVRT, RKC and Original Strength master instructor as well as a Ninja coach at Mark Fisher Fitness. Fury reminds us that if we want something, we need to be active in going out to get it. You'll never get anywhere if you don't first take that active step toward your goals. He reminds us to network and reach out and simply not be afraid to ASK.
He also discusses the importance of meeting each person where they are at and not just training but actually teaching and connecting. Being authentic and transparent is key to creating a community where people get results!
FURY'S FAST FIVE FITNESS FACTS
Q: What's your favorite exercise?
The Get Up
Q: What exercise do you hate…but love at the same time?
Pull Ups
Q: What is the best book you've ever read?
The Lord of the Rings Trilogy
Q: What is your favorite Pump Up Song?
The Bronx – History's Stranglers
Q: If you could train with one person (alive or dead) who would it be? 
Henry Rollins or Jackie Chan