WARM UP
Stretch and Roll Out:
Calves
Hamstrings
Quads
Groin
Hips/Glutes
Chest/Shoulders/Traps
Back/Lats
WORKOUT
Complete 5-8 rounds of each circuit. Do each drill for 30 seconds to 1 minute and then rest 30 seconds to 2 minutes between rounds. Rest 1-3 minutes between circuits.
CIRCUIT #1:
Locomotion Shadow Drills
CIRCUIT #2:
Partner Hand Shadow Drills
CIRCUIT #3:
Bull Dog Holds with Partner Pushes
COOL DOWN
Stretch and Roll Out:
Calves
Hamstrings
Quads
Groin
Hips/Glutes
Chest/Shoulders/Traps
Back/Lats
NOTES:
Have fun with your partner. While you want to work and challenge each other, this should be fun. This is best done with partners of an equal fitness level.
This is a great recovery workout that helps improve your hand-eye coordination as well as your reaction time.
EXERCISE DESCRIPTIONS:
Locomotion Shadow Drills – Both partners work at the same time. One leads and the other follows. Alternate who leads the drill. The leading partner should try to change directions quickly and keep the space they use small so that the other partner is forced to make quick changes. Shuffles, sprints, back pedaling – Move in any and every direction and challenge your partner to move quickly and follow you.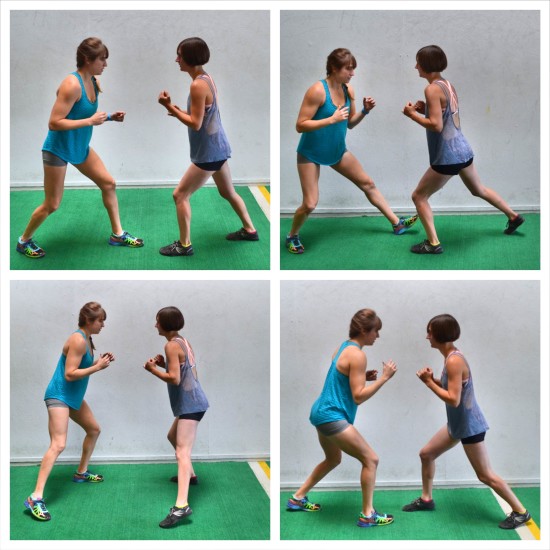 Partner Hand Shadow Drills – Alternate rounds of who leads. You should also do rounds with palms together and then the backs of your hands together. One partner will move their hand and the other will following, keeping their palm or the back of their hand right against their partners. Move the hand high, low and side-to-side, making your partner follow.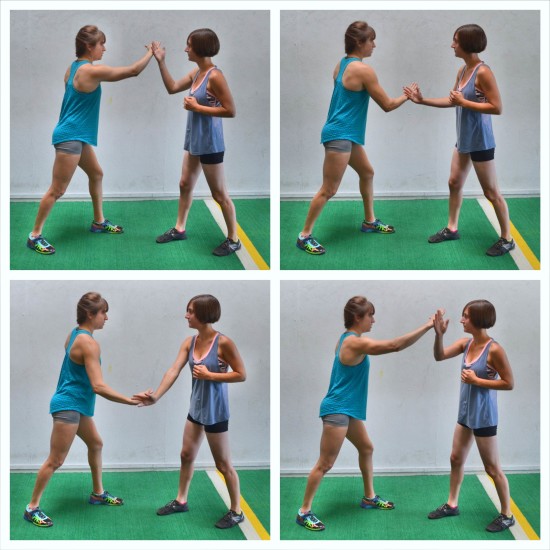 Bull Dog Holds with Partner Pushes – One partner will set up in the bull dog position and hold. The bull dog position is on your hands and toes with your hands under your shoulders and your knees under your hips. The other partner will push and pull the partner in the bull dog hold, challenging them to stabilize in every direction. Do not pull your partner over but make sure they have to really work to stabilize.