Easy To Prep Meals – Slow Cooker Hawaiian BBQ Chicken
One reason I often hear people say they "fall off their diet" is because there is just too much prep.
Or it takes too much time and they just didn't have time.
Or they didn't have anything prepped so grabbed the fastest, easiest thing around (aka they didn't have time to prep so ended up with something not so healthy).
But PREP is key.
So how can you prep when you are short on time?!
Well two of my favorite ways to make prepping healthy and delicious food for the week fast and easy are casseroles and the slow cooker!
With both options, you can quickly prep for the week AND you can basically just put ingredients in and let them sit and cook for awhile!
This recipe is actually one that Ashley made to help herself stay on track with my Macro Cycling Shred. (Picture is courtesy of her too!)
Slow Cooker Hawaiian BBQ Chicken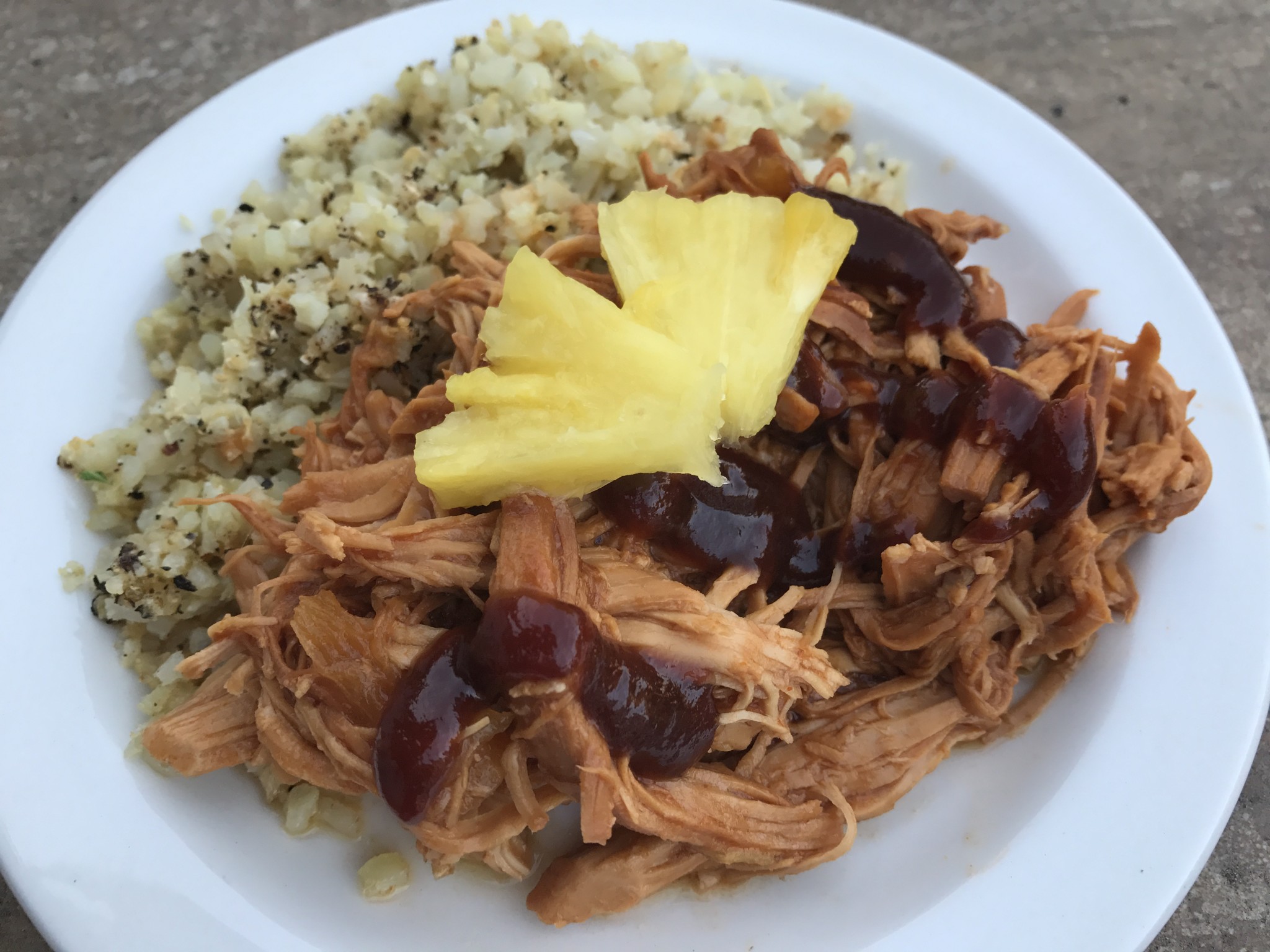 Servings: 6
Ingredients:
1/2 cups Organic Chicken Broth
3/4 cups Bbq Sauce (a homemade option below)
2 pounds Chicken Breast (Boneless, Skinless)
1/4 teaspoons Salt
8 oz Crushed Pineapple In 100% Juice (canned)
Instructions:
Add the chicken breasts to a sprayed or lined slow cooker. Sprinkle with the salt and top with the crushed pineapple and BBQ sauce.
Add a ½ c. chicken broth or pineapple juice.
Cook on low for 4-5 hours.
With 30 minutes of cooking time left, shred the chicken using two forks. (If using frozen chicken in the Crock Pot, cook on low for 5-6 hours.)
MACRO BREAKDOWN (per serving):
Calories: 290
Protein: 48 grams
Carbs: 12 grams
Fat: 5 grams
While you can of course get a pre-made, but healthier BBQ sauce option from Trader Joe's, you can also try making the one below. It is delicious!
Homemade BBQ Sauce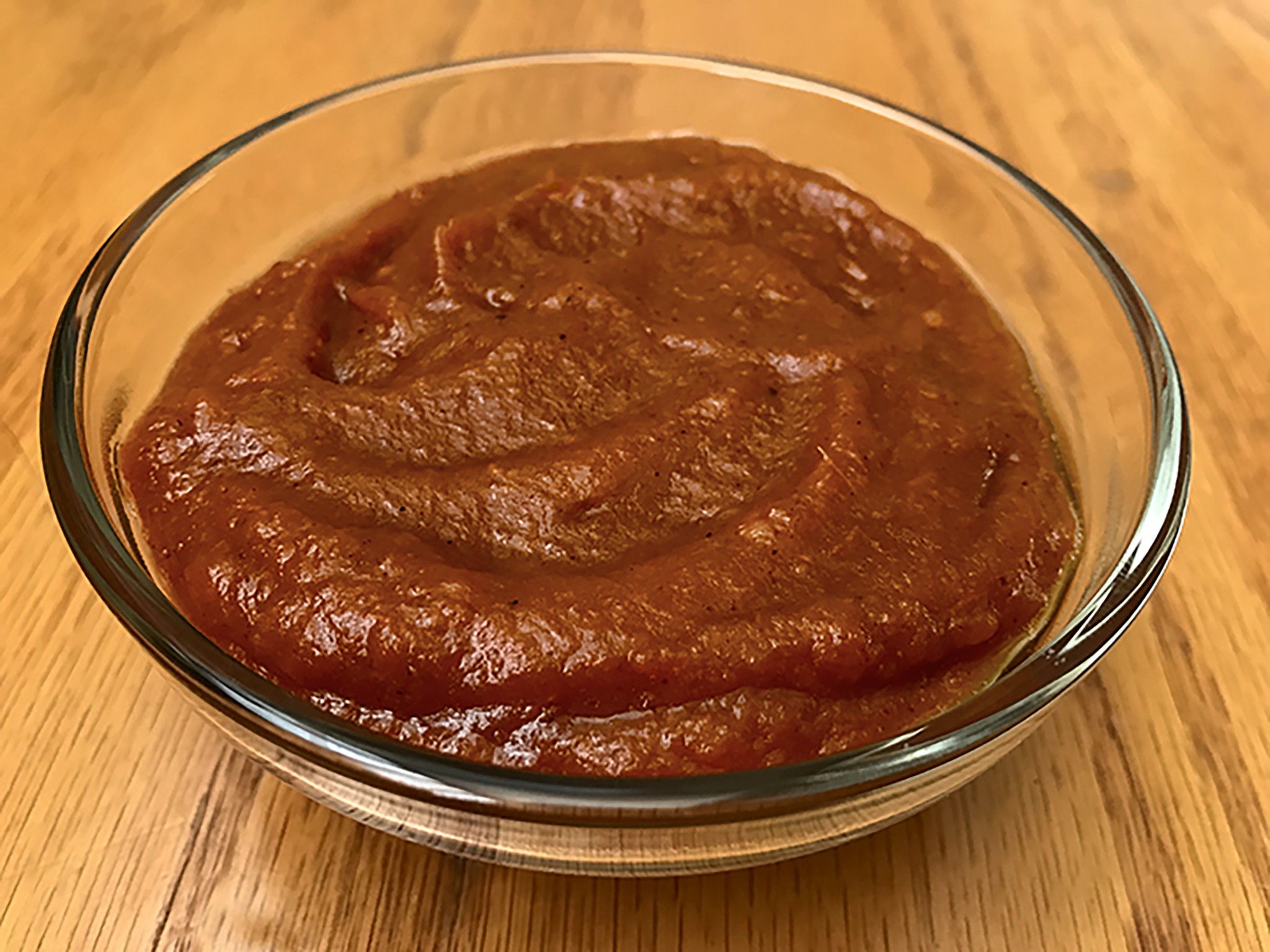 Servings: 6 (about 97 grams per serving)
Ingredients:
352 grams Roma Tomato (about 1 medium)
1/2 cups Diced Onion
1 serving Garlic Raw Cloves (3)
182 grams 1 Small Apple (so about one small apple)
1 teaspoons Chili Powder
1/2 teaspoons Paprika, Ground
1/4 teaspoons Cayenne Pepper
1 teaspoons Coriander Leaf, Dried 1/2 teaspoons Salt
1/4 teaspoons Black Pepper, Ground 1 grams 1 Bay Leaf
1 teaspoons Balsamic Vinegar
1/2 tablespoons Soy Sauce (shoyu) 2 tablespoons Apple Cider Vinegar
3 tablespoons Raw Local Honey
Instructions
**About 4 tomatoes and 1 onion…
Dice the tomatoes, onions, garlic and apple (leave the skin on the apple). Size of dice not important.
Add all ingredients to a pot. Cover and simmer on medium/medium-low (depending on your stove) for about 30-40 minutes. You want it simmering, but not boiling, and not high enough to burn.
After 30-40 minutes, all of the ingredients should be cooked and pretty well broken down. It should be starting to look sauce-like, but still a bit on the chunky side. At this point, turn the heat off, remove the bay leaf, and use a blender or stick blender to combine everything!
MACRO BREAKDOWN (per serving):
Calories: 70
Protein: 1 grams
Carbs: 17 grams
Fat: 0 grams
Ready to start a diet with delicious, easy to prep meals? Check out my Macro Cycling Shred!