WARM UP
Stretch and Roll Out:
Calves
Hamstrings
Quads
Groin
Hips/Glutes
IT Bands
WORKOUT
Before you begin the 10-7-3-1 rounds, do a round or two of lighter back squats for 10 reps. Then complete 3 rounds of Circuit #1 with 1-2 minutes rest in between each round.
After completing Circuit #1, rest 2-3 minutes then begin Circuit #2. Complete 3-5 rounds, resting 30 seconds to 1 minute between rounds.
CIRCUIT #1:
10-7-3-1 Back Squat
CIRCUIT #2:
8-12 reps per side Single Leg Squats
8-12 reps per side Balance Lunges
15-20 reps Squat Jumps
COOL DOWN
Stretch and Roll Out:
Calves
Hamstrings
Quads
Groin
Hips/Glutes
IT Bands
NOTES:
These workouts are all for advanced lifters who can maintain good lifting form. When you first start out, use a light weight that allows you to maintain perfect form through all the reps.
For 10-7-3-1 rounds, you perform 10 reps followed by 10 seconds of rest, 7 reps followed by 7 seconds of rest, 3 reps and 3 seconds of rest then 1 rep and enough rest between rounds. You want to pick a weight that challenges you for the 10 reps. You will then proceed to use the little rest to help you complete a total of 21 reps with a weight you didn't feel like you could do much more than 10 reps with.
Beginners should start light for the first round and work up as they feel more comfortable until they are using a weight where they may even fail before the one rep.
EXERCISE DESCRIPTIONS:
Back Squat – Using a squat rack, step under the barbell, placing it up on your shoulders with your hands grabbing the bar to stabilize. Step back, taking the barbell off the rack. Keeping your chest up and back flat, push your butt back and squat down. Sit back into your heels and don't lean forward as you squat. Drive back up through your heels to come back to standing. Keep your core tight as you squat. Rest at the top of your squat.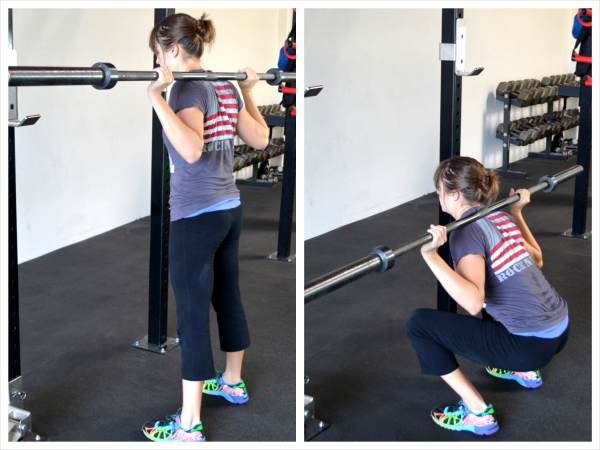 Single Leg Squats –  Choose a variation of the single leg squat that is right for you. Beginners may use a box step while more advanced lifters may use a doorway, TRX or XT straps for balance. If you can do a full pistol squat or use a plate weight to counter balance you, do that variation. Choose as hard a variation as you can do. To perform the basic single leg squat to bench, you will start by standing on one leg. Hold the other leg straight out in front of you. Lower yourself down until you are sitting on the box or table. Then driving off the heel on the ground, stand back up. Do not lean way forward or touch your raised foot to the ground. If you use a box, the more you allow yourself to sit down, the easier the move will be. The more you just lightly touch the box and come right back up, the harder the move will be. Also the lower the box you use or the lower down you go on any variation, the harder the move will be.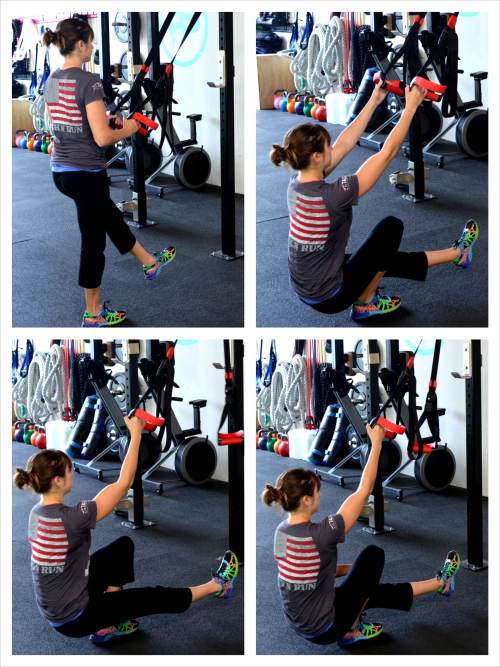 Balance Lunges – Place your back foot up on a table, bench, chair or box. Do not let the chair or bench be too high. Hop your front foot out so you are in a nice wide stance with your back foot up on the box. Then sink down, dropping your back knee toward the ground. Really sit back into the lunge. Make sure you aren't going forward and that your front knee is not going past your toe. You should feel a nice stretch in the front of the leg that is back when doing this move. Beginners may want to use a super low box or do the move from the ground.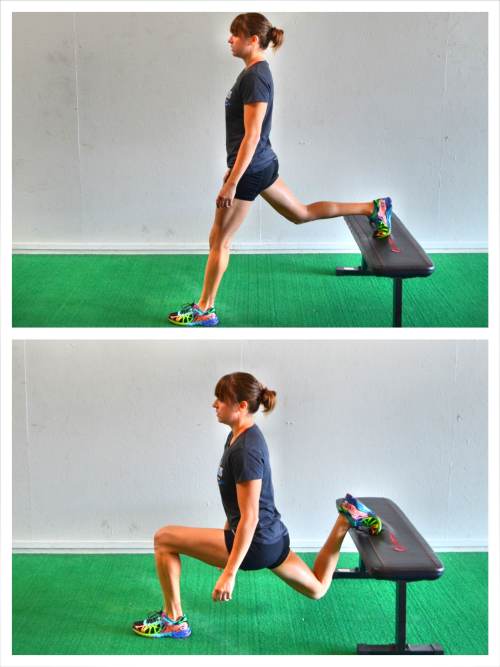 Squat Jumps – Stand with your feet between hip-width and shoulder-width apart. Perform a shallow squat and explode as high off the ground as possible, reaching overhead and extending your body. Do not squat too low. If you drop too low in a squat, you will actually reduce your power. Beginners may need to rest between each rep; however, that doesn't mean landing with your legs straight. You should never land with your legs completely locked. Bend your knees to help you absorb the impact of landing.To make the move harder, jump up and sink right back into the squat to repeat as quickly as possible. Really focus on a soft landing and then exploding quickly into as high a jump as you can.