WARM UP
Stretch and Roll Out:
Calves
Hamstrings
Quads
Groin
Hips/Glutes
WORKOUT
Complete 3-5 rounds of Circuit #1. Rest 1-2 minutes between each round. Then rest 1-2 minutes between circuits.
Complete 3-5 rounds of Circuit #2. Rest 30 seconds to 1 minute between rounds.
CIRCUIT #1:
8-12 reps Barbell Hip Thrusters
CIRCUIT #2:
5-12 reps per side Backward Rotational and Front Cross Lunges
8-12 reps per side Lateral Step Ups
15-20 Reverse Hypers
COOL DOWN
Stretch and Roll Out:
Calves
Hamstrings
Quads
Groin
Hips/Glutes
Want Over 700 Glute Workouts In The Palms Of Your Hands?! Check Out My Glute Camp!
NOTES:
Beginners may need to start with a glute bridge variation over the barbell hip thruster. Those variations are listed below.
The first time you do the workout, use only bodyweight on the second circuit. It is a lot of reps so do the first round without weight and then add from there.
EXERCISE DESCRIPTIONS:
Barbell Hip Thrusters – Set up a bench so that it won't move as you bridge up onto it. Take a barbell and put some padding around it. Place your upper back on the bench and sit your butt on the ground with your legs out straight. Place the barbell over your hips and plant your feet firmly on the ground and close to your butt. Drive up through your heels and your upper back on the bench. Squeeze your glutes and press your hips up as high as possible, driving the barbell up and off the ground. Hold a second or two at the top and then lower back down and repeat. Do not hyperextend your back at the top. Keep your belly button pulled in toward your spine and really squeeze your glutes at the top. Beginners will want to progress up to the barbell variation. Beginners may need two boxes to start. They will place their upper back on one and their heels on the other. Bring your butt up off the ground, driving through your heels on the box and your upper back. Bridge up into a nice straight line, squeezing your glutes and then lower your butt back down almost to the ground. Repeat, holding just a second or two at the top. To advance that move while still not using a barbell, do a single leg variation. Once you feel comfortable with the single leg variation, attempt a very light weight hip thruster.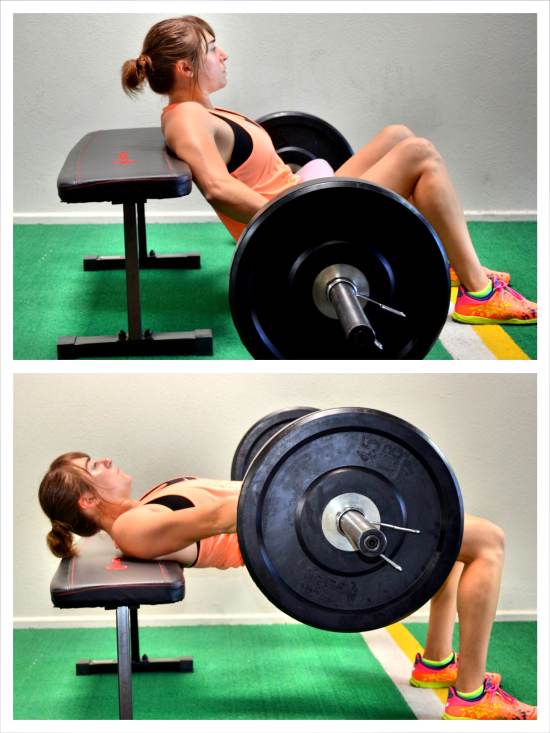 Backward Rotational and Front Cross Lunges – This move is two lunges, one opening back and the other lunging forward and across. One rep is both the open back lunge and the front cross lunge. For the backward lunge, you will lunge toward "5″ on the clock with your right foot. Your right foot, when you step back, will be perpendicular to your left foot, which is pointing toward "12." Push your butt back and sink into a lunge, bending the right knee while keeping the left leg straight. Do not let the right heel come up. Keep your chest up and sit your butt backward. Driving off your right heel, push back to standing. Make sure that your left toe doesn't rotate but continues to point toward "12." Also make sure your left leg does not bend.Once you push back to standing, you are going to take your right foot and step forward and across. Beginners will need to pause between lunges while more advanced exercisers will go right from one to the other. For the front cross lunge, lunge forward and across toward about "10″ on the clock with your right foot. Pivot your right foot so that your feet are perpendicular. Sink down into a lunge, bending both knees. Make sure your right heel stays down as you lunge. Then drive off your right heel to come back to standing and repeat going into the backward rotational lunge. Front load, holding a weight at your chest to advance the move.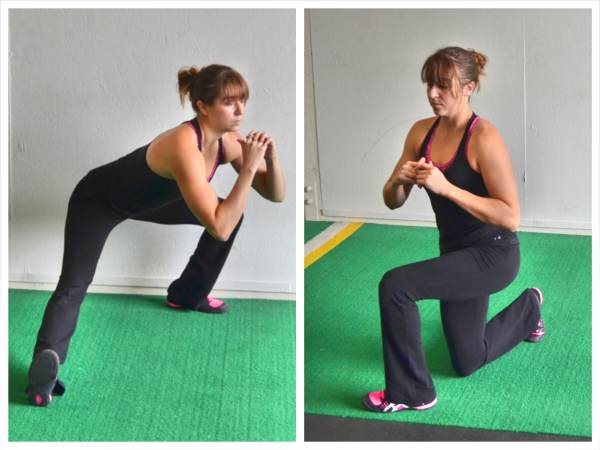 Lateral Step Ups – The higher the bench or box you use, the harder this move will be. Do not use a box that is too high. If you have to push off the foot on the ground or if you really lean forward to propel yourself up, the box is too high. Stand with the box next to your right side. Place your right foot on top of it without rotating toward the box. Drive up through the heel of the foot on the box until you are standing on the box. Drive the left knee up as you lift up onto the box. Then step back down and repeat. Keep your chest up as you drive up. Do not lean forward or let your heel on top of the box come up. Complete all reps on one side before switching. Challenge yourself first with a higher box and then with weight. If one box is too high and the other is too low, you can add weight and use the lower box to make the step ups harder.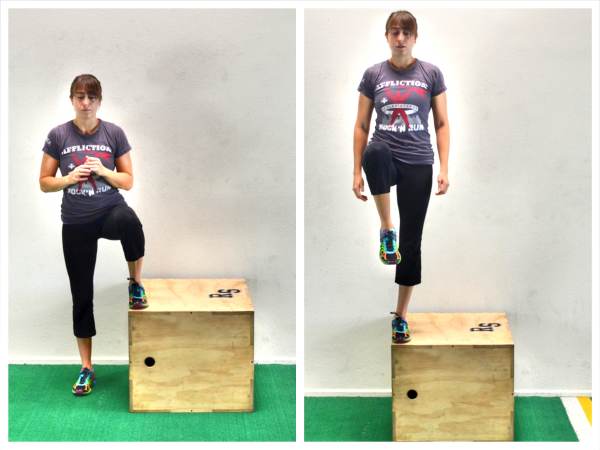 Reverse Hypers – Lie face down on a table, bench or box. Make sure your hips are right at the edge. Hold on to something in front of you if you want. Keep your upper body relaxed. Squeeze your legs together and point your toes out. Lift your legs to basically parallel to the ground, keeping your legs straight. Do not hyperextend your back and lift way higher than parallel. You do not want to feel this in your low back. Hold for 2-5 seconds and then lower down. Keep your core tight and really squeeze your glutes as you lift.