Struggling To See

Results?

Uncover the

Missing Piece
Stop Crash Dieting. Stop Overtraining.
Are you sick of feeling like you have to starve yourself and spend more and more time training to see a fraction of the results you used to?
Are you worried you're just doomed to keep gaining weight as you get older?
It is possible to feel like your strongest, most fabulous self regardless of your age while eating more and training less…
Sound like another empty promise? Another quick fix that doesn't get you results?
Well it isn't.
Honestly, this breakthrough requires you to make one of the hardest changes EVER…
To go against what the dieting industry has led you to believe and the dieting and training practices you've always done in the past.
It will challenge you to stop trying to do longer workouts…
To stop trying to out exercise your diet.
It will challenge you to stop trying to eat less and force down bland, boring diet foods you don't enjoy…
It will force you to STOP overtraining and under fueling.
It will challenge you to step back and make a change, but the good part is…
YOU AREN'T ALONE ON THIS JOURNEY!
This is why I offer my 1:1 Online Coaching.
I want to break down how, with the help of my coaching, you can create a healthier relationship with food and learn to fuel your body while training the way you want to see the LASTING results you deserve…
Because it's time to stop feeling frustrated by your results and start feeling FABULOUS!
Follow along meal plans and free online calculators are a great starting point, but they're simply guesswork.
And workout programs just mapped out with a goal in mind while not taking into consideration your exact mobility restrictions and training history and how you progress, well they lead to quick plateaus and lackluster results.
One size doesn't fit all.
We know this.
But that's why it's key we have the support we need to assess what is and isn't working and make changes.
 That's why it's key we have a mentor there to guide us and adjust our programming based on the way results are ACTUALLY building.
Get the support, accountability and guidance you need so you can stop wasting time on fad diets and quick fixes that aren't customized to your needs and goals!
The 3 Phase Strategy Built For Your Body and Your Goals
It's time to stop chasing what you want and actually achieve it.
This means not only knowing what your goal is, but creating the SYSTEMS that build those results.
Too often we start a program so focused on the outcome that we don't ever truly create the systems, those daily habits and routines, that lead to us becoming the person that achieves our goal.
And that's ultimately why we end up in the same spot, or even worse off, than where we started!
That's where my 1:1 coaching can help.
No more dreaming of achieving your goal.
You're going to get to DOING the things you need to achieve success!
But this is also why my coaching program starts with the Belief Breaking phase.
Ultimately only YOU can change your life.
But part of what holds us back is the current beliefs we hold and habits we repeat.
We know what we WANT to achieve.
Heck, often we are even putting in a ton of hard work already to try to move forward.
However, to create the habits that truly lead to lasting results, we can't just be white-knuckling our way through or forcing ourselves to constantly do things by relying on "willpower" or "discipline."
We need to create habits that actually become a part of who and what we are – that become part of our IDENTITY!
And this means changing our beliefs!
Because it isn't one single accomplishment or action that gets us results, it is the process of continual improvement on those daily habits that creates the trajectory toward our goals.
But you can't create that plan to move you forward if you don't know where you're starting from!
In this phase, you'll really break down and assess YOUR beliefs, habits, needs and goals to create the plan right for you because one size doesn't fit all.
Once you truly understand where you're starting from, you can meet yourself where you are at to make changes.
You can create those daily repeatable habits. Understand YOUR priorities to plan around.
But breaking our beliefs to change our habits and move forward won't be easy.
It's why you have us there to help!
While this phase is often the shortest part, it is the HARDEST part of the program.
We want results and we want them now and often we don't want to pause to really assess where we are currently.
Many of the things we've always done feel sustainable and natural.
And new habits simply won't. They'll feel uncomfortable and awkward and HARD.
We are going to have to be open to change.
And this is what this phase is all about and one of the biggest benefits of coaching.
You'll have the outside perspective and guidance to honestly assess.
With our help, you'll be set up on that clear trajectory to actually reach your goals!
And once we've created the path, we'll start moving forward on it.
We'll help you build those lasting habits.
In phase two, this is exactly what we begin to do. We begin to create new habits while UNLEARNING old ones!
Schedule Your 1:1 Strategy Session
Phase 2: Habit Recalibration
Once you know where you are starting from, you can create small changes that meet you where you are at to create amazing results.
Too often we try to do more all at once and out exercise or out diet time, which ultimately backfires 🔥
This all or nothing approach is ultimately what sabotages our results and leads to us feeling like we don't have the willpower to keep going.
But a big part of why this approach fails is because we didn't first start by breaking old beliefs to help ourselves begin to UNLEARN old habits.
Achieving results isn't just about embracing new habits – it is about becoming aware of the old ones that have been holding us back to learn to stop repeating them.
And this is easier said than done as many of our habits have become so natural we may even do them unconsciously.
We've always turned to eating less and cutting our calories lower to lose weight.
We've always cut out the foods we love and restricted more.
We've always eaten out of stress or boredom.
We've always turned to training longer and harder.
We've always fallen off our program when life starts to get in the way.
And these patterns will be hard to break.
They've become our go-to dieting habits.
But by becoming aware of where we are starting from in the Belief Breaking phase, we can now create replacement behaviors for these habits. We can create CUES to recognize they are happening and change them.
We can begin that unlearning process as we implement the behavioral changes needed to make the new habits become a sustainable lifestyle leading to results!
And that's where we enter phase 3…creating habits that become our lifestyle.
But with this process, we have to realize that a "lifestyle" doesn't mean doing one thing forever.
Our habits and routines need to adjust as our needs and goals evolve over time, which is why the third phase is called Adaptation.
In this third phase, you ingrain new habits and create a true lifestyle change.
But achieving results isn't about doing one thing in one set form for the rest of your life.
Nothing works forever.
That's why a big part of this process and what we emphasize in this program is about getting mentorship in what you need to succeed.
We aren't just giving tactics. We don't just want you to be dependent on us to make changes.
This is an education that helps you understand the fundamentals of training and nutrition to be able to adjust and adapt your lifestyle as your needs and goals change over time.
Because our needs, goals, body and lifestyle WILL evolve and we should feel empowered to make changes to always be able to meet ourselves where we are at to improve and grow and move forward!
And this is exactly what we help you accomplish in phase 3 – that empowerment and independence to keep rocking those results moving forward on your own!
Now you may be wondering how we help you break your current beliefs, unlearn old habits, ingrain new ones and not only reach your goals but SUSTAIN them, and we accomplish that through implementing our 3 pillar system through all 3 phases.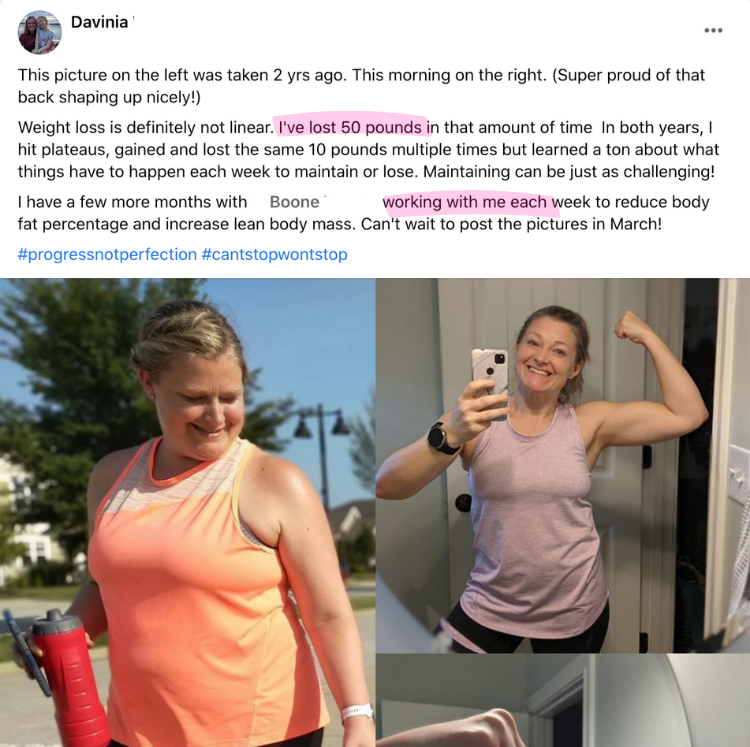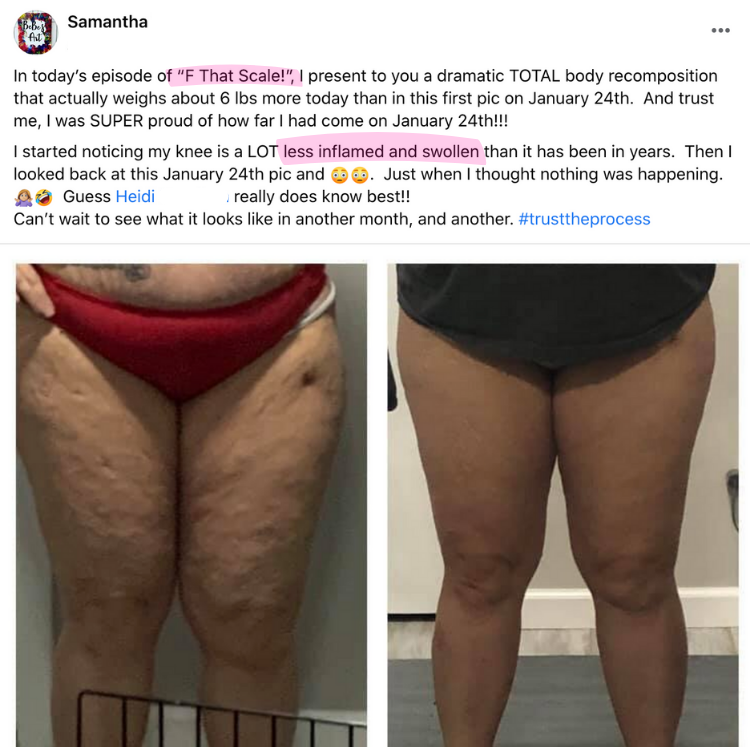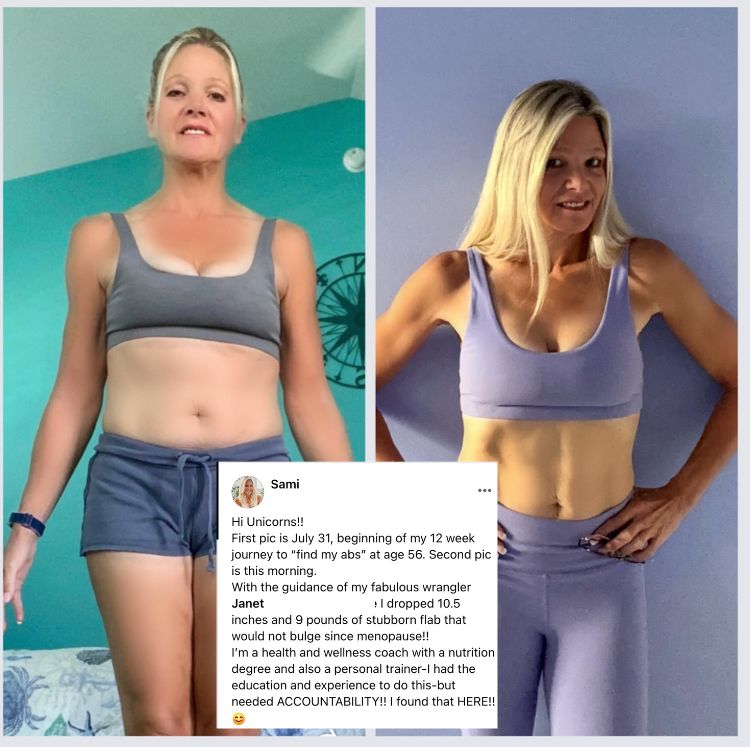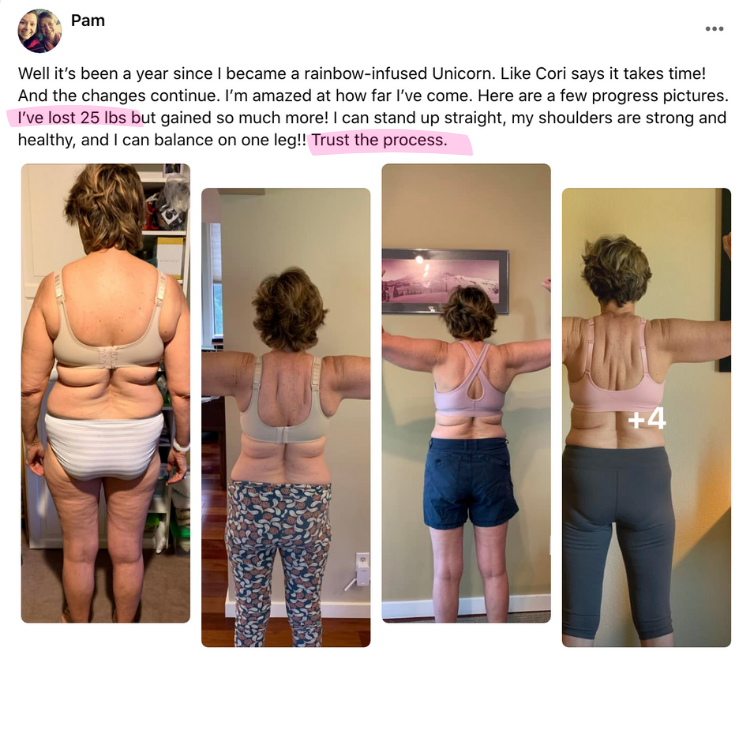 Our culture has really promoted the "more is better" mentality.
I'm constantly fighting against my clients' belief that they have to train every day for hours.
This belief honestly is WHY they have NEVER SEEN THE RESULTS THEY'VE TRULY WANTED BEFORE.
As I constantly tell them, the workouts that achieve the best results are the ones designed for the time you have.
We get results from what we do consistently – not what we do every once in awhile.
And we get and stay consistent with something REALISTIC for our lifestyle.
It's why you need a program designed SPECIFICALLY FOR YOU if it's going to work long term. 
You can't just randomly string together a workout spur of the moment and hope it works or guess at what to eat.
You need a strategic plan based on proven systems that outlines exactly what to do and takes all of the guesswork out of programming and planning for you. We design your plan based on these 3 key pillars.
Schedule Your 1:1 Strategy Session
Your workouts are designed based on your needs, goals, movements and, more importantly, YOUR SCHEDULE!
Too often we try to force ourselves into some "ideal" routine that isn't sustainable.
But your workouts should be customized to what you need and progress with you.
MORE ISN'T BETTER. The workouts that meet us where we are at that we can be consistent with create the changes we want!
That's why we create dynamic routines to progress and adjust as you move forward toward your goals.
We aren't just trying to make you feel destroyed from your training – we're focused on helping you achieve results and see progression so you can avoid plateaus or feeling stuck.
These workouts are designed to help you move and feel your best
With your training progressions, we aren't just telling you what to do, but also why to do it.
We're helping you see how you can design efficient and effective routines that actually work so you aren't having to guess at what moves are "best" or how many reps and sets to do!
We want to teach you the formula to achieving amazing results while including the foods you love. 
One size doesn't fit all and we customize your diet to your body and goals based on making small tweaks to your current lifestyle. 
There are no arbitrary food restrictions or starving yourself.
There are no new fancy foods you have to buy or crazy meal prep you have to do.
New routines have to be based on what is sustainable around YOUR priorities.
Everything we implement is based on what YOU need and adapts as you progress toward your goals.
And we TEACH you the WHY behind everything you're implementing so you fully understand your body and what you need to succeed as your lifestyle evolves over time. 
The focus is on empowering you to create a healthier relationship with food and your body to feel fabulous at any and every age!
The third pillar is Self Empowerment and what sets our coaching apart from not only other programs out there but even our other amazing done for you program options.
Our goal through our 3 phases is to help empower you so you can learn to take control of your health and fitness FOREVER.
In coaching, we will hold you accountable and provide that outside perspective and education so you can meet yourself where you are at to create lasting habits and systems to rock those results.
And as you go through your coaching program, you have a team behind you, specializing in what you need.
From Cori, to a Registered Dietitian and your personally hand-selected success coach with specialities to match your needs and goals, you'll have the support you need 24/7!
We want to make sure that you are fully supported and that no component of your programming is overlooked.
We want to make sure you're not only implementing the systems but understanding the WHY behind everything!
We want to empower you to do this on your own, not make you reliant on us!
We want to guarantee your results and eliminate any guesswork to help you take the leap and make a change!
If you're sick of feeling frustrated, wondering how to get the results you deserve…
If you're ready to have that mentorship in what your body needs and feel EMPOWERED…
If you're ready to create the results and lifestyle you've always dreamed of…
Book a coaching consultation below!
Answer the questions in the application at the link below so we can determine the coaching options best for you and get you feeling like your fittest, healthiest, most FABULOUS self ever!
It's time to make the changes you deserve!
Frequently Asked Questions
Will this work for me?
Short answer? Yes – as long as you put in the work and follow the plan. Many of us have tried program after program, only to feel like we've spent a ton of money and hard work without achieving the results we want.
And often, it's because we don't have a clear plan tailored to our specific needs and goals.
If you follow our program and don't see results, we offer a money-back guarantee.
How long is the start up process?
Once you book a call with one of our program advisors, they'll outline what a program would look like for you. Once you've agreed to get started with the program, we'll connect with you within 24 hours to send over everything we need from you, such as movement assessments and materials to get you up and running. From there, you'll get on a call with your coach and we'll start programming your workouts and nutrition.
During that call, we'll set up an "official start date" so you'll have a few extra days to get everything set up before officially starting.
I eat with my family will I have to make separate meals?
We build this plan fully around your lifestyle.
We don't think it's realistic to make you stop eating meals with your family since you won't be able to sustain this long term.
We will work family meals into your plan so you don't need to worry about preparing separate meals.
I'm have food intolerances and I'm a picky eater is that okay?
Yes! The plans are 100% custom and we take into account your dietary preferences and intolerances.  Please indicate your specific dietary preferences, such as vegetarian, vegan, paleo, grain-free, etc.
Please also let us know your intolerances whether it's specific foods (like cheese) or full categories of food (like dairy). If you don't like specific foods just let us know and we won't include them!
Can I make this work on a busy schedule?
We understand that many of our clients are busy working professionals with familial. career and relationship obligations, which means you have limited time and energy.
That's why when creating your program and discussing exercise, nutrition and training strategies, we take into account key lifestyle factors that affect your availability, such as how many times per week you can exercise, how much time you have for meal preparation, and which meals need to be planned around your family dinners and work meetings. By considering these factors, we can create a program that is tailored to your specific needs and goals.
There are only certain foods available where I live. Can you work with those restrictions?
Definitely! Make note of these restrictions on your intake questionnaire so we can avoid, or incorporate, specific foods in your plan.
Do you offer refunds?
Because the plans are fully customized for you refunds are not available on custom meal plans.
I don't like cooking that much can I still do this?
Definitely! We understand that not everyone enjoys cooking or has the time to meal prep. That's why we take your lifestyle into account when creating your program.
If you don't like cooking or don't have the time for it, we can work with you to find alternatives that fit your needs. For example, if you eat out frequently, we can incorporate local takeout meals into your program. If you're traveling or eating out. alot we'll guide you to make the best choices. 
Our goal is to create a program that is tailored to your specific lifestyle and preferences, so you can achieve your goals while still enjoying the foods you love and living your life.
What if I don't have access to a full gym
Not a problem! We specialize in creating fully customized workout plans that are tailored to your specific needs and the equipment you have on hand. So, even if you don't have access to a full gym, we can still program an effective workout for you using whatever equipment you do have.
In fact, even if you're traveling and using a hotel gym, you can simply send us a photo of the available equipment, and we'll create workouts for that day that uses only that equipment. 
We'll create a plan that fits your equipment and goals, and we'll be here to support you every step of the way. So, whether you have a full commercial gym, just a few pieces of equipment at home, or even your own bodyweight we can create a program that will help you achieve your goals.
What if I'm a beginner?
Our program is designed for individuals of all fitness levels, whether you're a complete beginner or have been exercising for years.
Everyone has a different starting point, which is why we tailor your plan to your personal level. 
We'll be here to guide and support you every step of the way, regardless of your current fitness level. And by the end of the program, you'll have the knowledge and skills necessary to continue your fitness journey on your own.
Can I start later now isn't the best time?
Because of the nature of the program we can only accept a limited number of people. If you are seeing this page we have slots available.
One thing to keep in mind is it's easy to convince ourselves that now isn't the right time to start, and justify putting it off until a later date. But the truth is, there's never a perfect time to start.
In fact, starting when it's not the "right time" can actually be better. It teaches us how to see results even when we're faced with challenges and distractions. And if you're thinking about making a change right now, that's a sign that you're ready to take action.
Waiting for the "perfect time" is just another way of procrastinating and putting off what we know we need to do. It's easy to get stuck in this cycle of waiting for the right moment, but in the meantime, we're not making any progress towards our goals.
The reality is that taking action today, even if it's a small step, is far more powerful than waiting for the perfect time that may never come. By taking action now, you'll start building momentum towards your goals and creating positive habits that will serve you in the long run.
It's important to remember that change is hard and it can be scary. We might feel like we need to do everything perfectly to see results. But the truth is that progress comes from taking consistent action, even when it's not perfect.
So, if you're ready to see real and lasting results, I encourage you to take action today. Don't wait for the perfect time to start. Take a small step right now and keep building from there. You can do this, and we're here to support you every step of the way.
Is there a moneyback guarantee?
Absolutely! We fully invest in YOUR results. We guarantee your results in writing with our Strong For Life Double Guarantee.
What is the Strong For Life Double Guarantee?
If you participate in the program for the entire duration, follow the program exactly as advised and do not see any results we will…
1. Refund 100% of the money you paid for coaching
2. Continue to train you for free until you do see results
To be eligible for the double guarantee you must follow the workout and nutrition plan as advised and participate in the suggested program tasks. You will not be eligible for the Double Guarantee if you choose to disengage with the program or fail to follow it as instructed.
If you don't act now, when will you?
Let's face it: we all have a tendency to put off important things, even when we know we need to take action. But the longer we wait, the harder it becomes to make a change.
If you're feeling stuck and know deep down that you could be doing better, don't wait any longer. Your life is not going to change until you take action and make a bold move towards your goals.
I know how it feels to live below your true potential, and it's not a good place to be. But the good news is that you don't have to stay stuck in that place. You deserve better, and we're here to help.
So, if you're ready to take control of your life and start moving towards the results you want, don't hesitate. Take action today and let us help you achieve your goals.
LISA'S WIN
BUILT BRAND NEW CORE STRENGTH
MARY JO'S WIN
LOST 16 POUNDS AND 13 INCHES
KELLY'S WIN
EMOTIONAL EATING AND INJURIES
SANDRA'S WIN
KEEPING UP WITH HER GRANDKIDS
ELIZABETH'S WIN
FIXED YOYO DIETING CYCLE
ROBIN'S WIN
MASTERED MINDBODY CONNECTION AND MACROS
KENNY'S WIN
FIXED CHRONIC BACK PAIN
ASHLEY'S WIN
LOST 60 POUNDS
NATALIE'S WIN
FIT INTO CLOTHES FOR THE FIRST TIME IN 12 YEARS
KORI'S WIN
NEW HABIT DEVELOPMENT AND WEIGHT LOSS
NADIKA'S WIN
LOST 40 POUNDS
TRUDI'S WIN
NEW HABIT DEVELOPMENT
KELLY'S WIN
PULL UPS AND SUSTAINABLE EATING
BRIAN'S WIN
SOLVED KNEE PAIN ISSUES
JOHN'S WIN
FIRST TIME SEEING ABS
(Move the circle up and down to see the before and after)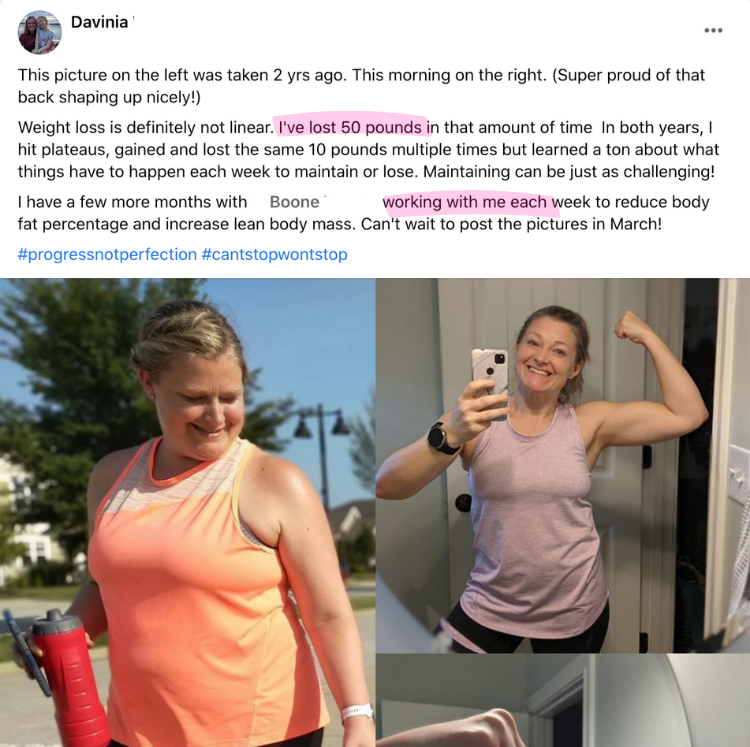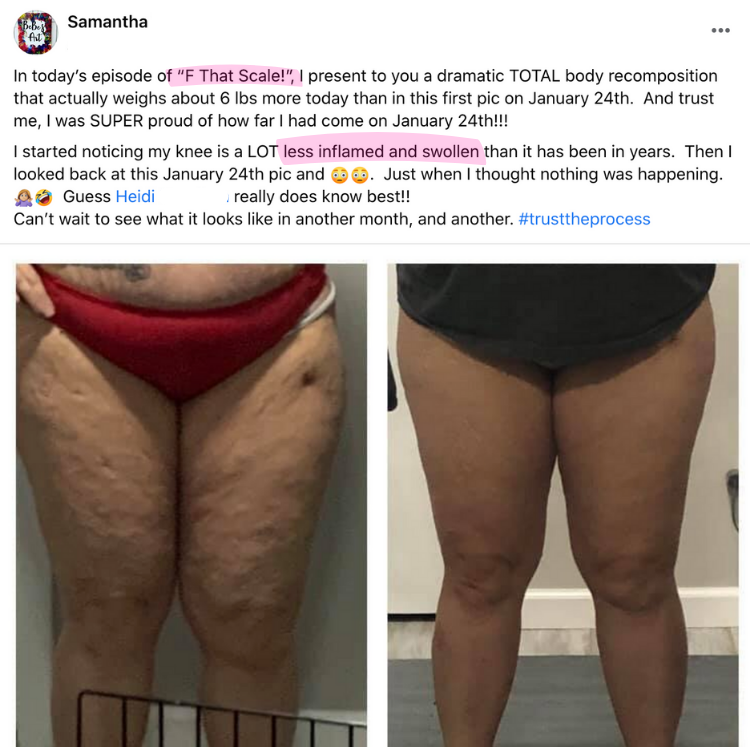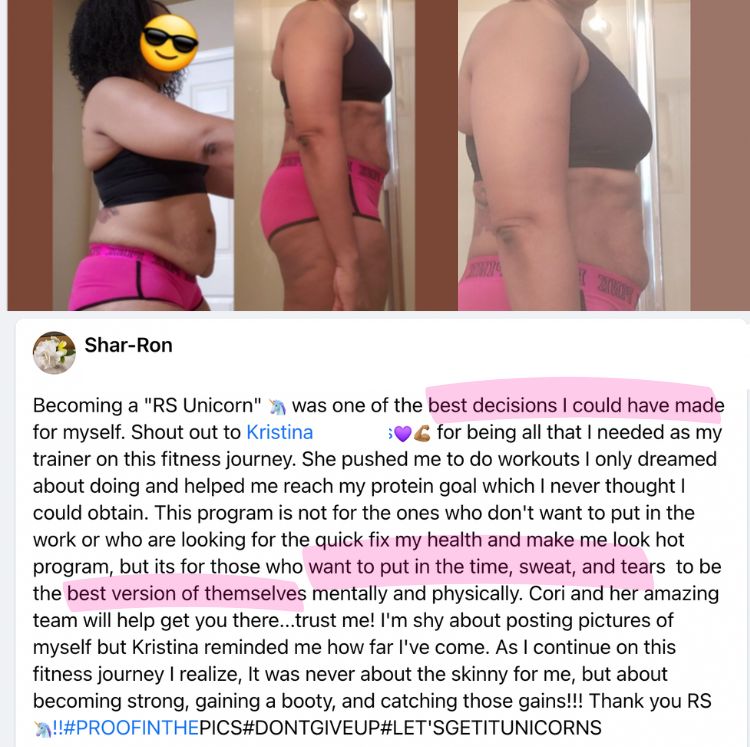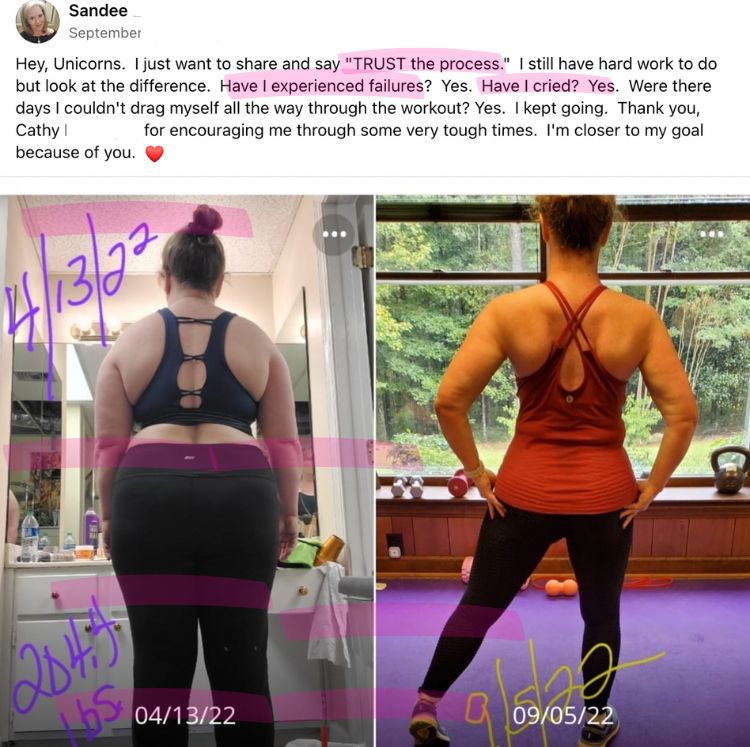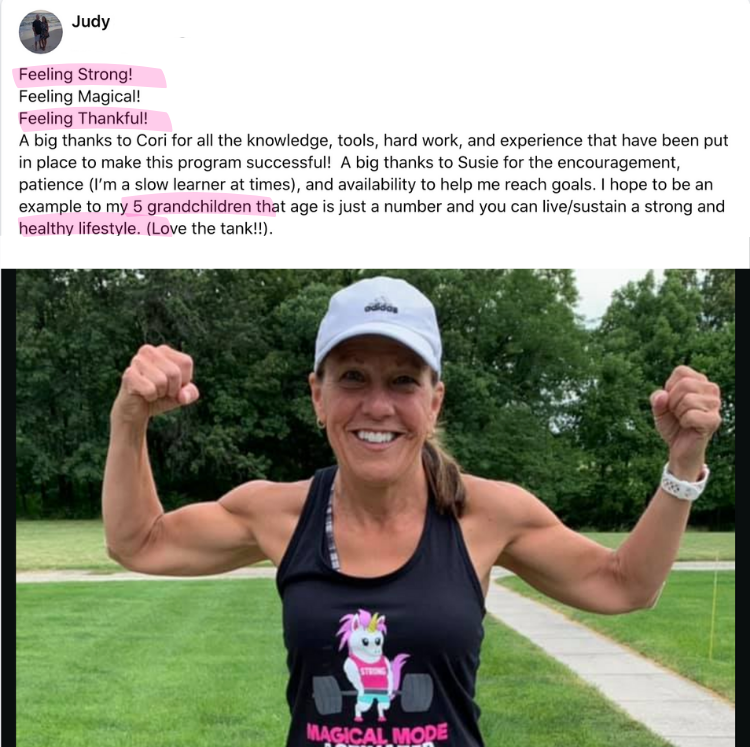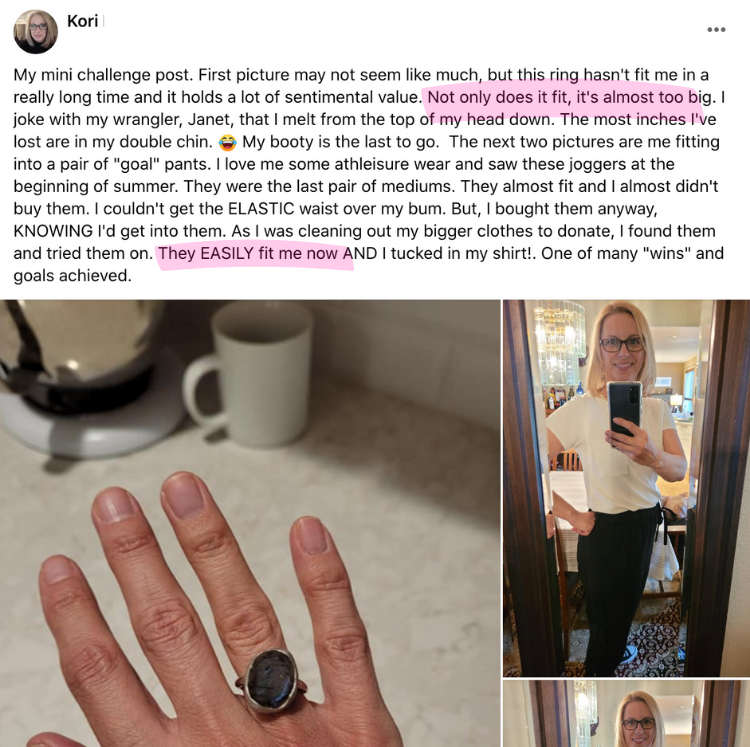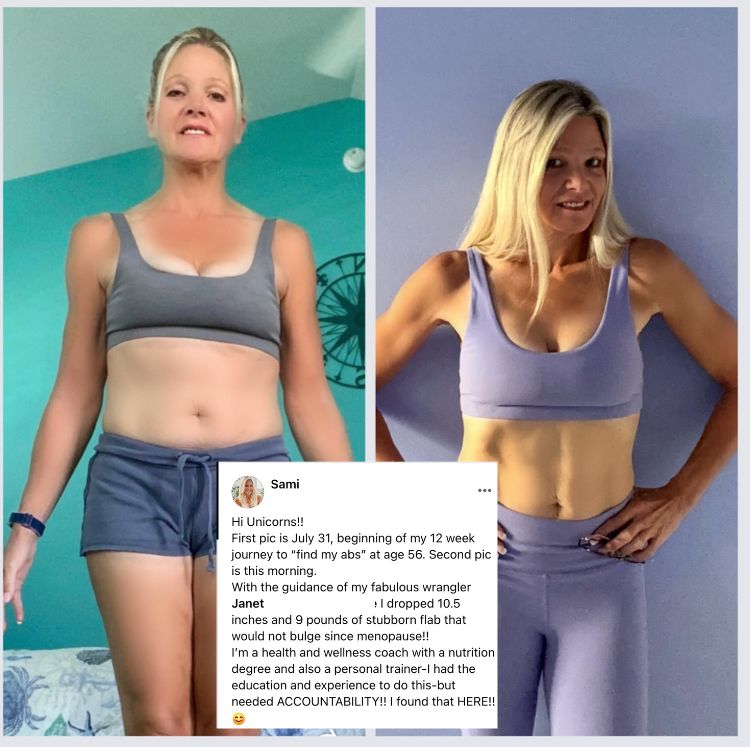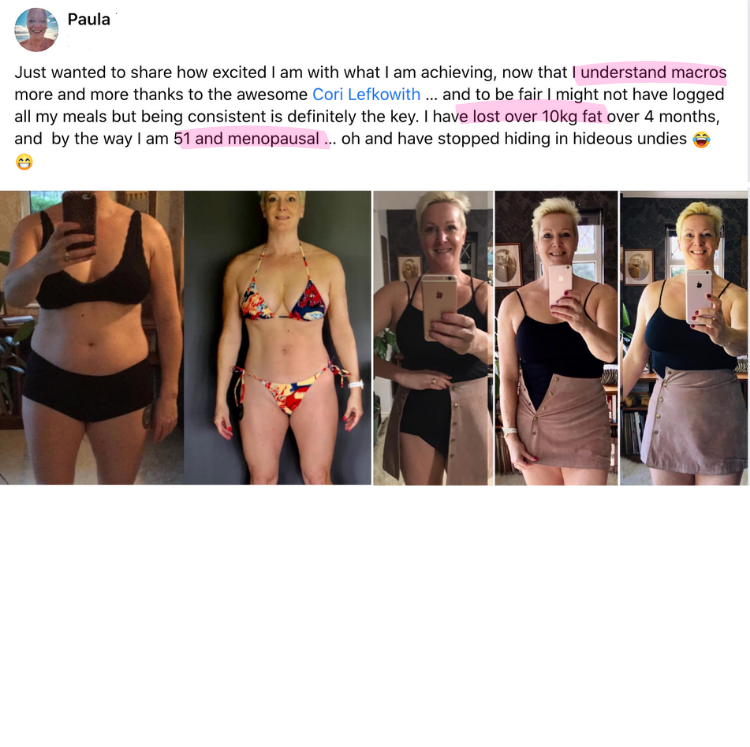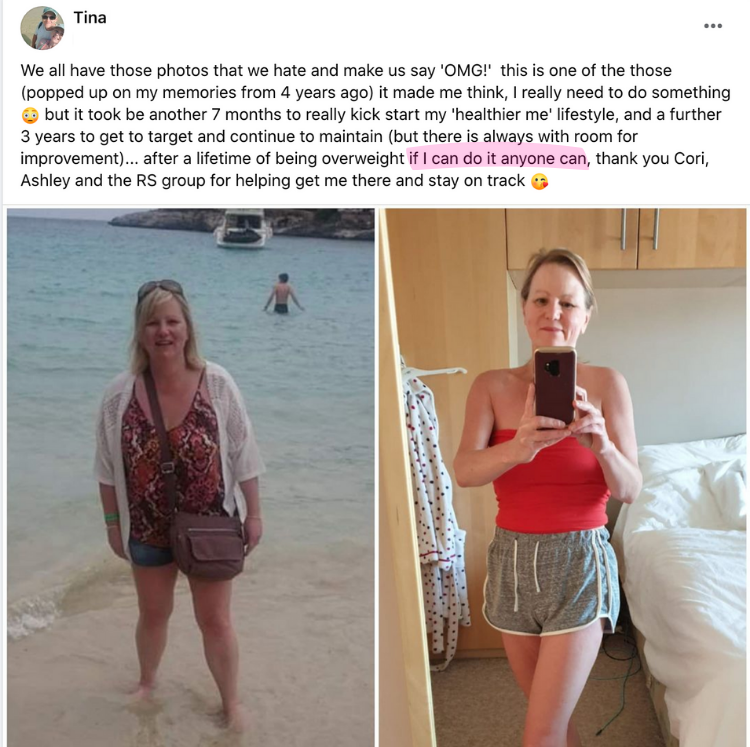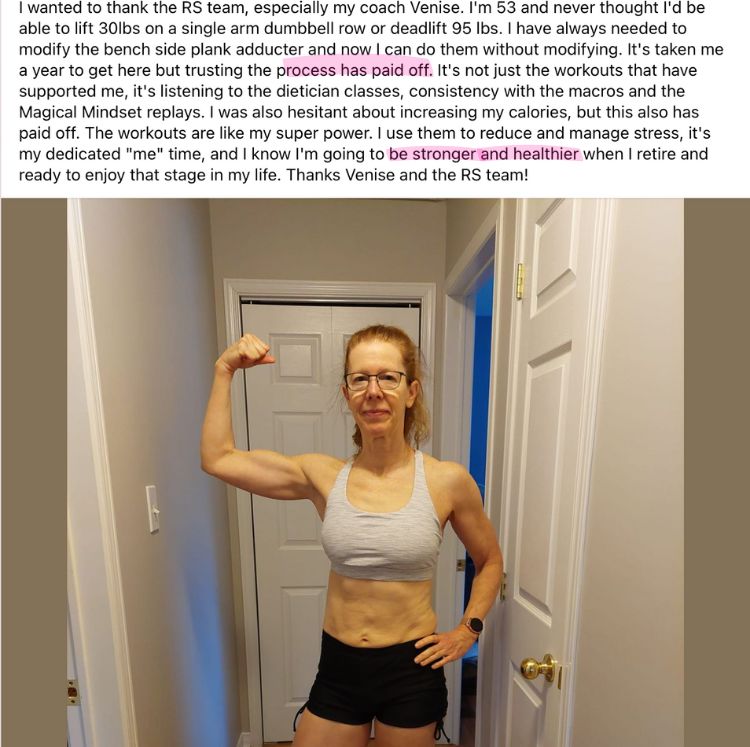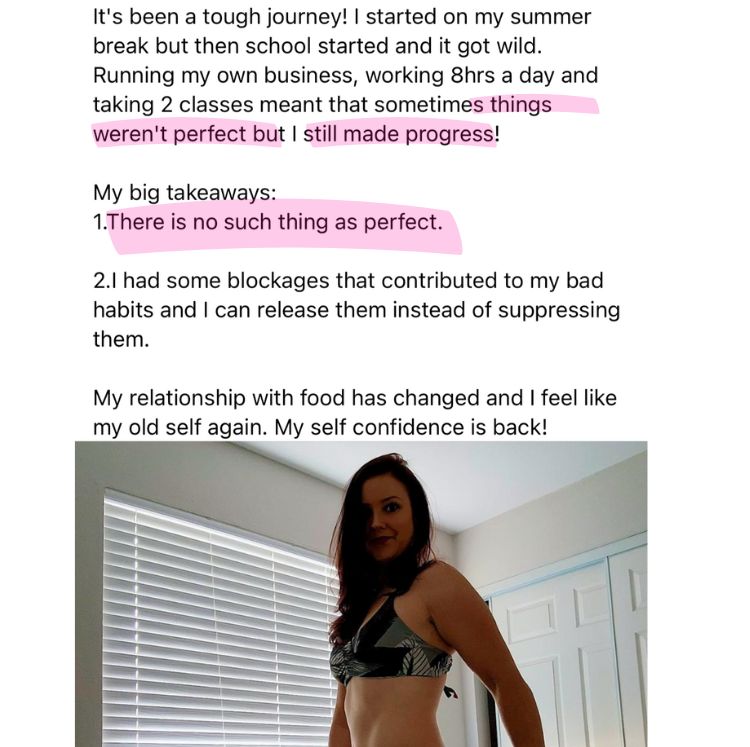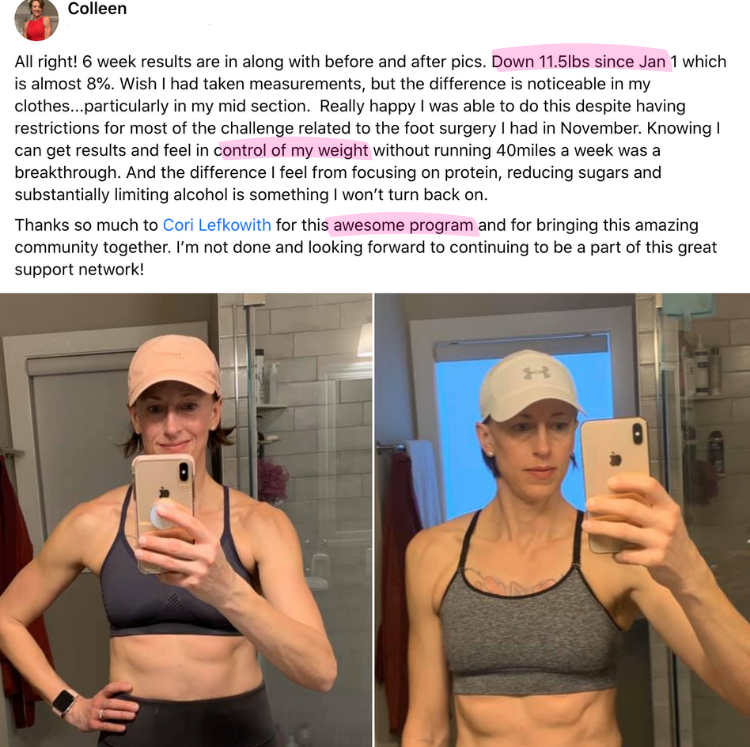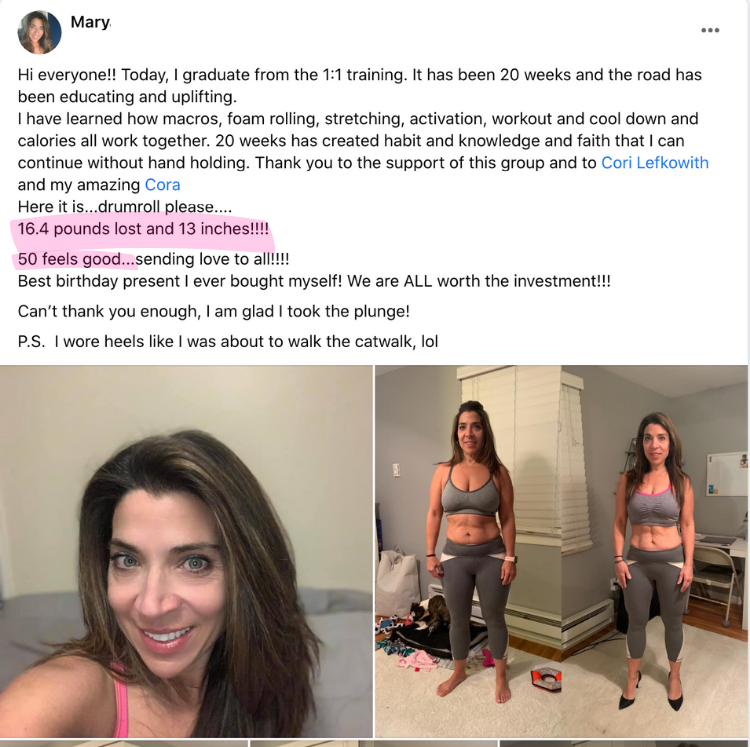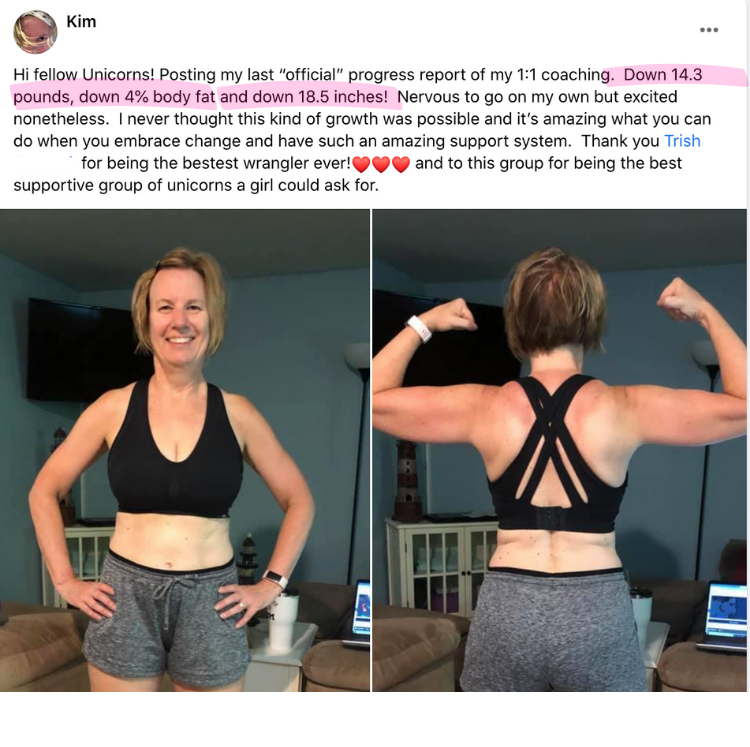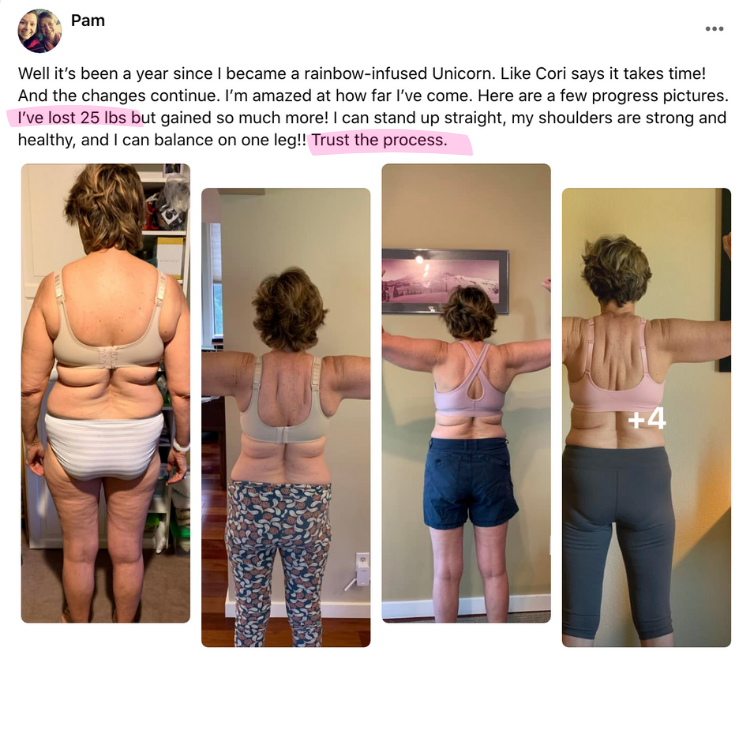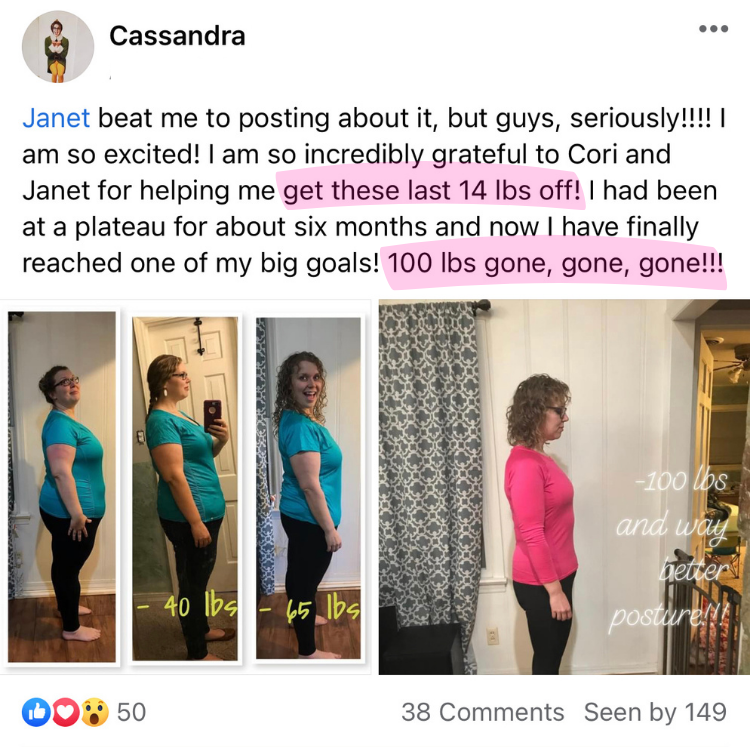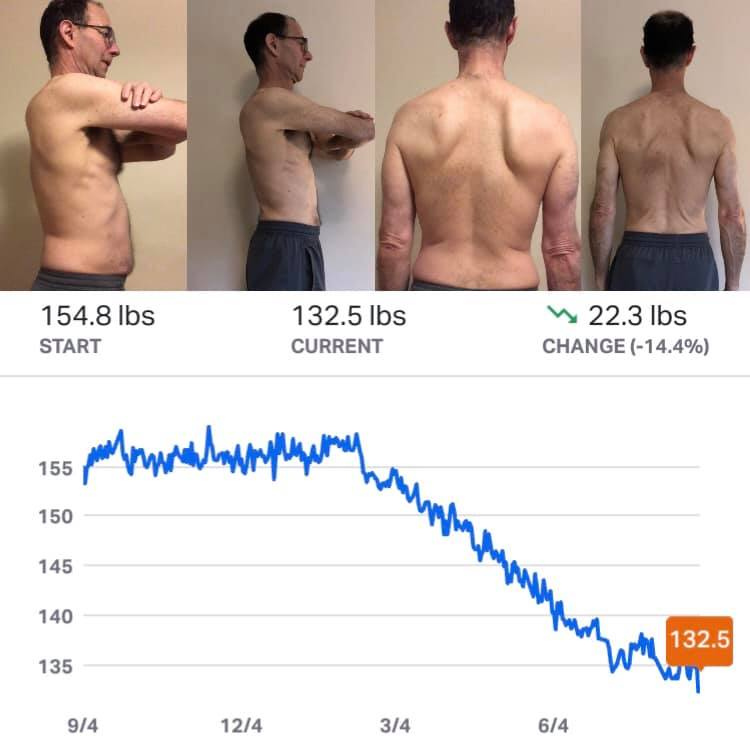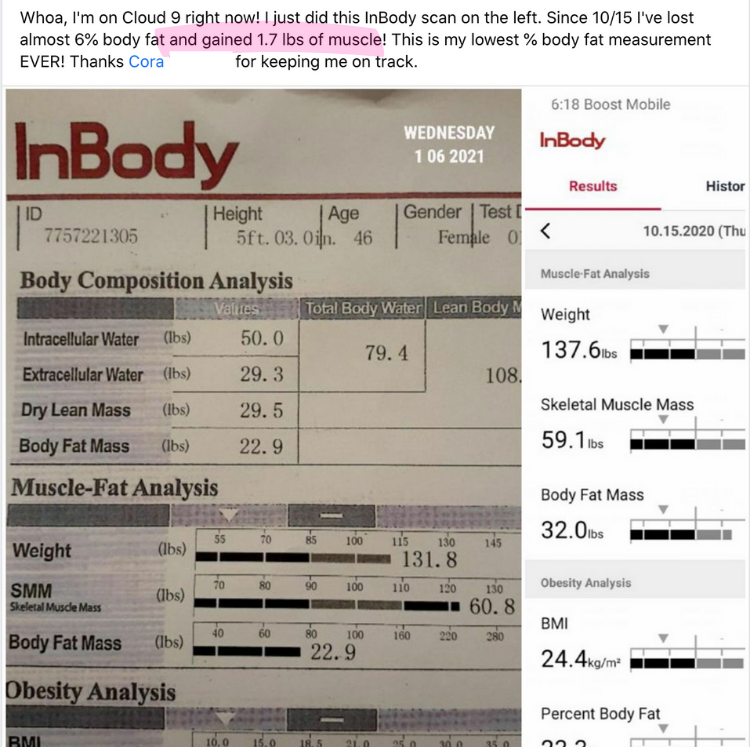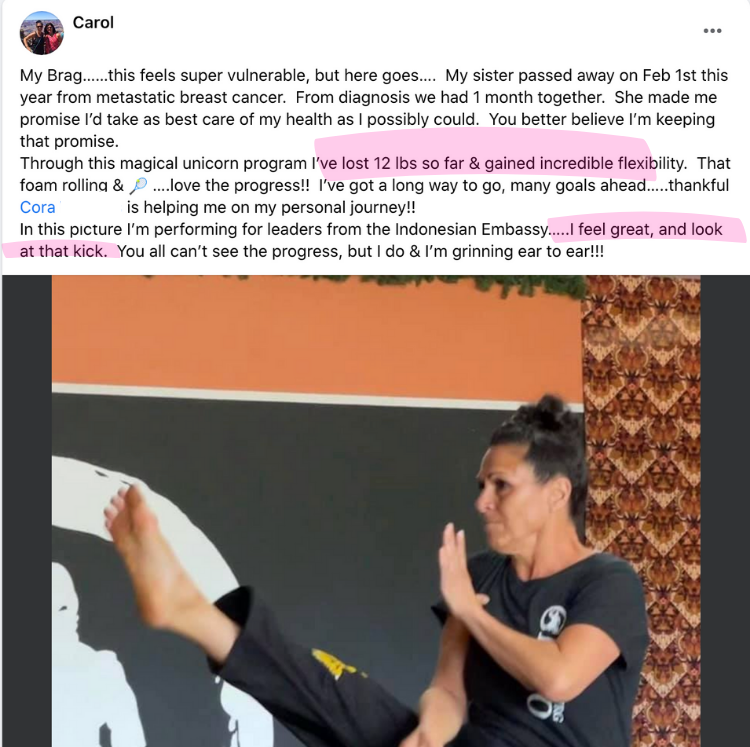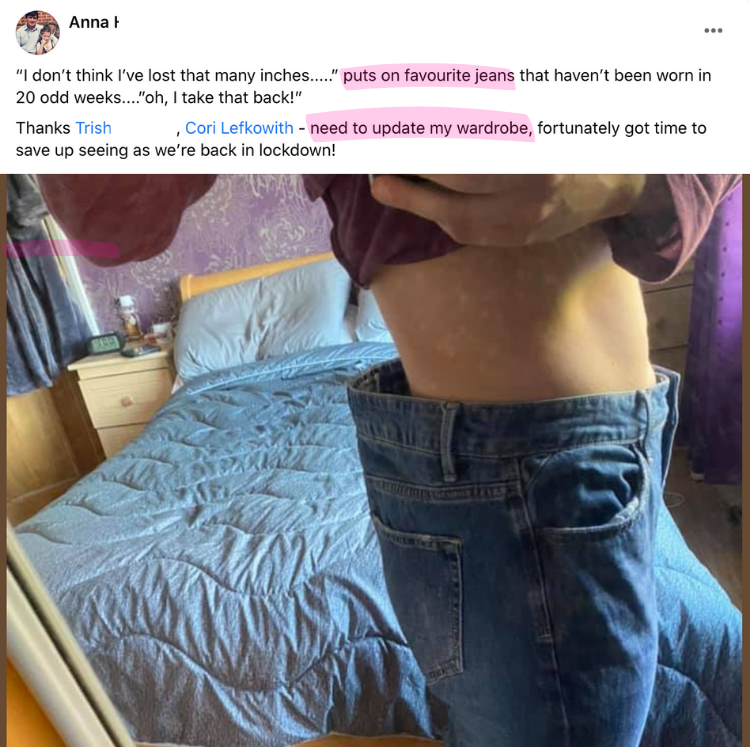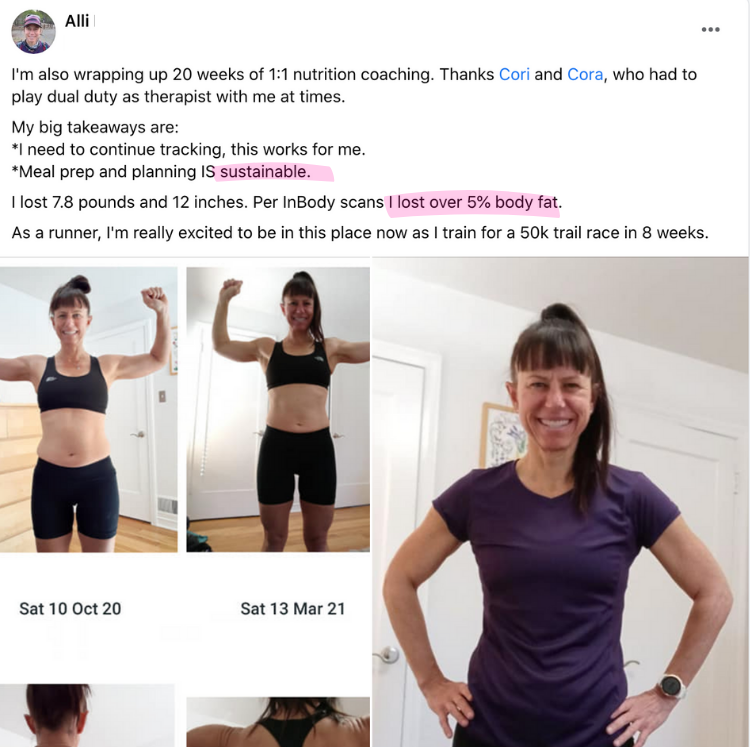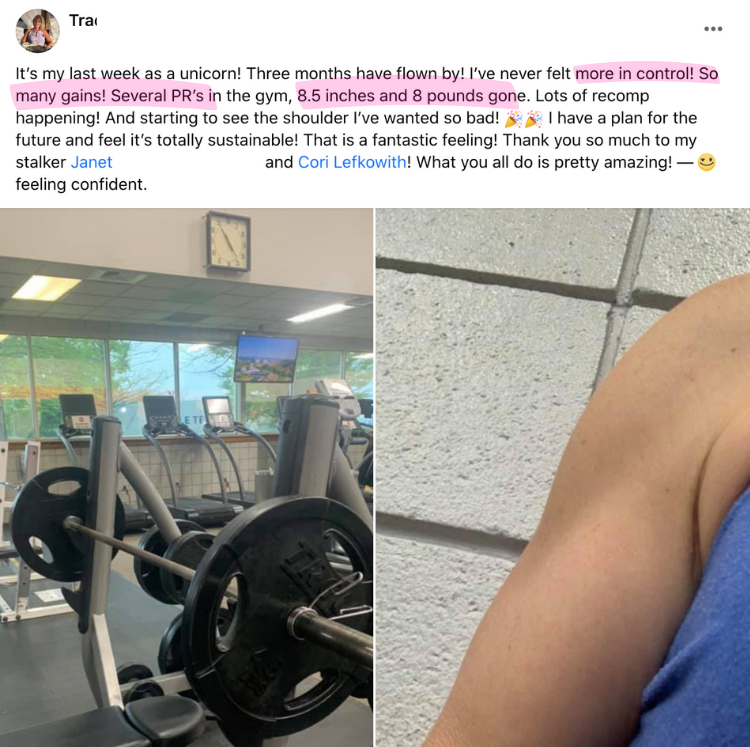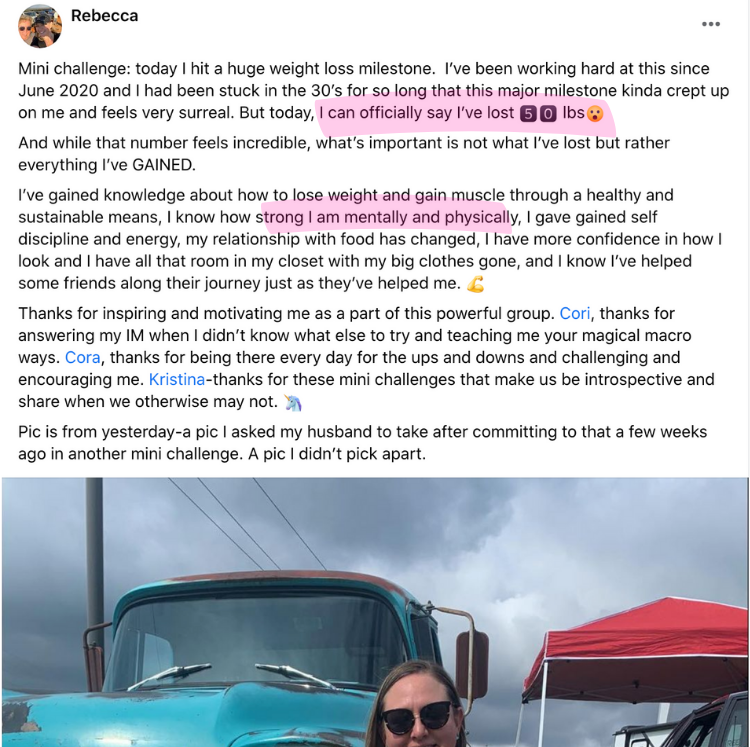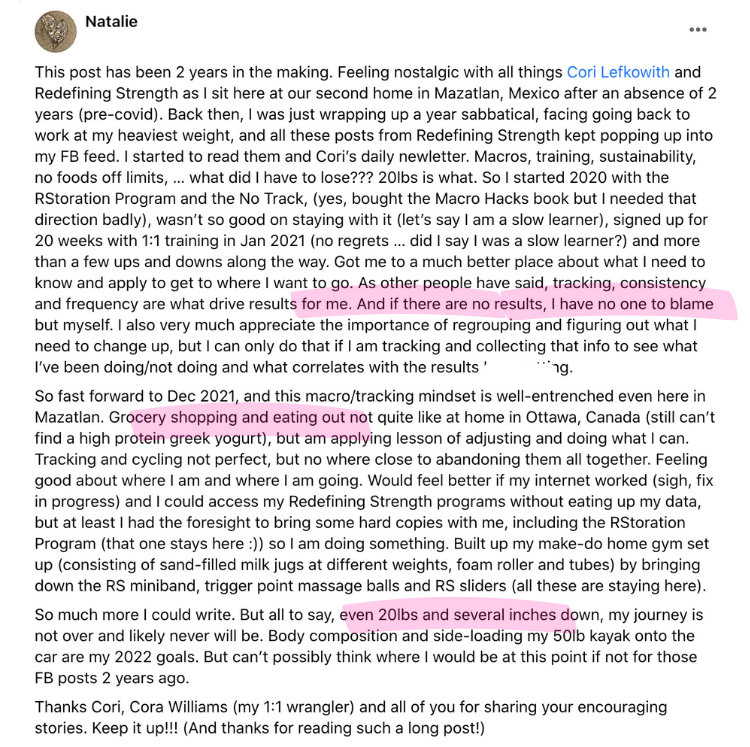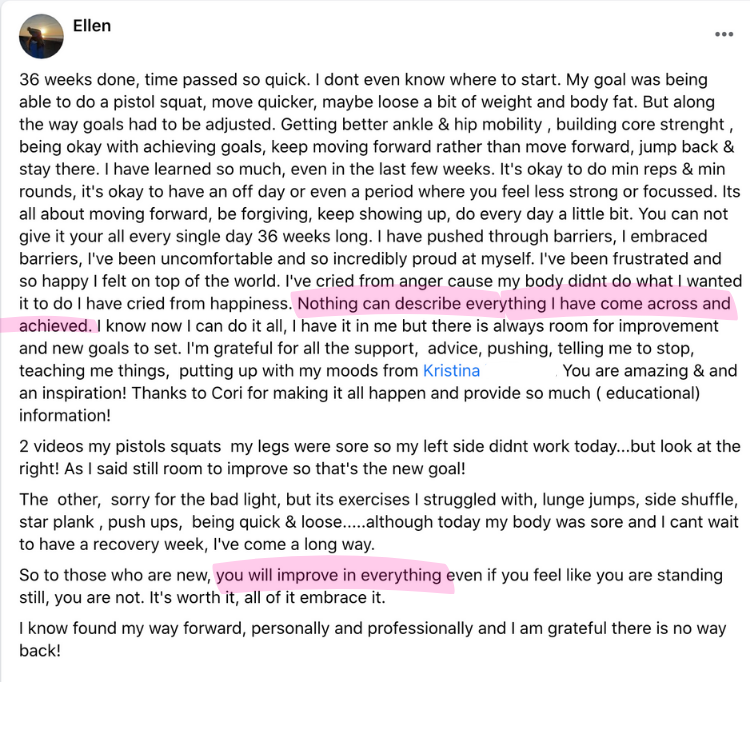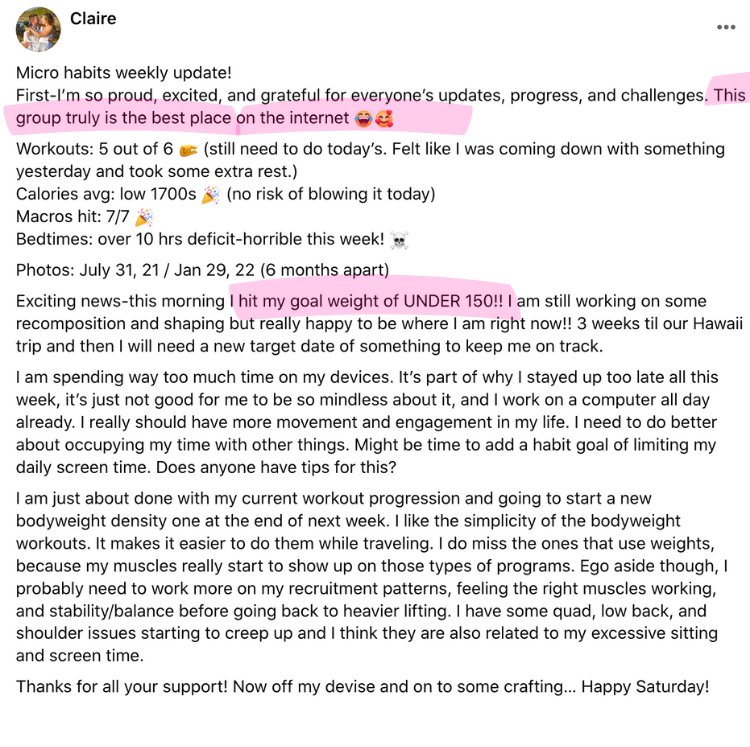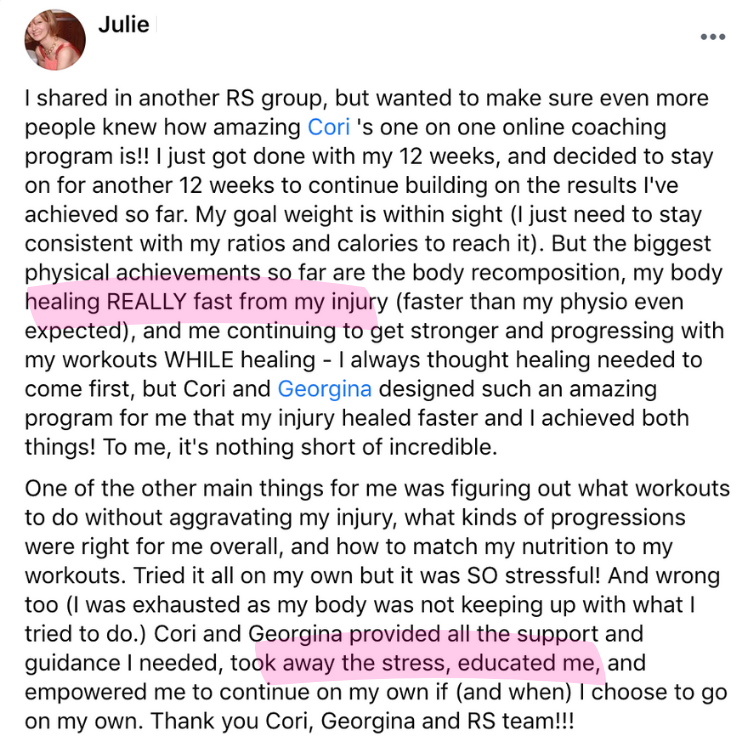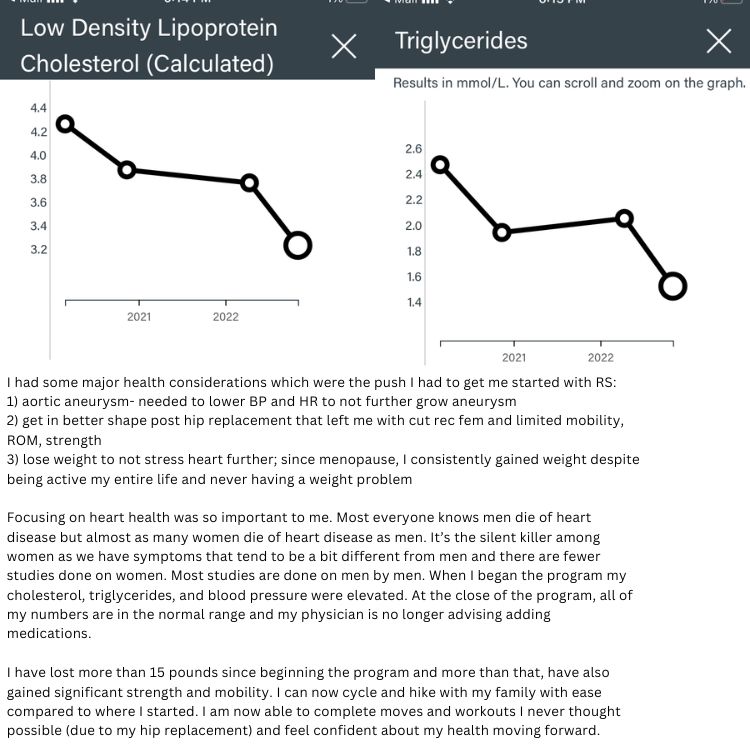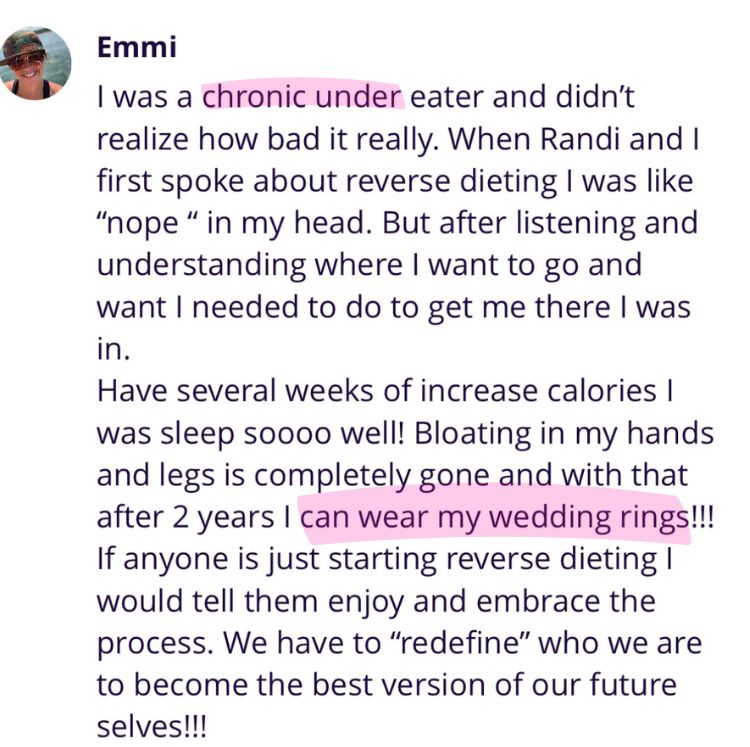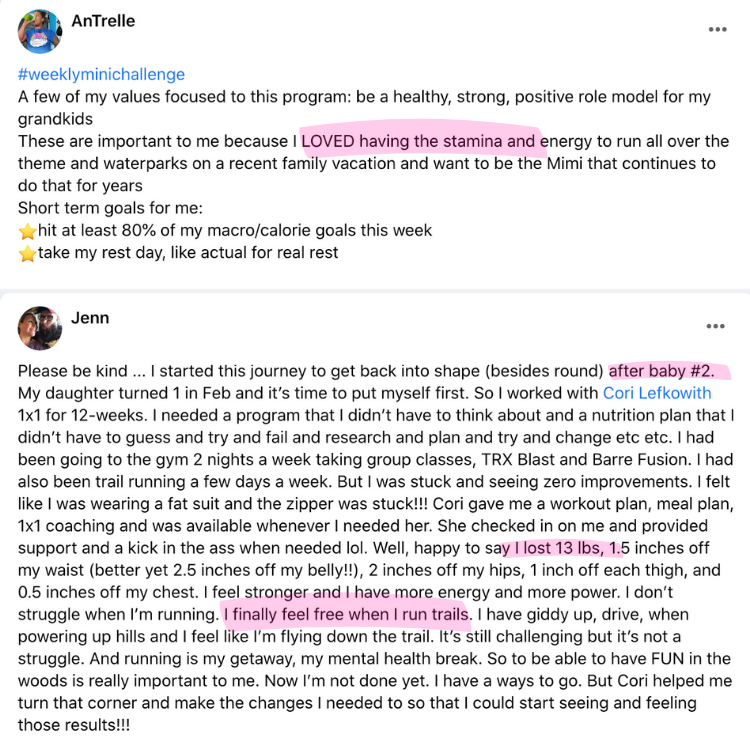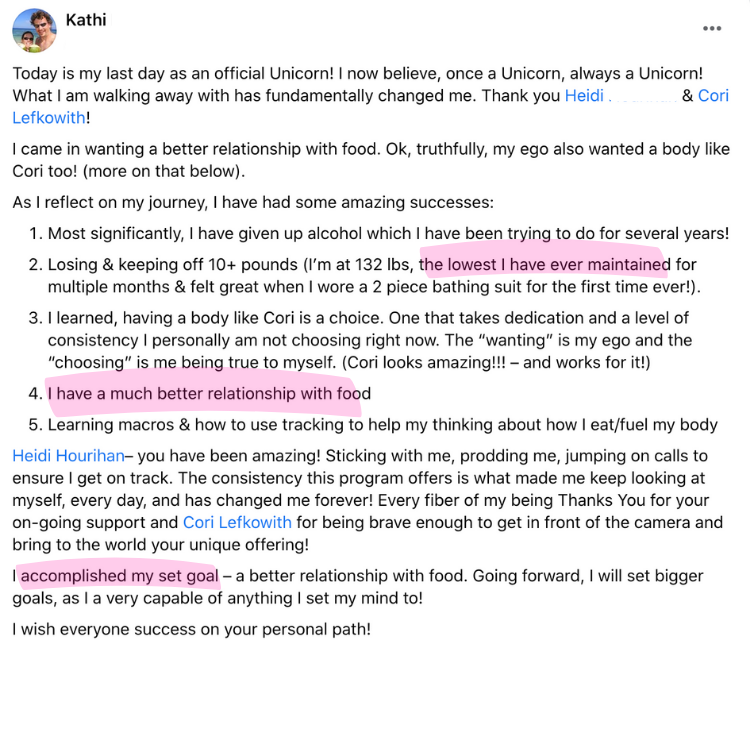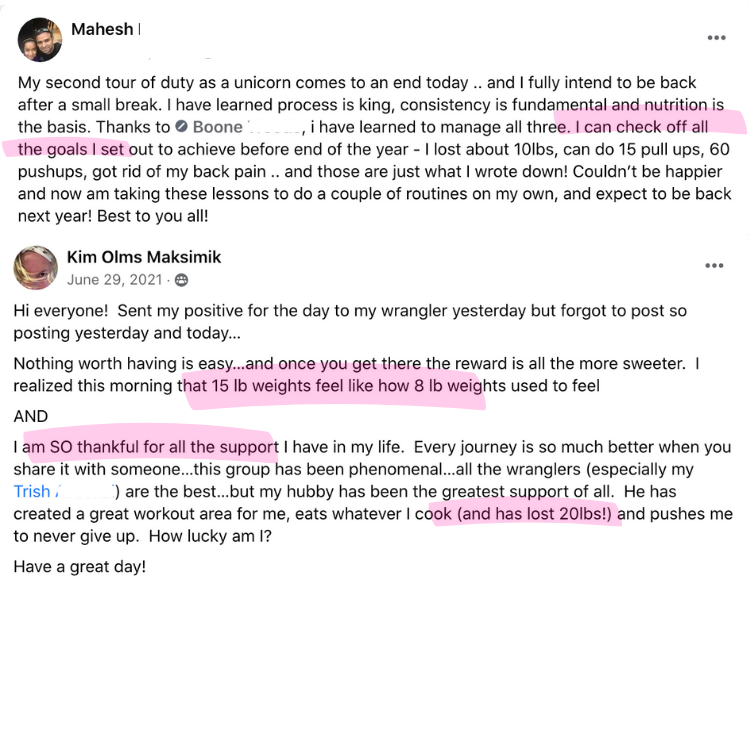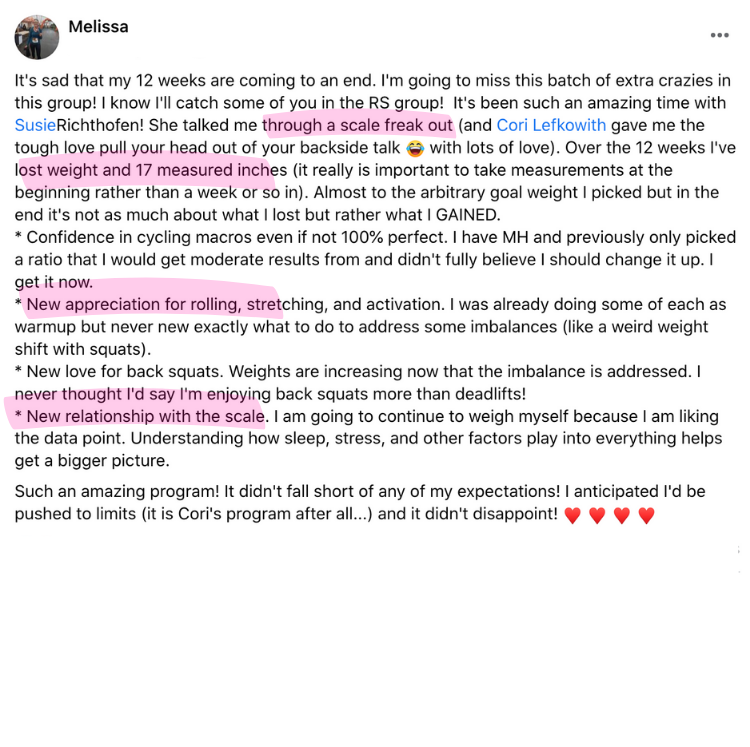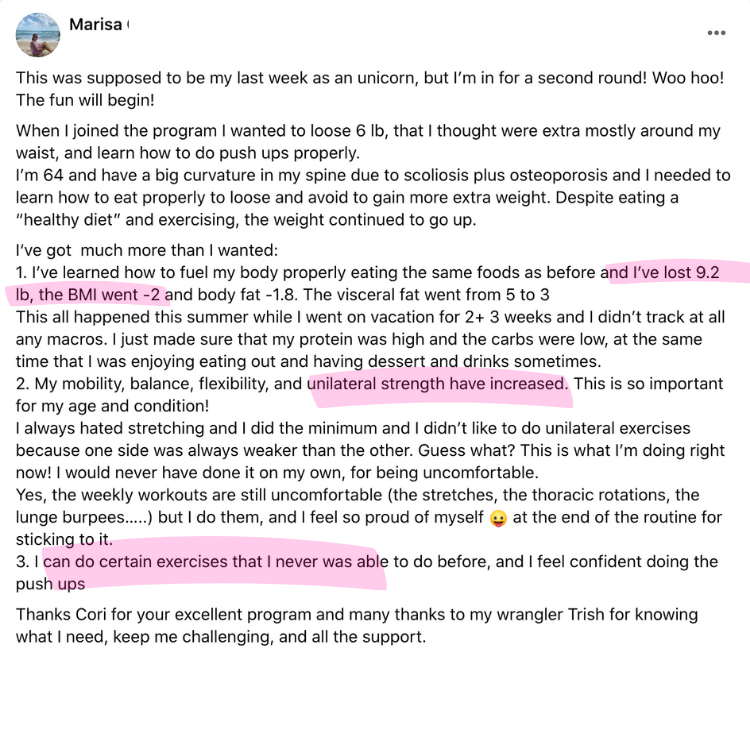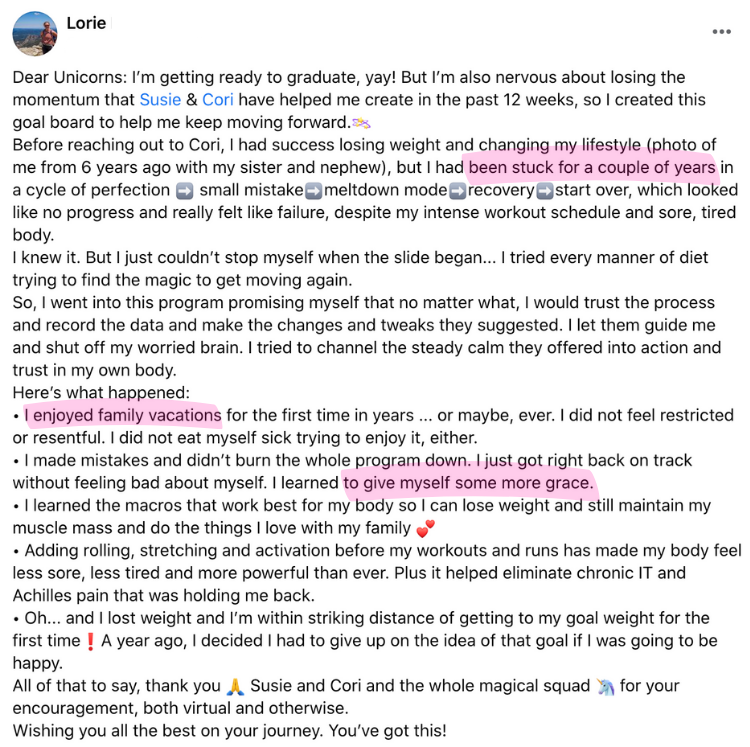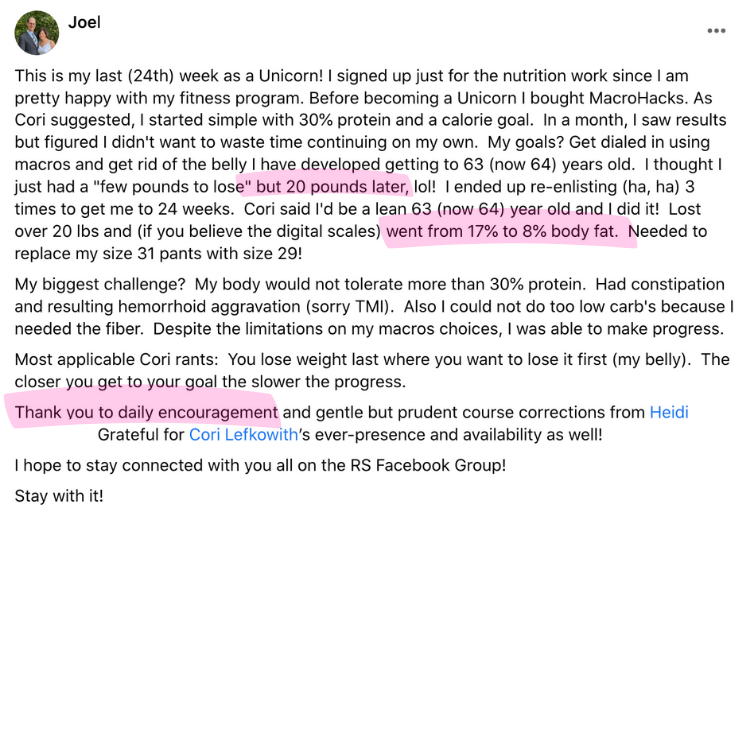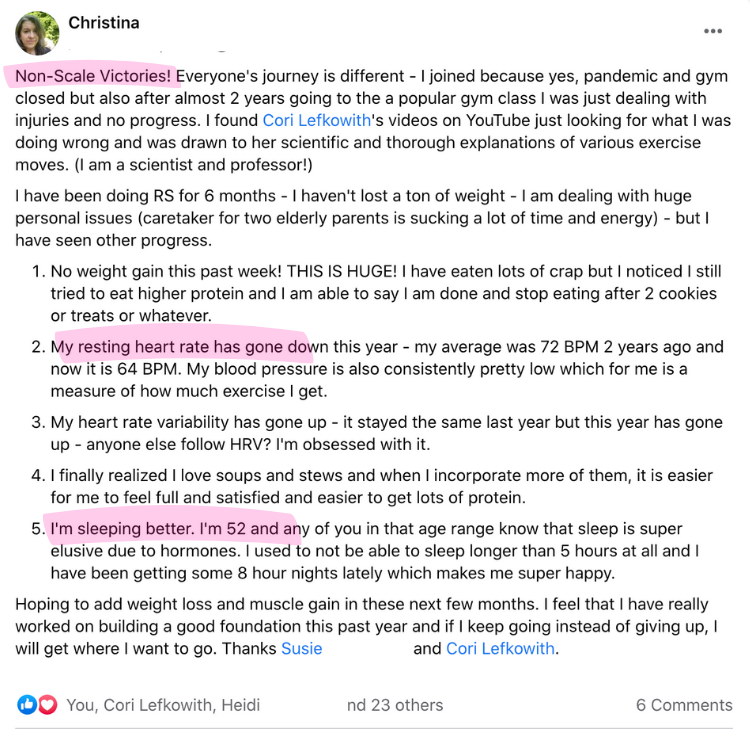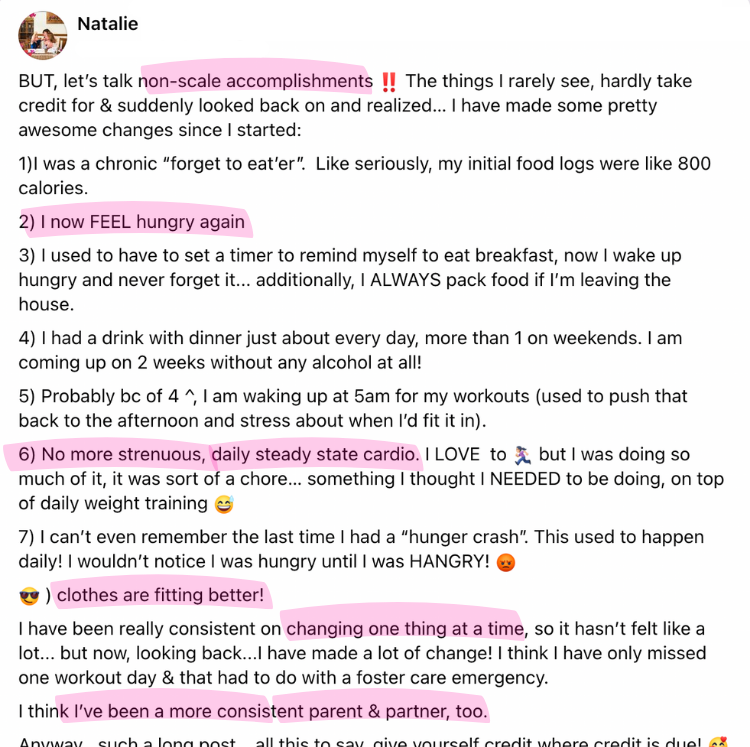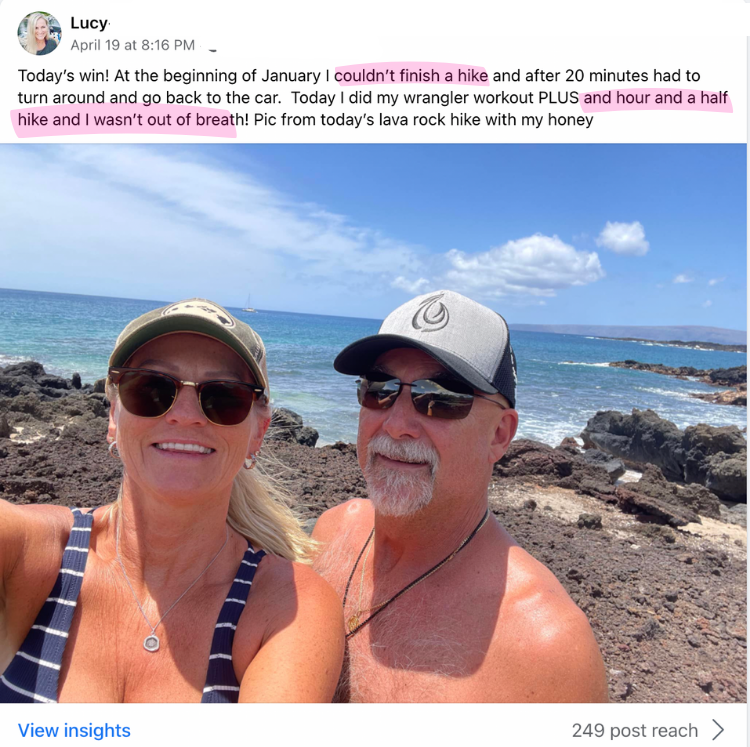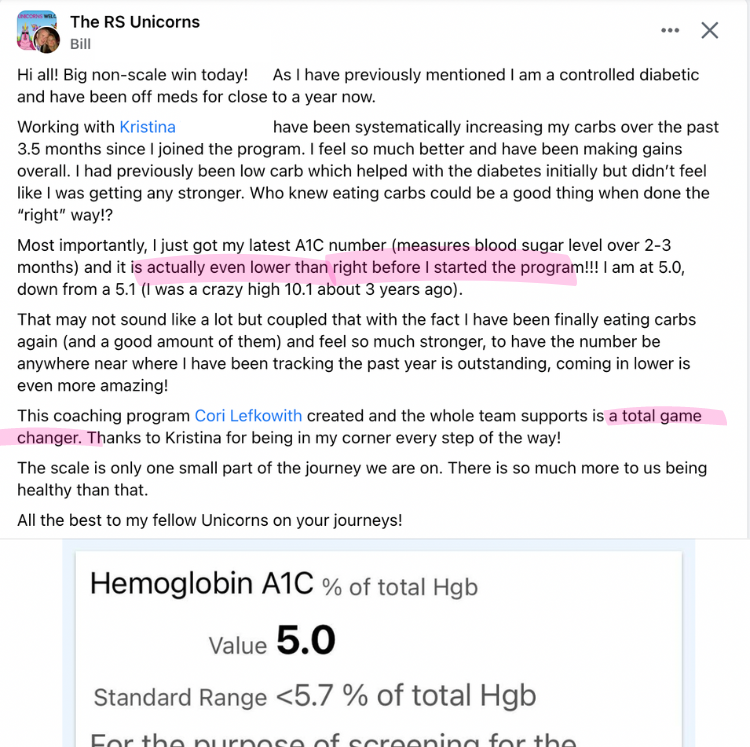 Redefining Strength Press