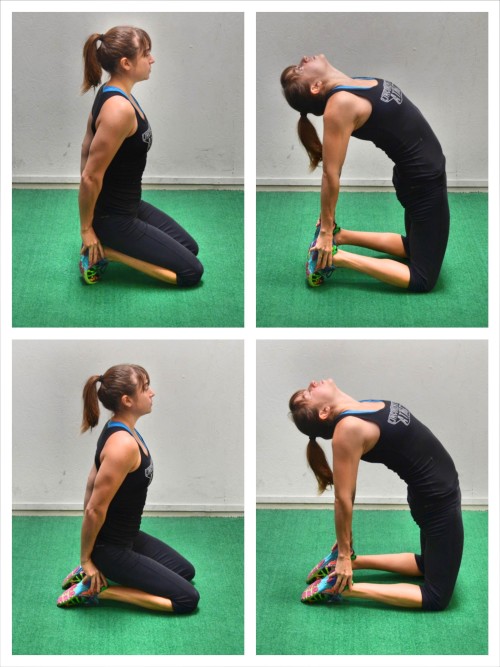 <iframe src="https://player.vimeo.com/video/195219471" width="640" height="360" frameborder="0" webkitallowfullscreen mozallowfullscreen allowfullscreen></iframe>
To do the Camel, kneel on the ground with your knees about hip-width apart and your feet flexed. If you point your toes instead, this will make the move harder and require more flexibility (bottom two photos). Also, flexing your feet will stretch the bottom of your feet more while pointing your toes will get your shins more. With either your feet flexed or pointed, sit back on your heels and place your hands on your heels.
Then arch your hips up and away, as you press your chest out and lift your glutes up off your heels. Keep your hands on your heels as you arch away and squeeze your glutes to fully extend your hips. Do not hyperextend your low back. Engage your glutes to stretch out your hips.
Relax your head back and arch as much as you can, getting a nice stretch down your chest, core, hips and quads. Do not let your shoulders shrug and really focus on opening your chest up. Hold for 1-2 seconds and relax back down.
Repeat, arching back up. Or you can also make this a static stretch by simply holding the pose for 15-20 seconds.
If you are less flexible and can't place your hands on your heels, you can do this stretch with a couch, chair or table behind you.