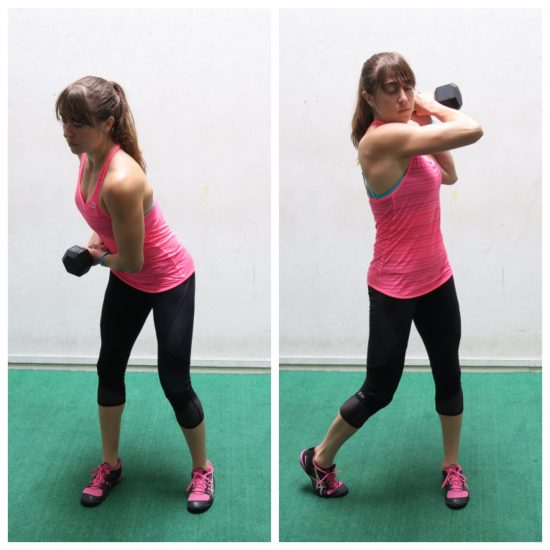 To do Dumbbell Cross-Body Chops, hold a dumbbell vertically in both hands just outside one hip with your arms slightly bent. Your feet should be about hip-width apart. Then hinge over slightly at the hips, pushing your butt back to load your glutes. Keep your chest pressed out and back flat.
From this little hinge, quickly drive your hips forward to swing the dumbbell up and across your body to just over your other shoulder. Use your glutes to power the swing, but feel your core work to decelerate the weight as it reaches your shoulder. You will feel your middle rotate as you swing the weight and the heel on the side the weight started on may come up as you power the swing with your glute.
Squeeze your glutes at the top and then quickly lower the weight back down and across to the outside of your hip. Once you've lowered the weight and hinged slightly back over, repeat the chop.
Feel your core brace as you swing and feel your glute power the move. Do not round forward as you hinge or swing the weight. Complete all reps on one side before switching.