WARM UP
Stretch and Roll Out:
Calves
Hamstrings
Quads
Groin
Hips/Glutes
Chest/Shoulders/Traps
Back/Lats
WORKOUT
Complete 3-5 rounds of the circuit below. Rest no more than 60 seconds between rounds. Rest no more than 2 minutes between the circuit and conditioning.
CIRCUIT:
10-15 reps per side Reverse Lunge
5-15 reps per side Push up to Fly
5-15 reps per side Lunge Run
15-20 reps Lat Pulldown
10-15 reps Body Saw
CONDITIONING:
Complete 4-6 rounds of conditioning.
30 seconds to 1 minute on, 30 seconds to 1 minute of rest. Beginners may start with 30 seconds on and a minute of rest while very advanced exercisers may do a minute on, 30 seconds of rest. Do the most challenging variation you can handle.
Towel Taz
COOL DOWN
Stretch and Roll Out:
Calves
Hamstrings
Quads
Groin
Hips/Glutes
Chest/Shoulders/Traps
Back/Lats
NOTES:
All moves can be made easier without the towel. And the Scapular Hold may be subbed in for the Lat Pulldown if necessary. Sliders or Valslides may also be used if you have carpet and not hardwood.
EXERCISE DESCRIPTIONS:
Reverse Lunge – Start standing with your feet together and a towel under one foot. Slide that foot back into as deep a lunge as you can handle. Make sure to really sit back on that front heel. Then, driving through that front heel, come back to standing. Sliding the foot back forward and standing up nice and tall.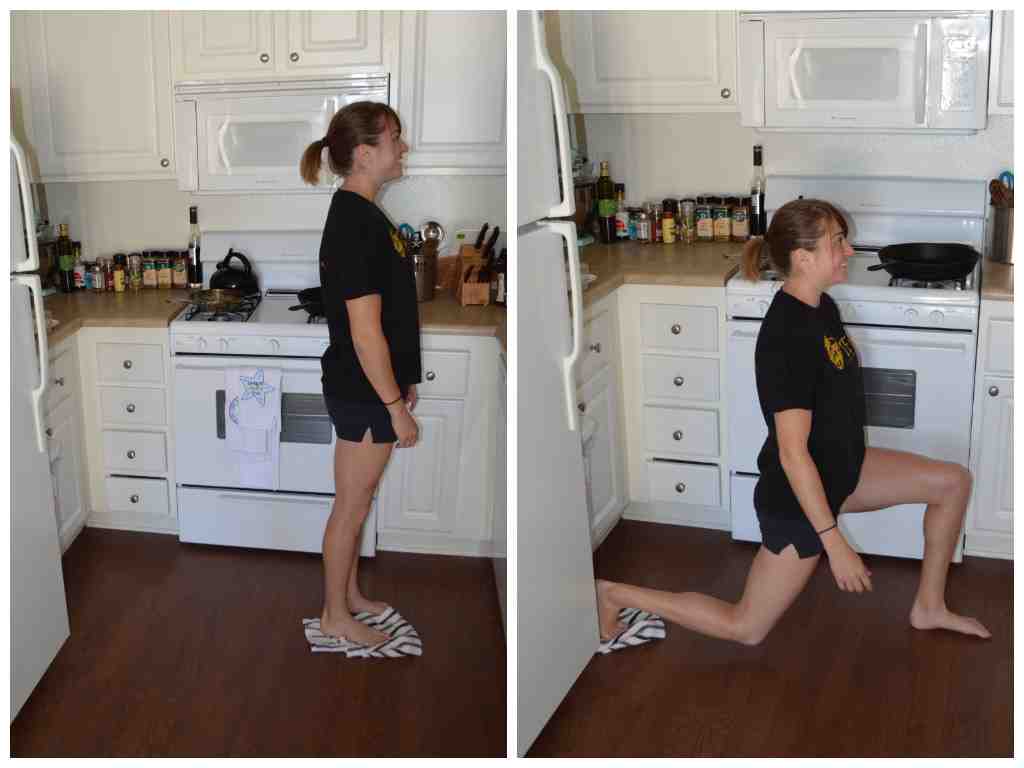 Push Up to Fly – This can be done from the knees or the toes. Start at the top of your push up with one hand on the towel. Then slide the hand out to the side and perform a push up. After the push up, slide the hand back into the starting position. Even though this is a wider push up, don't let your elbows flare way out by your ears. Beginners can do this without the towel and just step the hand out, do a push up and then step the hand back in. Intermediates may use the towel and slide out, do a push up and then slide back in. Advanced may put a towel on both hands and slide one out, do a push up, then slide it back in. Once they slide that hand back in, slide the other out and do a push up then slide that one back in. Keep alternating flyes until all reps are complete if you do the advanced variation. All push up to fly variations can be done from the knees or the toes.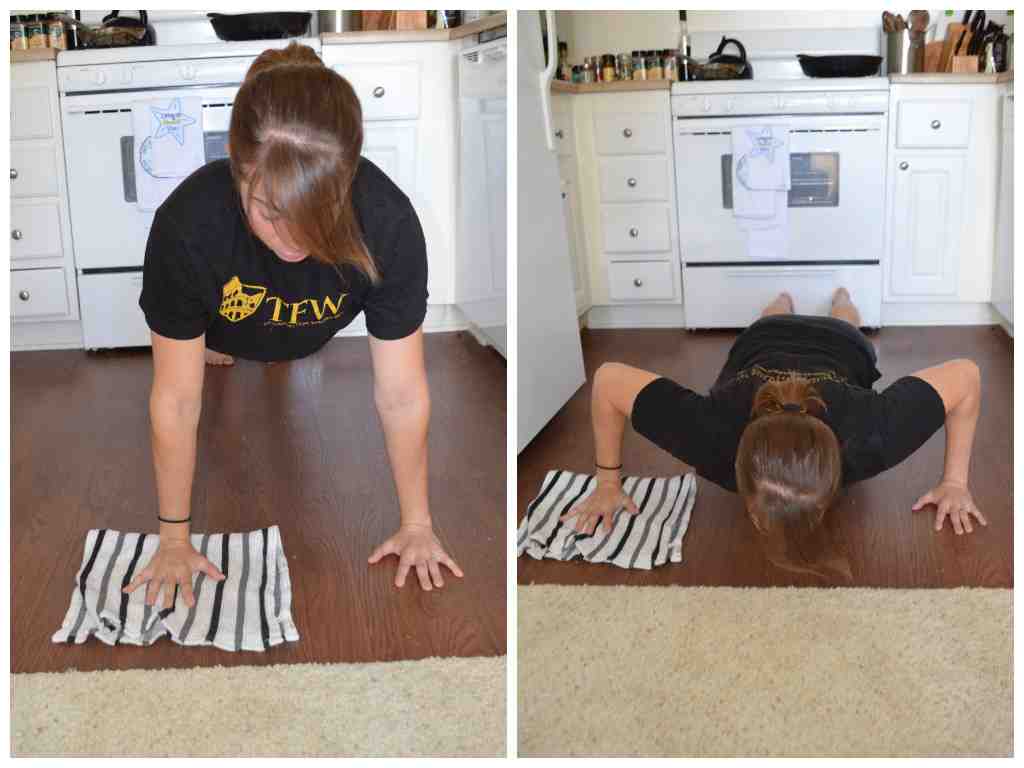 Lunge Run – Place a towel under each foot and step one foot forward. Sink down into a lunge, bending both knees. Pop up out of the lunge and slide the front foot back and the other foot forward. Sink down and then pop back up and switch stances again. It is almost like you are doing split squat jumps but without the jump. Keep alternating lunges until all reps are complete.
Lat Pulldown – You can do this move with or without a towel. It is very much like the wall slides except you aren't against a wall. Reach your hands up with your elbows bent. Your hands should be on either side of your chest with your palms facing forward. You can hold a towel tight between your hands. This sometimes helps to remind you to keep tension between your shoulder blades and activate your lats. Reach your hands up overhead, keeping tension on the towel. Then pull the towel back down, pulling with your lats as you pinch your shoulder blades down and together. Repeat, keeping tension between your shoulder blades and using your lats to pull.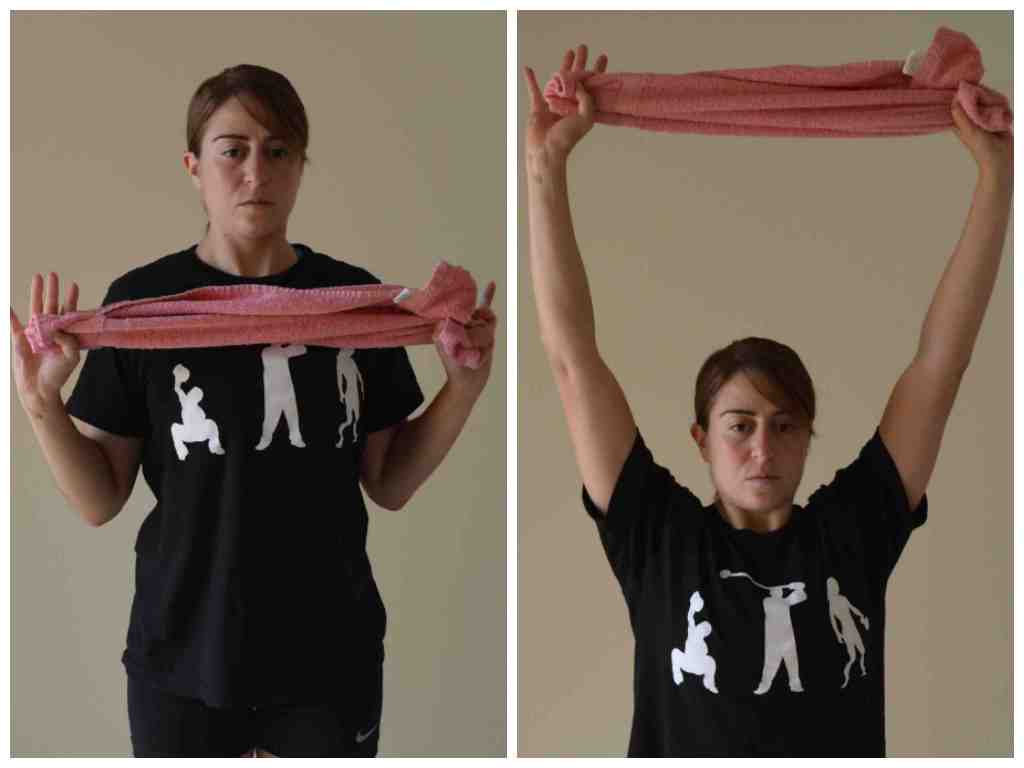 Body Saw – To regress this, perform the move without the towel. Walk your feet backwards and then back in, elongating through your triceps and core. To do this with the towel, keep your body in a straight line with your belly button drawn in. Slide back on the towel, lengthening your body out as much as you can. Then pull straight back in to the plank position. Do not let your hips sag toward the ground or your butt go up in the air. You should not feel this in your low back.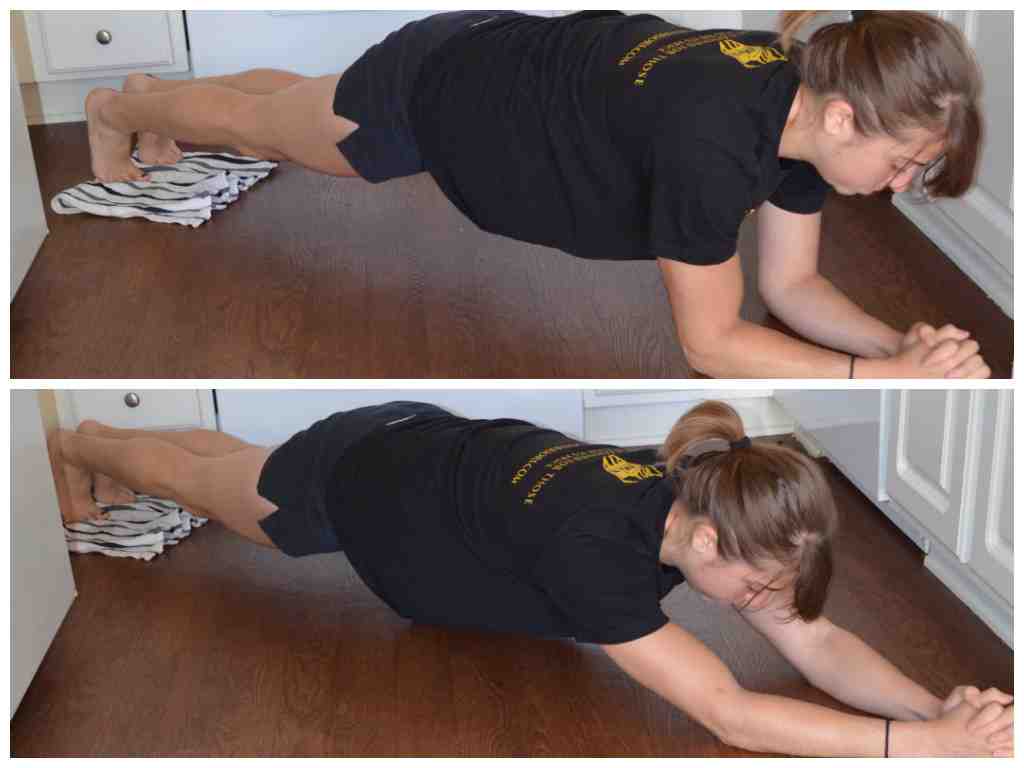 Towel Taz – Grab a bath towel,moving blanket, fleece blanket or whatever you have on hand. The bigger and heavier the towel, the harder the move will be. Grab a corner of the towel in each and and start shaking the towel as powerfully and as quickly as you can up and down while moving quickly around from side to side, in a circle, forwards, backwards and every which way. Move quickly, taking only a few steps in each direction as you shake the towel. Keep your chest up and do not round your back. You can shake the towel up and down and in and out. The quicker you move, the harder the move will be.