WARM UP
Stretch and Roll Out:
Calves
Hamstrings
Quads
Groin
Hips/Glutes
Chest/Shoulders/Traps
Back/Lats
WORKOUT
Spend 5-10 minutes on each of the circuits below, doing as many rounds as possible without pushing yourself to go above 70% intensity. The drills should get your heart rate up but not push you close to an all out effort.
CIRCUIT #1:
Ladder drills
CIRCUIT #2:
Med Ball Drills
CIRCUIT #3:
5-10 reps Bobcats
COOL DOWN
Stretch and Roll Out:
Calves
Hamstrings
Quads
Groin
Hips/Glutes
Chest/Shoulders/Traps
Back/Lats
NOTES:
You should feel like you are working but never feel like you are redlining. This is a lighter cardio day that will help you recover and prevent injuries.
EXERCISE DESCRIPTIONS:
Ladder Drills – Choose drills that challenge your coordination. Beginners may want to start with a one or even two foot run while more advanced exercisers may want to do the Ickey Shuffle or even a Carioca. Make sure that you complete the drills as quickly and as perfectly as possible. It is better to move slowly and do them perfectly than to speed through them and do them badly. Mix up the drills and challenge yourself to go forward, backward and even laterally. If you are doing it with a partner, alternate people going. You don't want to rest for long and you want to keep moving, but again, you don't want to redline.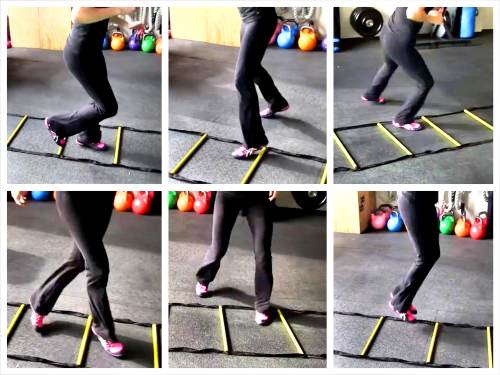 Med Ball Drills – If you have a partner, these can be done by tossing the ball back and forth. You can also do this on your own with a wall. Use a med ball that challenges you but that allows you to move constantly with good form. You can do rotational passes, chest passes, overhead throws, sideways passes, throws for height. Mix them up but keep moving the entire time.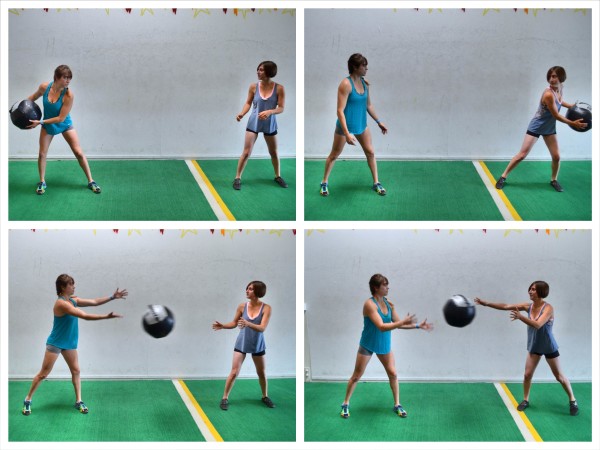 Bobcats – Perform 5-10 reps then rest and let your partner or the rest of your group go before repeating. If alone, give yourself about 20 seconds before repeating. The goal of bobcats is to get everything to move together. Choose the variation you can do quickly and with precision. To set up for bobcats, lift up onto your hands and toes with your knees bent and under your hips and your hands under your shoulders. Beginners will then quickly bend their elbows and drop their knees to the ground as if they are trying to explode up off the ground. The next level is donkey kicks, jumping the feet up and down on the ground. When that feels easy, stay on your hands and toes and next just lift and jump the hands together. To advance this move further, you will actually lift everything up off the ground and land with hands and feet hitting together. Bend your elbows and drop your knees to the ground, then explode up off the ground and quickly come back down. You don't want your hands or feet to hit before the other. You want everything to hit quickly together. Move as fast as possible. The goal is to get your core moving quickly together. Choose the level you can not only do well but do quickly.