WARM UP
Stretch and Roll Out:
Calves
Hamstrings
Quads
Groin
Hips/Glutes
Back/Lats
Chest/Shoulders
Wrist/Forearms
WORKOUT
Complete 3-5 rounds of each circuit. Rest 20 seconds between each round and up to 3 minutes between circuits.
CIRCUIT #1:
20 seconds Burpees
20 seconds Lateral Crawling
20 seconds Rest
CIRCUIT #2:
20 seconds Split Squat Jumps
20 seconds 90 Degree Squat Jumps
20 seconds Rest
CIRCUIT #3:
20 seconds T Push Up
20 seconds Sprinter Sit Up
20 seconds Rest
CIRCUIT #4:
20 seconds Circle Shuffle, Sprawl, Sit Thru
20 seconds Mountain Climbers
20 seconds Rest
COOL DOWN
Stretch and Roll Out:
Calves
Hamstrings
Quads
Groin
Hips/Glutes
Back/Lats
Chest/Shoulders
Wrist/Forearms
NOTES:
Do not stop moving during the 20 seconds of work. It is better to have to rest longer between rounds and circuits than to stop during the 20 seconds. Do a modified variation of an exercise to keep moving quickly rather than a harder variation where you need to rest during the 20 seconds you have to do work.
EXERCISE DESCRIPTIONS:
Burpees – Start standing with your feet together. Then place your hands on the ground in front of your feet. Jump your feet back so you are in the high plank position. Beginners may need to step their feet back instead of jumping them back. Advanced lifters will then do a push up, dropping their chests to the ground. If you can't move quickly while including the push up or you can't do a full push up, you will simply jump your feet back then jump them back in with no push up in between. If you do include the push up, once you press back up, jump your feet back up to your hands. As you stand back up, you are going to jump up off the ground. Beginners may not want to include the jump at the top. After you jump, go right back down and repeat the move.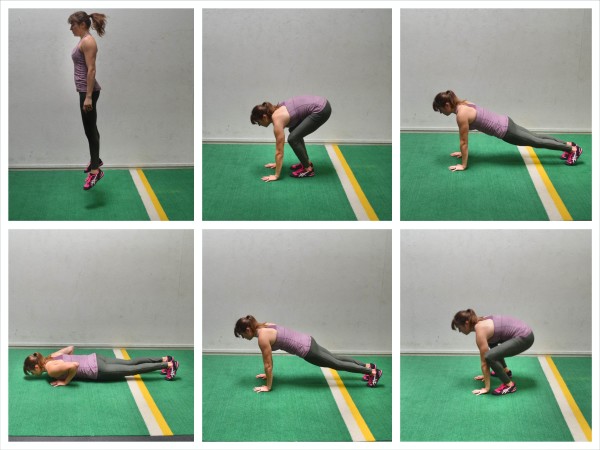 Lateral Crawling – Set up on your hands and knees with your knees under your hips and your hands under your shoulders. Then flex your feet and lift up onto your toes. Place your hands close together and your feet about shoulder-width apart. Then step your left hand to the left so your hands are apart as you step your right foot together withyour left. Then step your right hand to meet your left hand as you move your left foot to the left. Keep moving the opposite arm and leg laterally until you've completed your 20-50ft then crawl laterally back.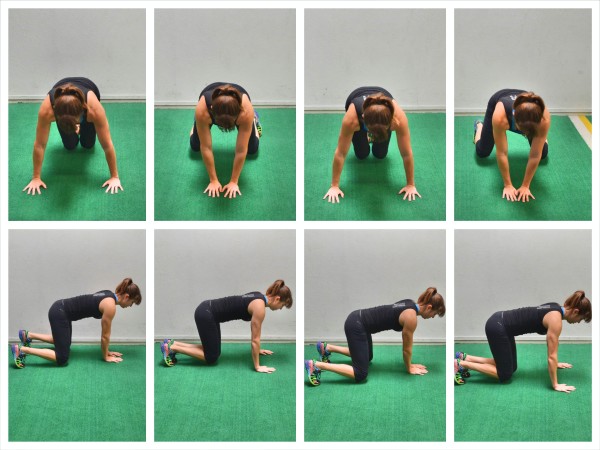 Split Squat Jumps – Step one foot backward into a lunge. Sink into a deep lunge, bending both knees as if kneeling down to the ground. Then jump up and as you jump, switch into a lunge on the other side. Sink down into the lunge on the other side once you land and then explode back up and while jumping switch back into a lunge on the first side. Beginners may need to do quick step back lunges instead of jumping to switch. The lower you go in the lunge and the quicker you jump and switch, the harder the move will be.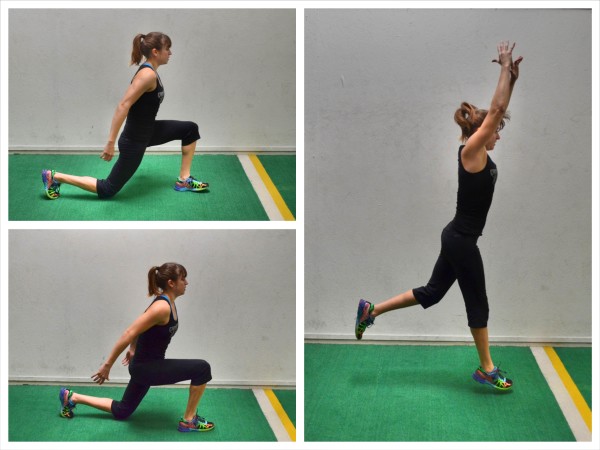 90 Degree Squat Jumps – One rep of the 90 Degree Rotational Squat Jumps is actually four squat jumps. You will start facing forward with your feet about hip-width to shoulder-width apart. Squat down and then as you jump up, rotate to the right about 90 degrees. As you land go right back into a squat to load for the next jump. Do not land with your legs straight even if you are a beginner. Beginners may not be able to go right back into the squat, which is ok. Everyone will squat though before jumping back center. When you land back center, squat down and jump 90 degrees to the left. Then load again and jump back to the center. That is one rep.  Repeat by jumping back to the right.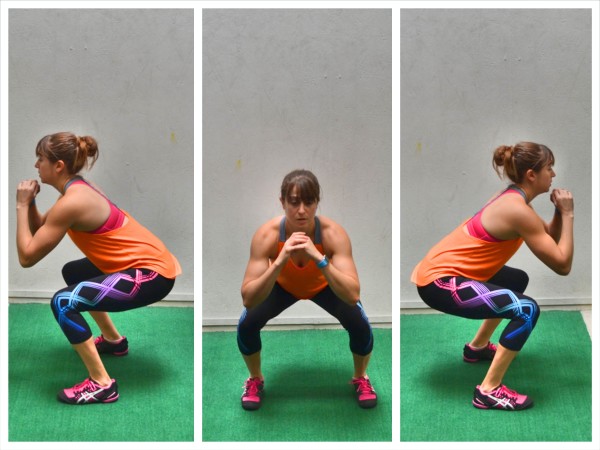 T Push Up – Set up in a regular push up position from your hands and knees (beginner) or hands and toes (advanced). Your hands should be outside your shoulders and your legs should be together. Your body should be in a nice straight line. Squeeze your glutes and draw your belly button in toward your spine. Do not let your hips sag or go up toward the ceiling and don't tuck your head. Once at the top of a push up, do a push up and then when you push back up to the top, rotate open balancing on one hand as if you are doing a side plank. Hold and then rotate back to a push up position. Do another push up and rotate to the other side. Keep your body in a nice straight line as you do a push up and make sure to really rotate open into a side plank.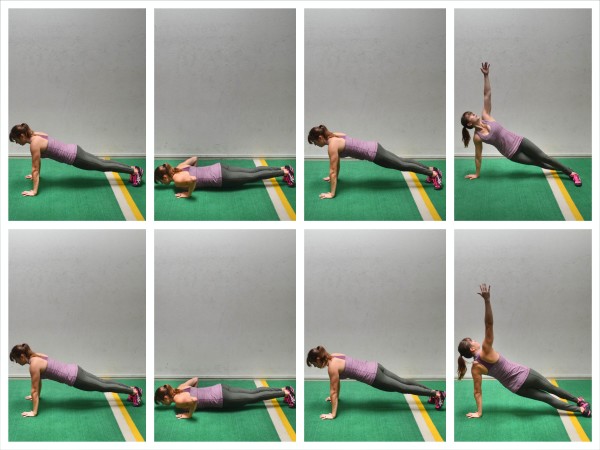 Sprinter Sit Up – Lie on your back and raise both legs straight out off the ground. Beginners may keep one leg on the ground. Crunch your upper body up so that you are sitting on your sit bones and then bring one knee into your chest. Lie back down and straighten both legs back out. Then bring the other knee into the chest as you crunch back up. Keep alternating, trying to keep both legs off the ground when you straighten back out. Do not let your chest cave when you crunch up. Keep your back flat as you crunch up and bring one knee in.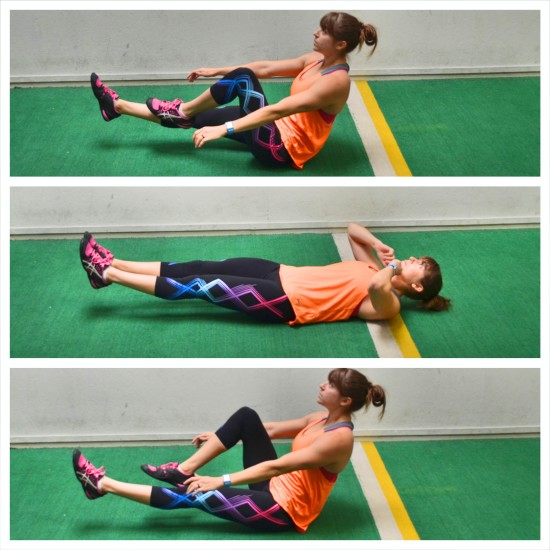 Circle Shuffle, Sprawl, Sit Thru – Place a cone or some object to circle around. Bend your knees with your feet about shoulder-width apart. Then move laterally, shuffling around the cone. Make full circles, half circles and even quarter circles, moving both ways. Mix it up. Circle around the cone both ways. While circling mix in a sprawl and sit thru occasionally. So while circling, drop down to the ground in the top of a crawl or bull dog hold. To do the sit thru, flex your feet and press up onto your hands and toes with your hands under your shoulders and your knees under your hips. You will then rotate open toward the right and bring your left leg under and through toward where your right hand is. As you bring your left leg forward and through, lift your right hand. You should be almost sitting with your left hand down to support you. Then bring the left leg back through so you are back in the starting position. Next rotate to the left and kick your right leg through and forward as you lift your left hand. Once you've done a sit thru to each side, stand back up and begin shuffling again.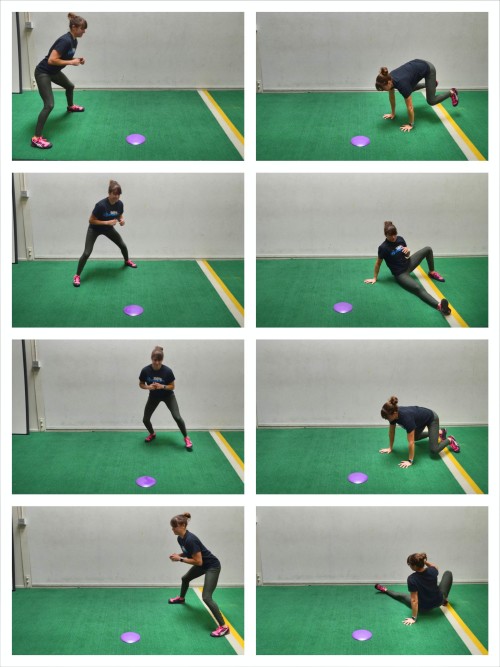 Mountain Climbers – Set up in a high plank from your hands and toes. Bring your right knee in toward your chest. Then drive the foot back out and bring your left knee in toward your chest. As you bring each knee in, you will just lightly tap the toe of that leg on the ground. Do not put weight on that front leg. Go as fast as you can, alternating knee drives. Mountain Climbers should look like you are "running" with your hands on the ground. Beginners may need to go slowly to start or even put their hands up on a low table or bar to perform incline mountain climbers. Advanced exercisers will want to "run" as quickly as possible or even add sliders or a towel under their feet.