WARM UP
Stretch and Roll Out:
Feet
Shins
Calves
IT Bands
Hips/Glutes
Groin
Upper Back and Traps
WORKOUT
Set a timer for 30 seconds-1 minute. Perform each exercise for 30 seconds to 1 minute then switch quickly to the next move. Rest 1 minute between rounds of the circuit. Perform 4-6 rounds.
CIRCUIT:
30 sec-1min each side Warrior III
30 sec-1min each side Side Plank with Rotational Reach
30 sec-1min each side Crescent Pose
30 sec-1min Sit Thru to Thoracic Bridge
30 sec-1min Scapular Wall Hold
30 sec-1min each side Plank With Reach Out and Back
1 minute Rest
COOL DOWN
Stretch and Roll Out:
Feet
Shins
Calves
IT Bands
Hips/Glutes
Groin
Upper Back and Traps
NOTES:
Start with shorter work intervals and lengthen the amount of time you work to challenge yourself more as you master the moves. Make sure to maintain proper form and do the hardest variation you can of each movement. With unilateral moves (one-sided moves), do one side then the other before moving on to the next exercise. All Plank movements can be regressed to isometric holds as needed. For more Plank Variations, check out this post.
EXERCISE DESCRIPTIONS:
Warrior III – Balance on one foot with the knee slightly bent. Hinge over lifting your back leg toward the wall behind you. Pretend you are driving the foot straight back into the wall behind you. Lean your torso over, keeping your back flat and your core tight. Reach your hands overhead in front of you. Hold in this position. Do not let your back round or your other foot touch down. Keep your arms in line with your body. You want a nice straight line from the bottom of your lifted heel to the end of your finger tips. Make sure you do not lock the standing leg out as you hold. Also make sure your hips don't open up as you hold. Squeeze your glutes to keep your hips level. Beginners may need to reach back toward their foot instead of out in front of them. Using a wall can also help beginners. Stand with a wall behind you and when you hinge over have the lifted foot lightly touch the wall behind you to help you balance.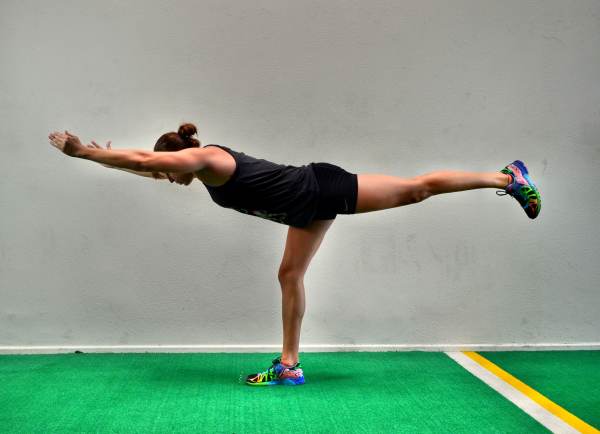 Side Plank with Rotational Reach – Set up in a Side Plank from your forearms and toes (advanced) or forearms and knees (beginner). Reach your top hand under your armpit as if reaching for the wall behind you. Rotate your chest toward the ground as you keep your hips up. Then rotate back open, reaching your hand up toward the ceiling. Do not let your butt go way up in the air as you rotate or your hips drop toward the ground. Repeat, reaching back under and through then up toward the ceiling.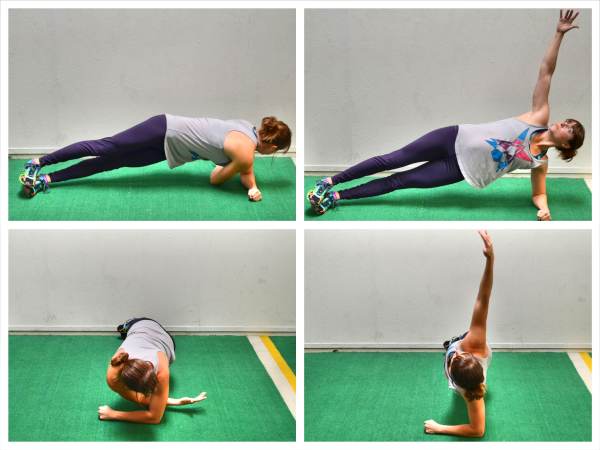 Crescent Pose – Step one foot forward into a wide stance and bend the front knee while keeping the back leg out straight. Your front heel should stay down while your back heel will be up. Make sure you are really sitting back into your front heel. Lift your hands up and reach them back and overhead as you stay low in the lunge. Keep your front heel down as you sit back into the lunge. If your front heel is coming up, you may want to step your front foot forward a bit more. As you hold the lunge, your back heel will stay up and the back leg will stay straight. Make sure though to drive back through your back heel instead of coming up onto your toe. Feel a nice stretch down the front of the hip and quad of the back leg. Hold then switch to the other side.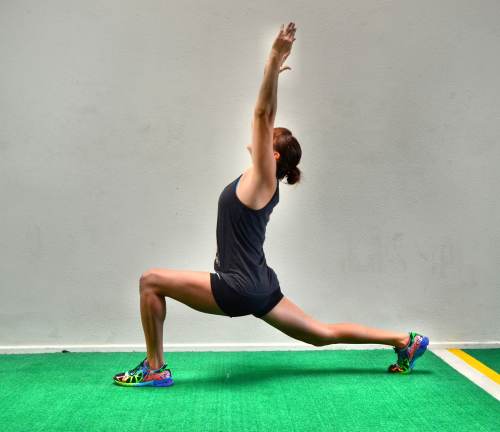 Sit Thru to Thoracic Bridge – Set up on your hands and knees with your hands under your shoulders and your knees under your hips. Flex your feet and lift up onto your hands and toes. Then lift your right hand and bring your left leg through and place your left foot flat on the ground. Rotate your hips up toward the ceiling, squeezing your glutes to lift them up as high as you can. While your lift your hips, reach your right hand down toward the ground, rotating your chest toward the floor. Feel your glutes working to keep BOTH hips up, while you reach your hand down. We have a tendency when we rotate to drop that hip down. Make sure both stay up. You should feel a nice rotation and stretch through your spine. You are twisting almost like someone wringing out a towel. Then drop your hips and step your foot back through while placing your hand back down on the ground. Rotate to the other side, bridging your hips up as high as you can. For a video of this move, click here.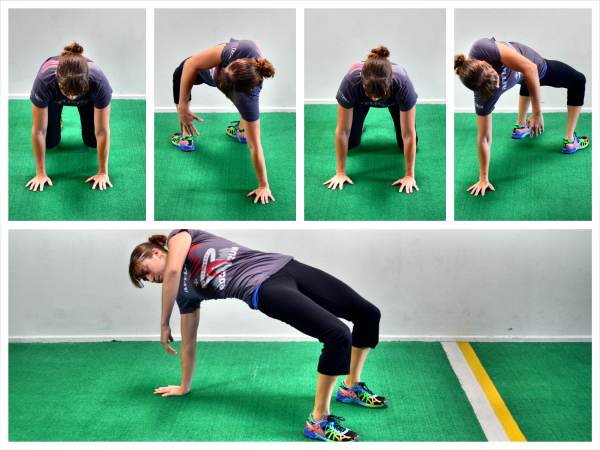 Scapular Wall Hold – Stand about six inches from a wall. With your back to the wall and your elbows bent in by your side, drive your chest out and lean back against the wall. Only your elbows should touch as you lean back. Do not shrug your shoulders and keep your body in a nice straight line as if holding a plank. Keep your head in line with your spine and do not tuck your chin. Walk your feet back toward the wall to make the move easier or walk them away to make the move harder. Make sure to drive the chest out and draw your shoulder blades down and together as you hold.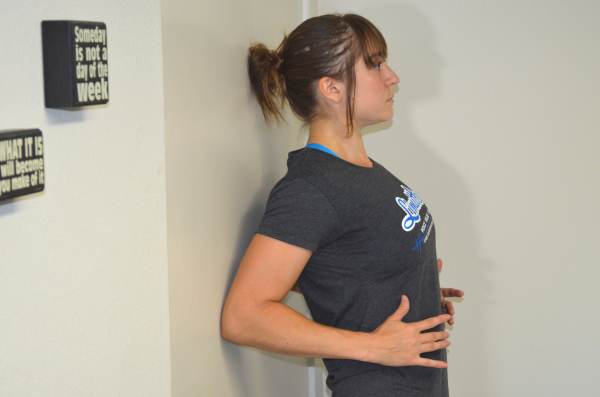 Plank With Reach Out and Back – Set up in a Front Plank from your hands and toes with your hands under your shoulders and your feet about hip-width to shoulder-width apart. For this move, you will want your feet wider to create a more stable base. Beginners can do this move from their knees. Then from the Plank position, reach one hand back and across toward the opposite ankle, pushing your butt back and up toward the ceiling as you reach. Then reach back forward and out toward the wall in front of you, dropping your hips back into a nice plank position. Do not drop your hips too low and feel your low back engage. Keep your core tight to protect your low back as you come back into that nice plank position. Reach back and across with the same hand until all reps are complete on that side.