WARM UP
Stretch and Roll Out:
Calves
Hamstrings
Quads
Groin
Hips/Glutes
Chest/Shoulders/Traps
Back/Lats
WORKOUT
Take a minute or two to stretch out. If you need a really quick full-body stretch, try the World's Greatest Stretch.
Then set a timer for 15 minutes and complete as many rounds of the circuit below as possible in that time. Only rest as needed. Record how many rounds you complete and try to beat that next time!
CIRCUIT:
5-10 reps Bull Dog Burpees
5-10 reps per side Spiderman Push Ups
5-10 reps per side Side Lunges with Hop
3-5 reps per side Sit Thrus
COOL DOWN
Stretch and Roll Out:
Calves
Hamstrings
Quads
Groin
Hips/Glutes
Chest/Shoulders/Traps
Back/Lats
NOTES:
When choosing a rep range, choose to do as many reps as you can without resting or without going to failure so that you can't move quickly from one exercise to another. It is better to do 5 reps and move quickly then to do 10 reps and have to pause between reps or rest after the exercise.
The quicker you move while challenging yourself, the more you will get out of this workout.
EXERCISE DESCRIPTIONS:
Bull Dog Burpees – To do the Bull Dog Burpee, start standing with your feet together. Then squat down and place your hands down on the ground. With your hands down, jump your feet back into the Bull Dog position. Jump your feet back so your knees are an inch off the ground and about under your hips while your hands are about under your shoulders. Then jump your feet back in and outside your hands. Lift your hands and jump up as high as you can before squatting back down and placing your hands back on the ground to jump back into the Bull Dog position.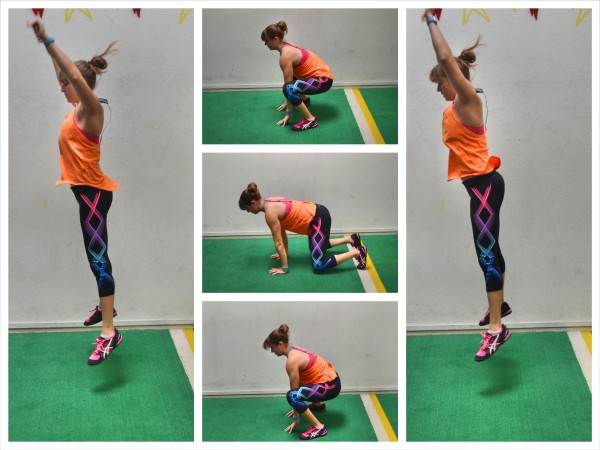 Spiderman Push Ups – The first Spiderman Push Up Variation is easier because you will include the knee drive at the top of the Push Up. To do this variation, set up in a nice plank position with your feet together and your hands outside your chest. Perform a Push Up, lowering your chest to the ground with your body moving as one unit. Do not let your elbows flare way up by your shoulders as you lower. Then push back up to the top and straighten your arms fully. Make sure your butt doesn't go up in the air or your hips don't sag. In this plank position, drive your right knee in toward the outside of your right elbow. Then put the foot back down so you're in the nice plank position again. Perform another Push Up then drive the left knee in to the left elbow. Keep alternating knee drives after each Push Up. Beginners can do this from an incline or even do the Push Up from their knees then come up to their toes for the knee drive.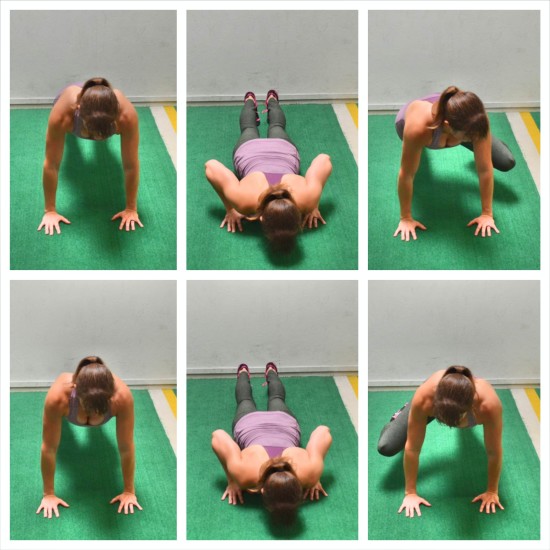 The second Spiderman Push Up Variation is more challenging because you will include the knee drive at the bottom of the Push Up, which requires you to hold at the bottom for a little longer. To do this variation, perform a Push Up and at the bottom of the Push Up, bring your right knee in to your right elbow. As you press back up, put the foot back. Then perform another Push Up, and holding at the bottom, bring the left knee in to the left elbow. Push back up and put the foot back. Make sure to keep your core tight as you bring the knee in. Your hips may rotate a bit but your butt shouldn't go way up in the air and your body should move as one unit as you push back up to the top. Beginners can also try this variation from an incline.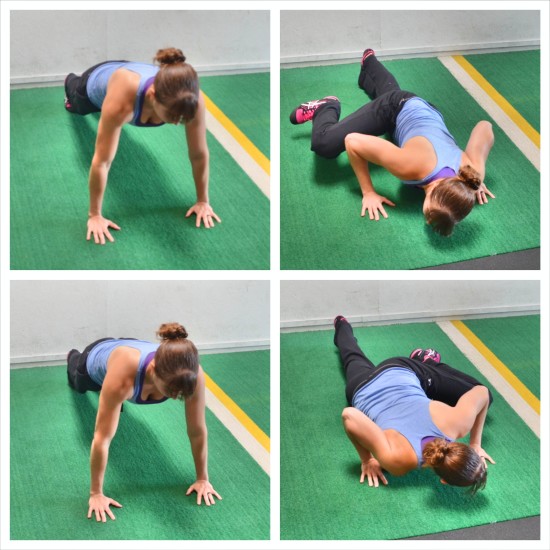 Side Lunges with Hop – To do Side Lunges with Hop, stand tall with your feet together. Step one foot out to the side nice and wide. Bend the knee of the leg you stepped out to the side with, keeping the other leg straight. Sit your butt back and lean over as you sink into the side lunge. Keep your back flat as you sit back. Then drive back up off your outside foot to come back to standing. When you come back to standing, jump up toward the ceiling, reaching up overhead. Then lunge out to the other side before coming back center and jumping toward the ceiling. Keep alternating lunges until all reps are complete. Make sure your heels stay down as you lunge out to the side. You want to make sure to sit your butt back.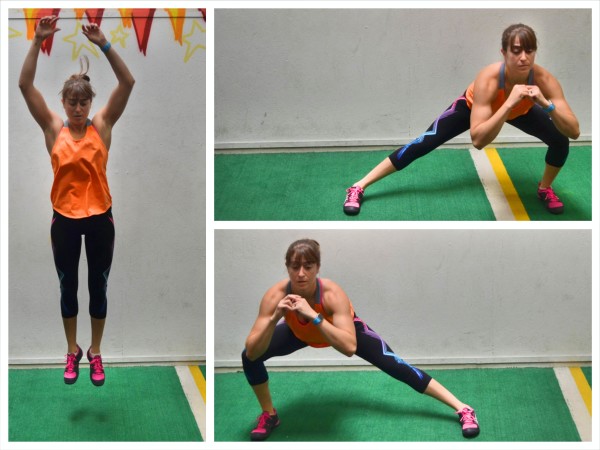 Sit Thrus – To do the Sit Thru, start on your hands and knees with your hands under your shoulders and your knees under your hips. Flex your feet and press up onto your hands and toes. Rotate open toward the right and kick your left leg under and through toward where your right hand is. As you bring your left leg forward and through, lift your right hand. You want to rotate all the way through with your left leg out straight so that you are almost sitting with your left hand down to support you. You want to "sit through." Then bring the left leg back through so you are back in the starting position. Next rotate to the left and kick your right leg through and forward as you lift your left hand. Move as quickly as you can back and forth. Beginners may need to move slowly or even start in a more spread out position with their legs out straight instead of their knees under their hips.