WARM UP
Stretch and Roll Out:
Calves
Hamstrings
Quads
Groin
Hips/Glutes
Chest/Shoulders/Traps
Back/Lats
WORKOUT
Set a timer for 30 minutes and complete as many rounds of the circuit below as possible.
CIRCUIT:
10-20 reps Sandbag Good-morning
10-20 reps Sandbag Row
20-50ft Sandbag Forward Crawl With Pull
COOL DOWN
Stretch and Roll Out:
Calves
Hamstrings
Quads
Groin
Hips/Glutes
Chest/Shoulders/Traps
Back/Lats
NOTES:
Try to rest as little as possible and complete as many rounds of possible. This workout should get your heart rate up because you are moving quickly. Use as heavy a weight as you can without going to failure on any exercise.
EXERCISE DESCRIPTIONS:
Sandbag Good-morning – Hold a sandbag up at your chest with your feet no wider than hip-width apart. Hinge over, keeping your back flat. Your knees should be soft as you hinge over and push your butt back toward the wall behind you. You should feel a nice stretch down your hamstring as you hinge over. Do not let your back round toward the ground. Keep your weight in your heels. Come back up to standing, driving through your heels and squeezing your glutes at the top. Do not let the sandbag sag. Keep it up at your chest as you hinge.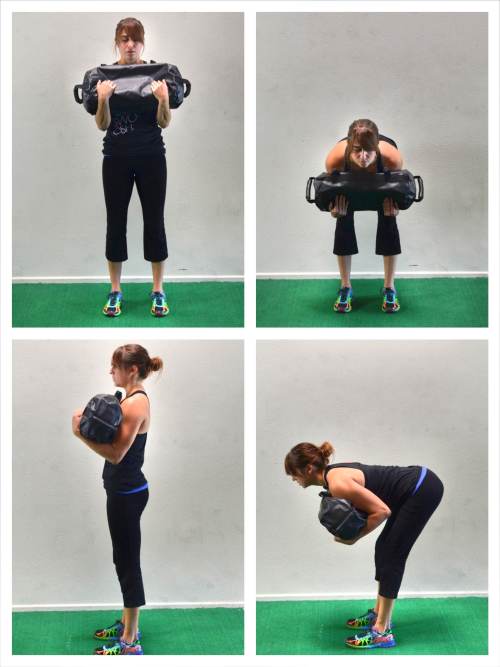 Sandbag Row – Hold a handle in each hand. You can change up your grip (holding parallel or with your palms facing away or toward you). Bend your knees slightly and hinge over with your arms hanging straight down and your back flat. Then row the sandbag up to your chest, driving your elbows straight up toward the ceiling. Do not curl your forearms up toward your chest as you row. Then make sure your back doesn't round toward the ground as you lower the sandbag back down. Do not use your legs to lift and lower the weight. Keep your core tight and your back still and flat as you row.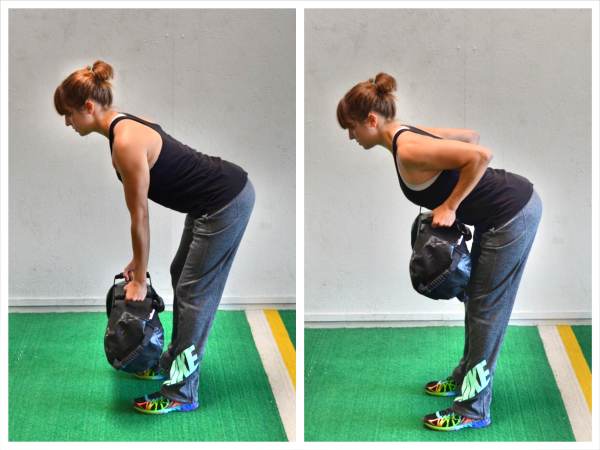 Sandbag Forward Crawl With Pull – Set up in the bull dog position on your hands and toes with your knees under your hips and your hands under your shoulders. The sandbag should be between your feet on the ground. Then reach one hand back to grab the sandbag. As you reach back, sit your butt back toward your heels. Then drive your hips forward to help you pull the sandbag forward toward your head. Pull the sandbag up as far as you can. Then crawl forward moving the opposite arm and leg until the sandbag is again between your feet. Then sit back again and pull the sandbag forward. Try to alternate which arm you pull with.