WARM UP
Stretch and Roll Out:
Calves
Hamstrings
Quads
Groin
Hips/Glutes
Back/Lats
Chest/Shoulders
Wrist/Forearms
WORKOUT
Complete 3-5 rounds of each circuit. Rest 30 seconds to 1 minute between rounds.
CIRCUIT #1:
10-15 reps each side Single Leg Squats
30 sec – 1 min Handstands
15-20 reps Tuck Jumps
30 sec – 1 min Scapular Hold
5-10 reps each side Sit Thrus
CONDITIONING:
Complete 5-10 rounds of conditioning. Crawl for 30 seconds then rest for 30 seconds to 1 minute.
Crawling (Bear, Gorilla, Alligator, Crab…Mix it up!)
COOL DOWN
Stretch and Roll Out:
Calves
Hamstrings
Quads
Groin
Hips/Glutes
Back/Lats
Chest/Shoulders
Wrist/Forearms
NOTES:
These are some more challenging bodyweight exercises that will also help you develop full body strength and stability. It will make you into a "badass" so that you can lift more weight and move better and faster.
EXERCISE DESCRIPTIONS:
Single Leg Squats – Choose a variation of the single leg squat that is right for you. Beginners may use a box step while more advanced lifters may use a doorway, TRX or XT straps for balance. If you can do a full pistol squat or use a plate weight to counter balance you, do that variation. Choose as hard a variation as you can do. To perform the basic single leg squat to bench, you will start by standing on one leg. Hold the other leg straight out in front of you. Lower yourself down until you are sitting on the box or table. Then driving off the heel on the ground, stand back up. Do not lean way forward or touch your raised foot to the ground. If you use a box, the more you allow yourself to sit down, the easier the move will be. The more you just lightly touch the box and come right back up, the harder the move will be. Also the lower the box you use or the lower down you go on any variation, the harder the move will be.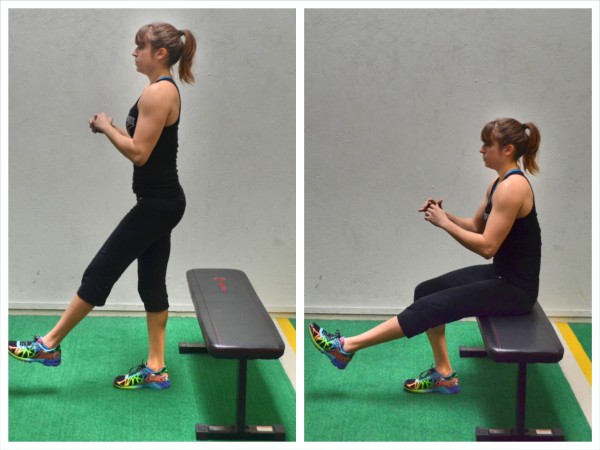 Handstands – Beginners will want to do a modified handstand, almost like a downward dog. Set up on your hands and knees. Then push your butt up in the air and drive your chest back toward your knees. Try to get your back as flat as possible, driving your butt up. Do not worry if your legs stay straight. The most important part is pressing your chest toward your knees so your back stays flat.  To advance, you can put your feet up on a table or chair. However, the hardest variation is walking your feet up the wall and walking your hands back toward the wall. The closer and more parallel to the wall you are the harder the hold. You can also do hip touches (lifting one hand at a time to touch your hips) or walk laterally along the wall to make the hold harder. Make sure that on each variation, you draw your shoulder blades down and back and draw your belly button in toward your spine. Squeeze your glutes also to keep your low back safe.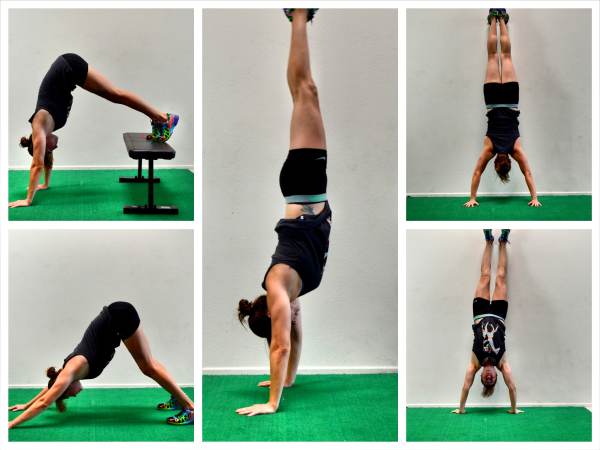 Tuck Jumps – Stand with your feet together. As you jump up, tuck your knees in toward your chest. Then shoot your legs back out to land softly on the ground. You are not squatting with this jump, simply tucking your knees.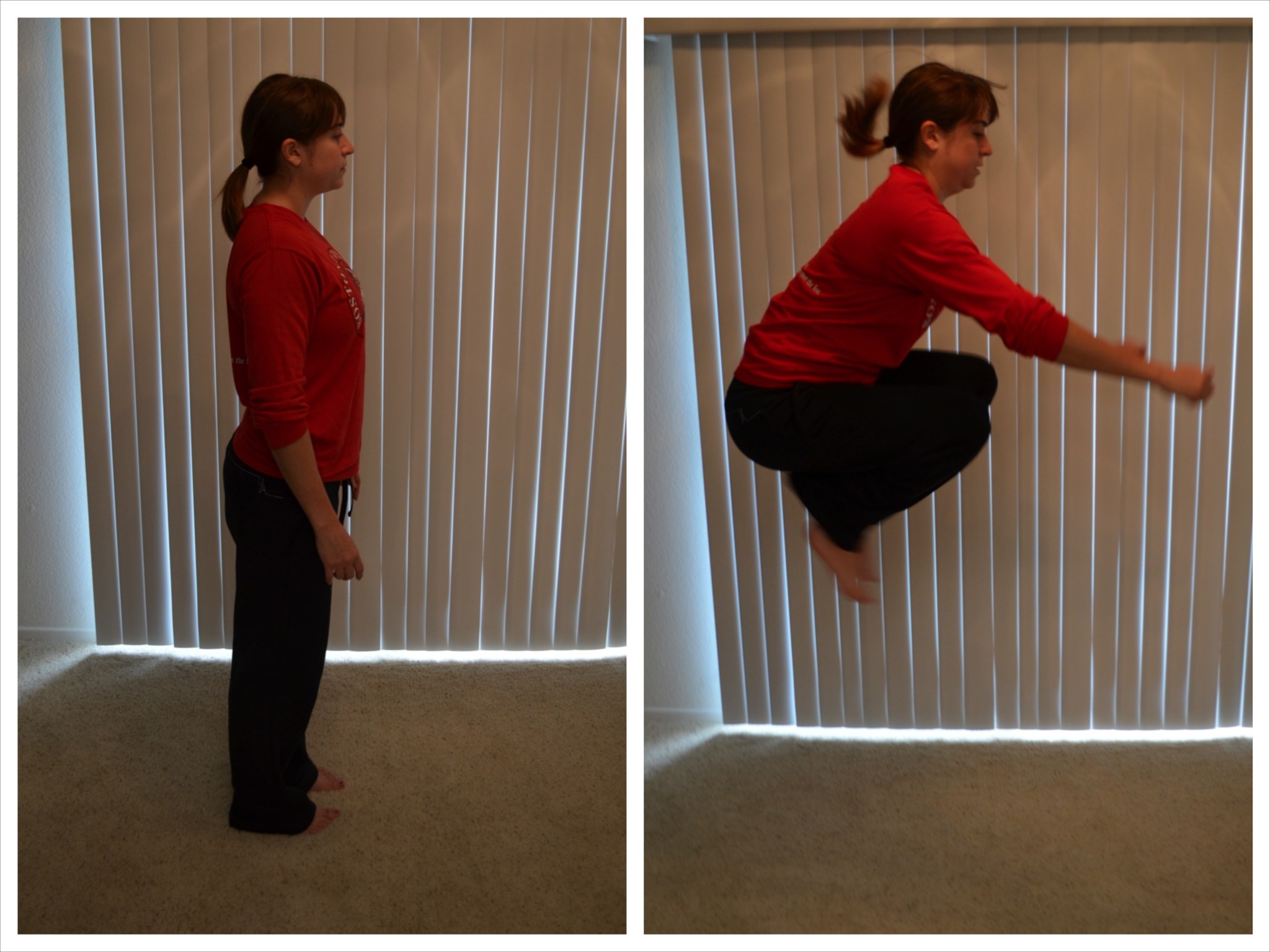 Scapular Hold – Stand with your back to the wall. Step a couple of inches away and bend your arms to 90 degrees. Keep your elbows in by your sides and drive them back toward the wall. Lean onto your elbows on the wall. Do not let your upper arms or back touch the wall. Relax your head back. Pinch your shoulder blades down and back while keeping your core tight as you lean into the wall. You should feel this move low between your shoulder blades. To advance the move, move your feet a bit further from the wall.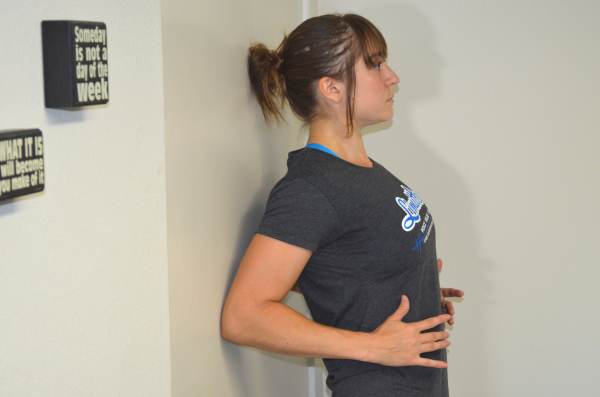 Sit Thrus – Start on your hands and knees. Flex your feet and press up onto your hands and toes with your hands under your shoulders and your knees under your hips. You will then rotate open toward the right and bring your left leg under and through toward where your right hand is. As you bring your left leg forward and through, lift your right hand. You should be almost sitting with your left hand down to support you. Then bring the left leg back through so you are back in the starting position. Next rotate to the left and kick your right leg through and forward as you lift your left hand. Move as quickly as you can back and forth. Beginners may need to move slowly or even start in a more spread out position with their legs out straight.