WARM UP
Stretch and Roll Out:
Wrists/Forearms
Chest
Shoulders/Traps
Back/Lats
Hips/Glutes
ACTIVATION
Complete 1 round of the activation circuit below.
CIRCUIT:
10 reps per side Plank with Rotational Reach
10 reps per side Plank with Reach Back and Out
15 reps Camel
WORKOUT
Set a timer for 1 minute intervals. Move from one exercise to the next then rest for 1 minute after all exercises are complete. Complete 5-8 rounds of the circuit.
CIRCUIT:
1 minute Standing Lateral Pulls
1 minute Half-Kneeling Pulls
1 minute Seated Shoulder Pulls
1 minute Lateral Plank Pulls
1 minute Reverse Plank Pulls
1 minute Rest
COOL DOWN
Stretch and Roll Out:
Wrists/Forearms
Chest
Shoulders/Traps
Back/Lats
Hips/Glutes
NOTES:
Make sure to keep moving the entire minute of work. If a pull works one side at a time, you can switch at 30 seconds or switch every round. For some of the pulls, alternate arms. Only for the lateral pulls should you stay on one side.
Set your pulling station down low. It is ok to have to pull from low for the Lateral Pulls and then you won't have to change it over for the Seated and Plank pulls.
EXERCISE DESCRIPTIONS:
For pictures and descriptions of all of the Rope Pulls, check out these 10 Battle Ropes Pulling Exercises.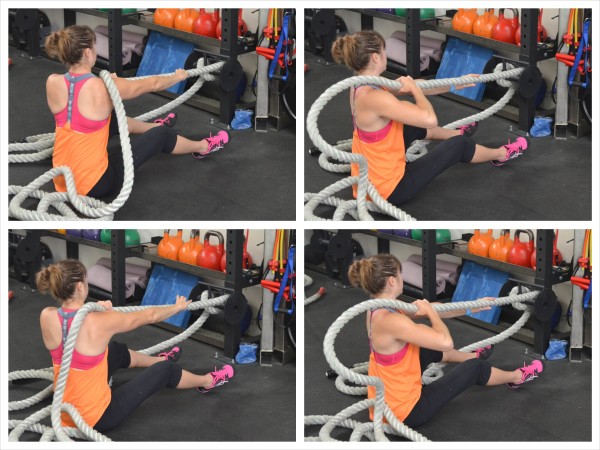 Plank with Rotational Reach – To do this Plank Variation, set up in the high plank position on your hands and knees (beginner) or toes (advanced). Set your feet wider apart to create a more stable base. Then reach one hand under your armpit and toward the far wall. You aren't just reaching under your armpit to pat yourself on the back. You want to really reach toward the wall. As you reach, make sure your hips stay down. Then pivot open, rotating into a Side Plank as you reach your hand up toward the ceiling. You will reach the hand that reached under your armpit up toward the ceiling, keeping your hips up as you move into a Side Plank. Then reach the hand back down and under your armpit, rotating your hips back down toward the ground and into the Front Plank position. Repeat. Complete all reps on one side before switching and reaching the other way. Do not let your butt go up in the air or your hips sag toward the ground as you reach.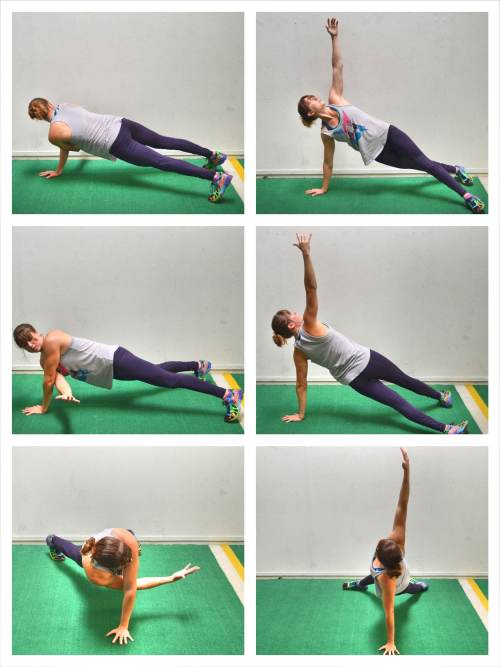 Plank with Reach Back and Out – To do the Plank with Reach Back and Out, set up in a Front Plank from your hands and toes with your hands under your shoulders and your feet about hip-width to shoulder-width apart. For this move, you will want your feet wider to create a more stable base. Beginners can do this move from their knees. Then from the Plank position, reach one hand back and across toward the opposite ankle, pushing your butt back and up toward the ceiling as you reach. Then reach back forward and out toward the wall in front of you, dropping your hips back into a nice plank position. Do not drop your hips too low and feel your low back engage. Keep your core tight to protect your low back as you come back into that nice plank position. Reach back and across with the same hand until all reps are complete on that side.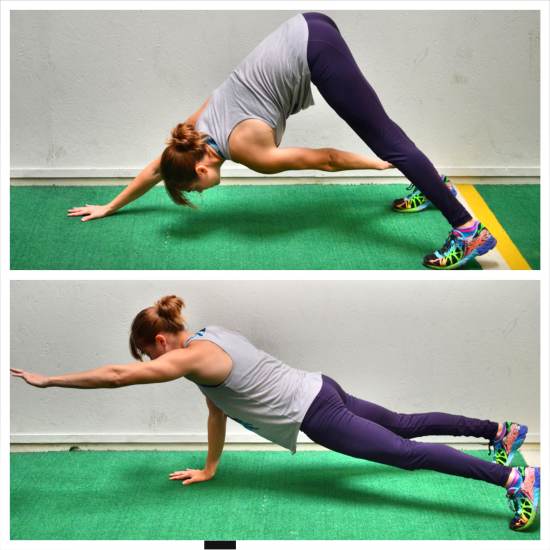 Camel – To do the Camel, start kneeling with your knees about hip-width apart and your feet flexed. Sit back on your heels and place your hands on your heels. Then arch your hips up and away, lifting your glutes up off your heels and pressing your chest out. Keep your hands on your heels as you arch away and squeeze your glutes to fully extend your hips. Relax your head back and arch as much as you can, getting a nice stretch down your chest, core, hips and quads. Do not let your shoulders shrug. Also make sure to squeeze your glutes so you don't just feel this stretch straining your low back. Hold for 1-2 seconds and relax back down. Repeat, arching back up. You can also make this a static stretch by simply holding the pose for 15-20 seconds. If you want to make the stretch more challenging, point your toes and place your hands on your heels instead of flexing your feet (the two bottom photos). If you are less flexible, do this stretch with a couch, chair or table behind you. Kneel down and place your hands back behind you on the couch or table. If you are at your desk, you can use your desk or chair. Keeping your arms straight behind you, press your chest out and arch away as much as possible away from the piece behind you while leaning your head back.