WARM UP
Stretch and Roll Out:
Calves
Hamstrings
Quads
Hips/Glutes
Chest
Back
WORKOUT
Set a timer for 20 seconds of work, 10 seconds of rest. You will complete 4 rounds of each exercise before moving on to the next exercise. Rest 30 seconds between exercises and then up to 1 minute between rounds. Complete 2 rounds of the circuit below.
CIRCUIT:
4 rounds:
20 seconds Burpee Sit Thrus
10 seconds Rest
4 rounds:
20 seconds Snowboard Hops
10 seconds Rest
4 rounds:
20 seconds Climber Push Ups
10 seconds Rest
4 rounds:
20 seconds Skier Jacks
10 seconds Rest
4 rounds:
20 seconds Bicycles
1 minute Rest
COOL DOWN
Stretch and Roll Out:
Calves
Hamstrings
Quads
Hips/Glutes
Chest
Back
NOTES:
Do not rest during the 20 seconds of work. To get the most out of this workout, you need to make sure to go hard the entire work interval and rest during the allotted time. Do not shorten the rest intervals just try and go harder or do harder variations during the work intervals.
EXERCISE DESCRIPTIONS:
Burpee Sit Thrus – To do the Burpee Sit Thru, start standing with your feet together. Then bend down and place your hands on the ground as you jump your feet back into a Bull Dog position. Unlike the Basic Burpee, you won't jump your feet back into a plank. You will want to jump your feet back so you are in more of a crawling position with your knees bent. From this bent-knee position, kick one leg under your body and through as you lift the opposite hand to "sit through." Then bring the leg back under your body as you lower your hand back down and sit through on the other side. You will again kick the leg under your body and through as you lift your opposite hand. You want to rotate all the way through so you could actually sit if you lost your balance. Once you've performed a sit thru to both sides, jump your feet back into your hands and come to standing. Jump up off the ground at the top and then repeat the movement. Beginners may find they want to jump back into more of a plank position to make the sit thru easier. Advanced exercisers with more mobility will want to perform the sit thru from more of a bull dog hold starting position. AKA straighter legs makes the movement easier. Move quickly, rotating open and sitting all the way through on each sit thru.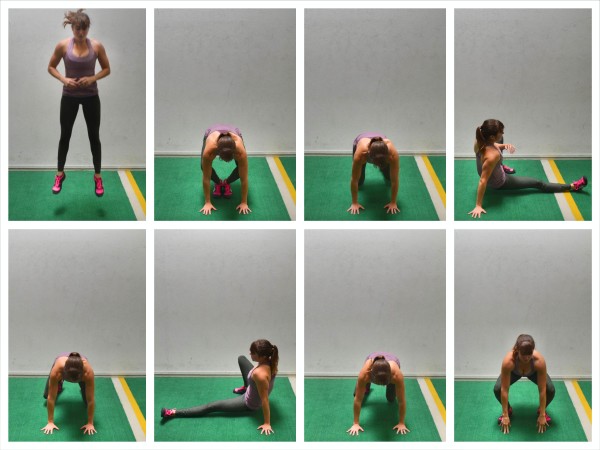 Snowboard Hops – To do Snowboard Hops, start standing with your feet parallel and about shoulder-width apart. Face toward one foot, keeping your feet parallel and then step your back foot slightly forward so your stance is slightly staggered. Then squat down, pushing your butt back as you reach the same arm as the foot in front down outside your front toe. You can hinge over at the hips, but do not let your core collapse and simply lean forward. Then explode up off the ground, lifting your hand as you rotate forward and then to face the other way with your body. When you land, your back foot should be in front and your front foot should be in back, slightly staggered forward. Land and squat back down, dropping your front arm down to touch the ground outside your front toe. Then jump back up and rotate back to face the way you started. Beginners may not sink as low or jump as high. They may also do more of a "step" to switch than a full jump. Move quickly and make sure to bend your knees and sink down as you land. Also make sure your heels come down as you squat down. Keep your back flat even as you hinge over to touch the ground.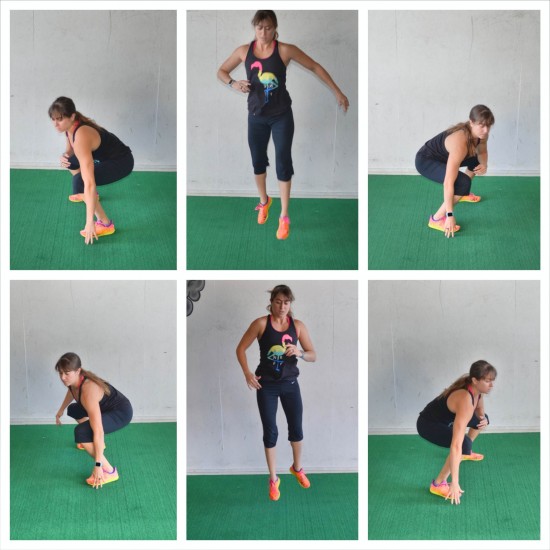 Climber Push Ups – To do the Climber Push Up, start in a plank from your forearms. You can set your feet wider apart if needed to create a more stable base. Engage your abs and, keeping your body in a nice straight line, climb one hand at a time up to a plank position from your hands. Place your hands right below your shoulders, but outside your chest as you climb up. Then at the top perform a push up. Then climb back down and repeat. You can do the Push Ups from your knees if needed or even regress to just the Plank Climbers as you fatigue.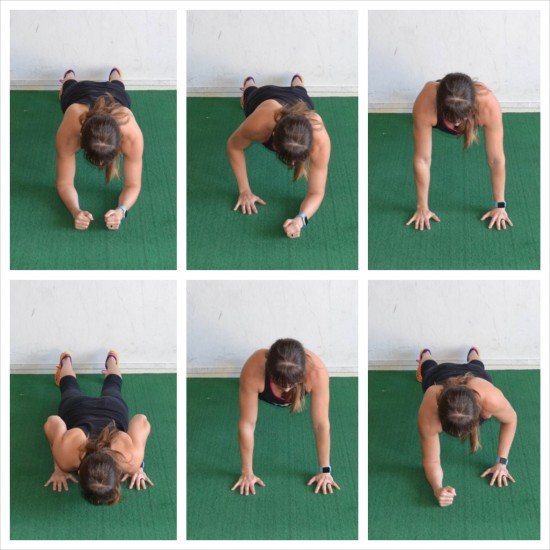 Skier Jacks – To do the Skier Jack, start standing with your feet together and your arms down by your sides. Then jump one foot forward and the other foot back as you swing the opposite arm up and forward and the other hand back and down toward the ground. Switch your split stance and jump the other foot forward as you swing your arms to bring the other arm up and forward. Keep alternating sides, swinging your arms so that your opposite arm and leg are always forward and backward together. These aren't lunges, just simply jumping one foot back and the other forward into a split stance. Swing your arms to help you move more quickly.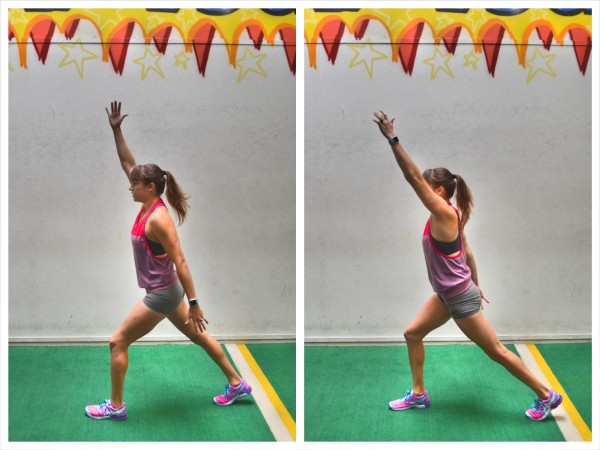 Bicycles – Lie on your back with your legs out straight in front of you and your hands behind your head. Lift your legs up off the ground. Beginners may need to keep their feet up higher while more advanced exercisers will be able to keep their feet only an inch or two off the ground. Bring your right knee into your chest, keeping the left leg off the ground. As you bring the right knee in, crunch the upper body up and bring the left elbow up and across to touch your right knee. Then straighten you right knee out and bring your left knee in as you rotate your left elbow to the ground and your right elbow to your left knee. Keep rotating and alternating touches until all reps are complete.