WARM UP
Stretch and Roll Out:
Calves
Hamstrings
Quads
Groin
Hips/Glutes
Chest/Shoulders/Traps
Back/Lats
WORKOUT
Complete 5-8 rounds of the circuit below. Rest 1-3 minutes between rounds. Try to start the next round as soon as you are recovered enough to do the same amount of work you did the round before.
CIRCUIT:
30 seconds Towel Taz
15 seconds Rest
30 seconds Lunge Run
15 seconds Rest
30 seconds Fly to Push Up
15 seconds Rest
30 seconds Mt. Climbers
15 seconds Rest
30 seconds Glute Bridge to Curl
1-3 minutes Rest
COOL DOWN
Stretch and Roll Out:
Calves
Hamstrings
Quads
Groin
Hips/Glutes
Chest/Shoulders/Traps
Back/Lats
NOTES:
Do as many reps as you can in the 30 seconds. Do not stop moving during those 30 seconds even if it means regressing the exercise. Rest as much as needed between the rounds so that you are truly ready to work.
Most of the Towel Moves are shown with sliders which can also be used if you have them.
EXERCISE DESCRIPTIONS:
Towel Taz – Grab a bath towel,moving blanket, fleece blanket or whatever you have on hand. The bigger and heavier the towel, the harder the move will be. Grab a corner of the towel in each and and start shaking the towel as powerfully and as quickly as you can up and down while moving quickly around from side to side, in a circle, forwards, backwards and every which way. Move quickly, taking only a few steps in each direction as you shake the towel. Keep your chest up and do not round your back. You can shake the towel up and down and in and out. The quicker you move, the harder the move will be.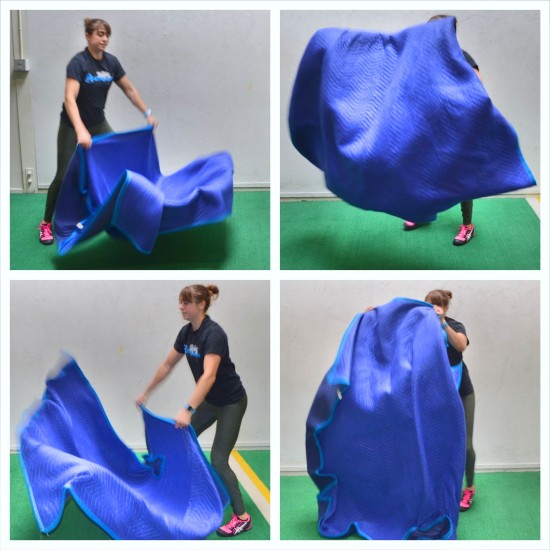 Lunge Run – Place a towel under each foot and step one foot forward. Sink down into a lunge, bending both knees. Pop up out of the lunge and slide the front foot back and the other foot forward. Sink down and then pop back up and switch stances again. It is almost like you are doing split squat jumps but without the jump. Keep alternating lunges until all reps are complete.
Fly to Push Up – This can be done from the knees or the toes. Start at the top of your push up with one hand on the towel. Then slide the hand out to the side and perform a push up. After the push up, slide the hand back into the starting position. Even though this is a wider push up, don't let your elbows flare way out by your ears. Beginners can do this without the towel and just step the hand out, do a push up and then step the hand back in. Intermediates may use the towel and slide out, do a push up and then slide back in. Advanced may put a towel on both hands and slide one out, do a push up, then slide it back in. Once they slide that hand back in, slide the other out and do a push up then slide that one back in. Keep alternating flyes until all reps are complete if you do the advanced variation. All push up to fly variations can be done from the knees or the toes.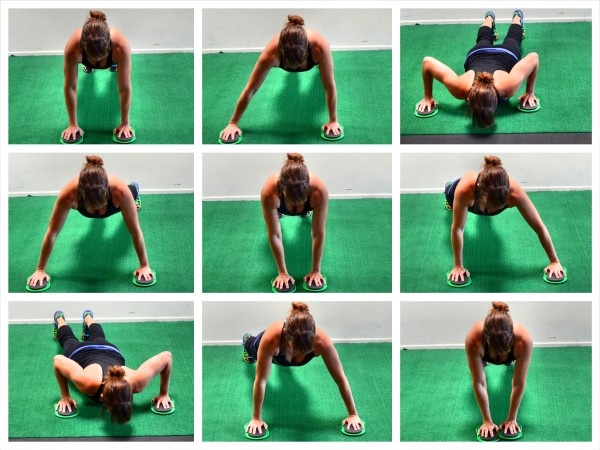 Mt. Climbers – Set up in a high plank from your hands and toes with a towel under each foot. Bring your right knee in toward your chest, sliding your foot in. Then slide the foot back out and bring your left knee in toward your chest. Go as fast as you can, alternating knee drives. Mountain Climbers should look like you are "running" with your hands on the ground. Beginners may not be able to use the towels. They may also need to go slower or even put their hands up on a low table or bar to perform incline mountain climbers.

Glute Bridge to Curl – Beginners may need to start with a single leg bridge and curl while more advanced exercisers may do the two-leg bridge and curl. A beginner may want to start with the towel under only one foot and slide out one leg at a time. To perform the two leg curl, place both feet on a towel about hip width apart. Start in the bridge position and slide your feet out. Keep your hips off the ground and your glutes engaged as you slide out. Then curl the heels back in, bringing the hips up again into a glute bridge. Do not let the hips sag toward the ground as you slide out or come back in.