WARM UP
Stretch and Roll Out:
Calves
Hamstrings
Quads
Groin
Hips/Glutes
Chest/Shoulders/Traps
WORKOUT
Perform 3 rounds of each of the circuits below. Rest at least 30 seconds between rounds. Beginners may need up to 2 minutes. Rest 2-3 minutes between circuits.
CIRCUIT #1:
20 seconds VersaClimber Sprint
20 seconds Sidewinders
20 seconds Pike Plank Inchworm
CIRCUIT #2:
20 seconds VersaClimber Sprint
20 seconds Rainbows
20 seconds Snow Angels
CIRCUIT #3:
20 seconds VersaClimber Sprint
20 seconds Right Hand Plank Waves
20 seconds Left Hand Plank Waves
COOL DOWN
Stretch and Roll Out:
Calves
Hamstrings
Quads
Groin
Hips/Glutes
Chest/Shoulders/Traps
NOTES:
This is a great small group or partner workouts because one or two people can work as their partners rest. Then they will get enough rest as their partners go.
EXERCISE DESCRIPTIONS:
VersaClimber Sprint – Step onto the VeraClimber and grab the handles. Make sure that you push and pull with both your upper and lower body. Try to keep your core still and not wiggle a ton from side to side. Take long, quick strides to sprint as fast as you can for 20 seconds.
Sidewinders – Loop the rope around an anchor and hold one side in each hand. Keep more slack in the rope than you would with other battling ropes moves. Relax your arms and stand with your feet between hip-width and shoulder-width apart. Then sweep your arms to the right, rotating through your core even pivoting a little up onto your left toes. Then quickly sweep your arms to the left. Sweep back and forth. Keep your arms more relaxed and only slightly bent. Use your core to push and pull from side to side. You shouldn't do huge rotations. Your arms and the rope should stay out in front of you. The ropes should make snake-like waves on the ground and swish side to side. They should not move up and down off the ground.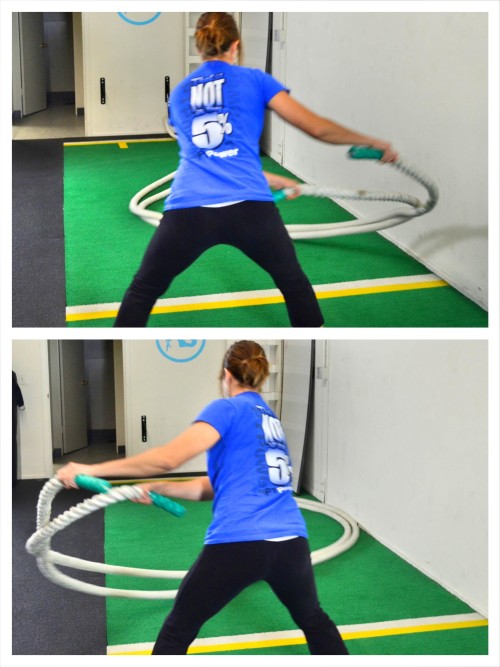 Pike Plank Inchworm – Set up in a plank on your forearms with your elbows under your shoulders and your body in a nice straight line down to your heels. Your feet should be only an inch or two apart. Then begin to walk your feet in toward your head. Keep your legs straight as you walk in, but allow your butt to go up in the air. Walk in as far as you can without bending your legs. Beginners will then walk back out while more advanced exercisers will jump both feet back out. Do not let your hips sag when you jump back out. Keep your core engaged as you walk in and out. Then repeat, walking back in. Beginners may find this move difficult and may need to regress it to a simple plank hold from their feet or even their knees.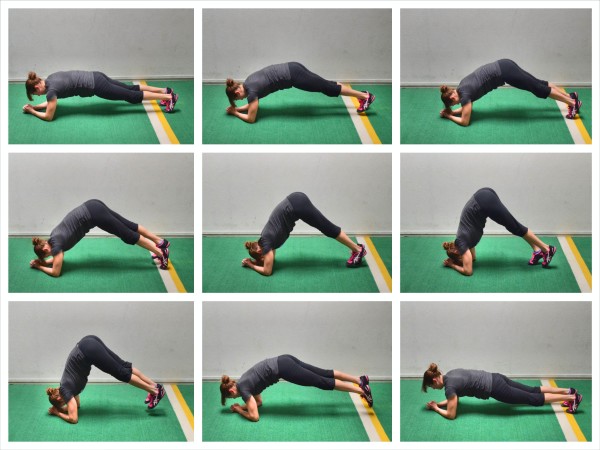 Rainbows – Loop the rope around an anchor and hold one side in each hand. Pull the rope out straight then take a step or two in. Hold the rope with the handles facing up. Keep your hands pretty close together. Rotate the handles down and outside your right hip and pivot your left leg. Then pull the rope up and then over and down toward your left hip. Pivot your right leg as you bring the rope to your left hip. Then arch the rope back up bringing the rope up toward your shoulder than back down to your right hip. Keep pivoting and rotating the rope from hip to hip. You are creating a rainbow with the rope as you bring it up from one hip to your shoulders and down and across to the other hip.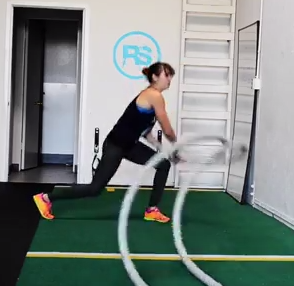 Snow Angels –  Start seated on your butt with your knees bent and feet flat on the ground. Advanced exercisers will then lift their feet off the ground while beginners will keep their feet on the ground. Hinge back and reach your arms overhead. Keeping your arms pretty straight arch them down toward the ground as if creating a snow angel. Then sweep them back up, remaining balanced on your butt. Do not round forward. Stay up nice and tall. Keep sweeping your arms until all reps are complete.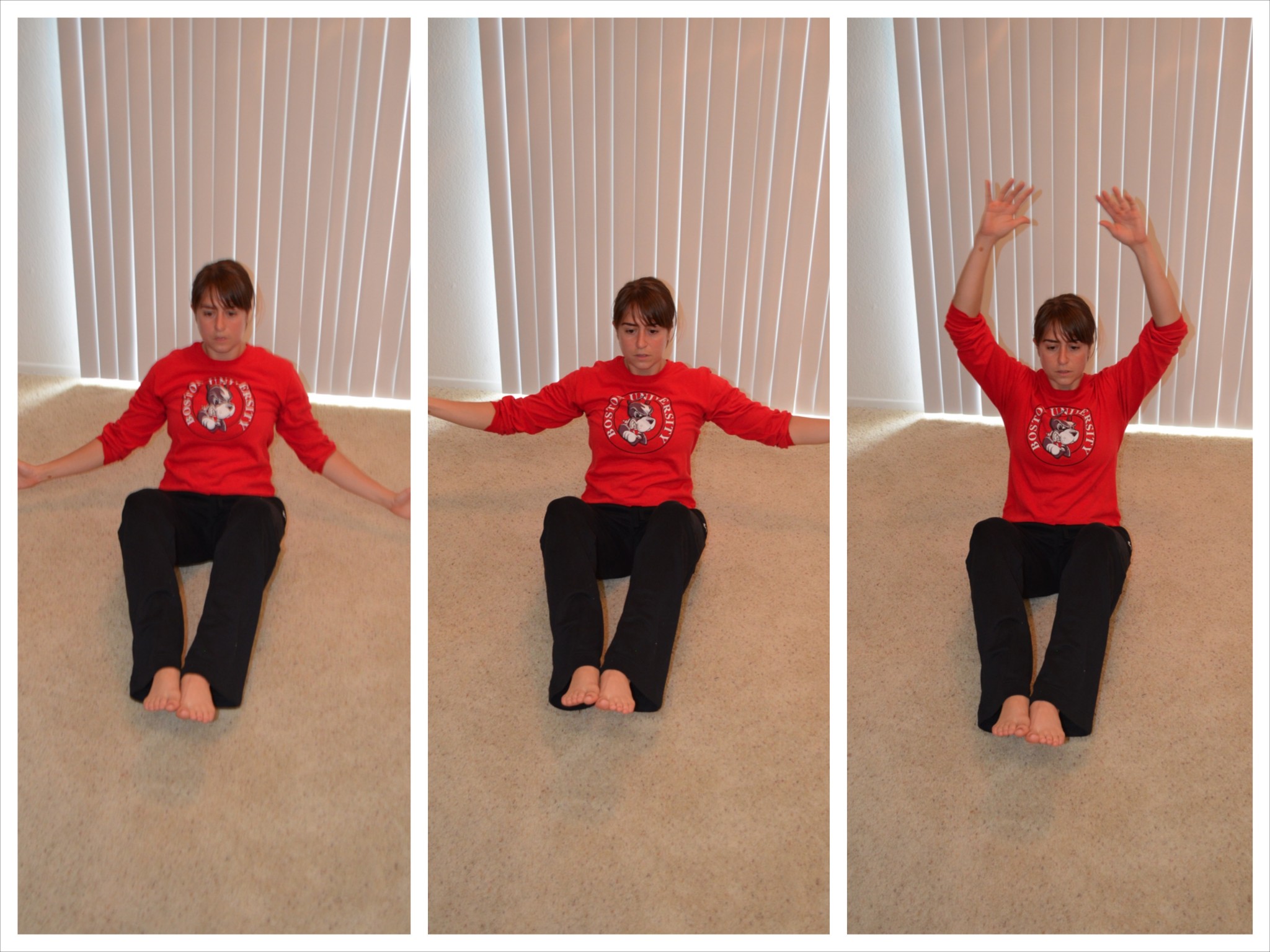 Plank Waves – Set up in a high plank from your hands and knees (beginner) or hands and toes (advanced). Your plank will be over one handle of the battling rope. Your feet should be about hip-width apart to help you stabilize and prevent rotation. Grab the rope in one hand while holding a nice straight plank line from your head down to your knees or heels. Then start to create waves with the arm holding the rope. Straighten it a little out in front of you and then begin to lift the rope up and down, almost a little like you are drumming on something. Move as quickly as you can without shifting your hips open. You will do waves on one side for 20 seconds then switch to the other side.