Rotational Reach Push Ups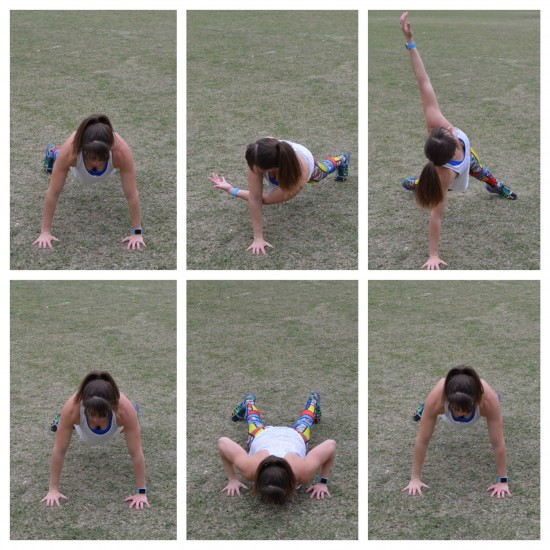 <iframe src="https://player.vimeo.com/video/194894596" width="640" height="360" frameborder="0" webkitallowfullscreen mozallowfullscreen allowfullscreen></iframe>
To do the Rotational Reach Push Up, start in a plank position with your hands under your shoulders and your feet about shoulder-width apart. The closer your feet are together, the harder the move will be. But don't place them so close together that your butt goes up in the air, especially as you rotate.
Then reach one hand under your body and rotate slightly that direction. Reach that same hand back open toward the ceiling, rotating your body into a side plank from your hand as you open up.
Rotate back closed and place the hand back down on the ground before performing a push up. Make sure your body moves as one unit as you perform the push up.
Lower your chest down to the ground then press back up and lift the other hand up to reach under and across your body before rotating open into the side plank.
Place the hand back down and perform another push up.
You can keep alternating rotational reaches on each side or you can stay on one side for a number of reps before switching.