Single-Arm Landmine Press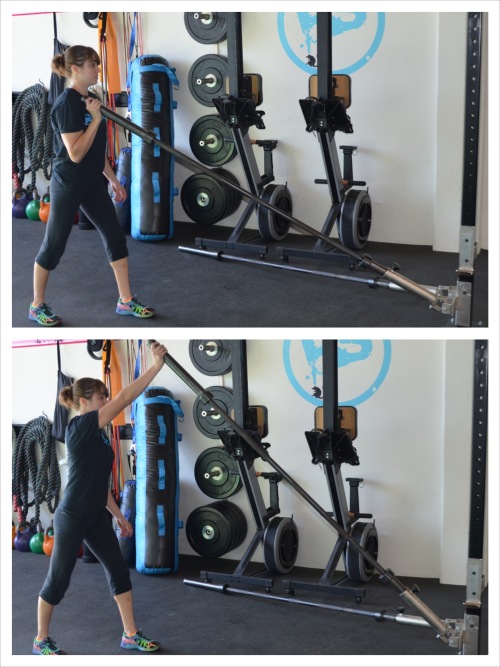 To do the Single-Arm Landmine Press, grab the barbell in one hand with the Landmine right in front of you. Bring your hand and the barbell to your shoulder. Place the opposite foot of the hand holding the barbell forward and stagger the other one back (you can also stand with your feet together if you want your core to work even harder).
Then, keeping your core tight, drive the barbell up and out from your shoulder, pressing the barbell overhead as you extend your arm. Because of the Landmine the barbell and your hand won't go straight up. You will actually press a bit up and forward.
Then return the barbell to your shoulder and repeat, pressing the barbell up until your arm is extended. Make sure that when you press, you do not let your core rotate toward the hand with the barbell. Keep your body square to the Landmine. Complete all reps on one side and then switch.
As you fatigue you may use your legs to help press the bar overhead or you can keep it as a strict press. Just make sure you do not rotate as you press. This move is meant to work your core because you are fighting the urge to rotate toward the side pressing.
If you don't have a Landmine, just do Alternating Arm Dumbbell Presses.
Variations and/or Modifications: