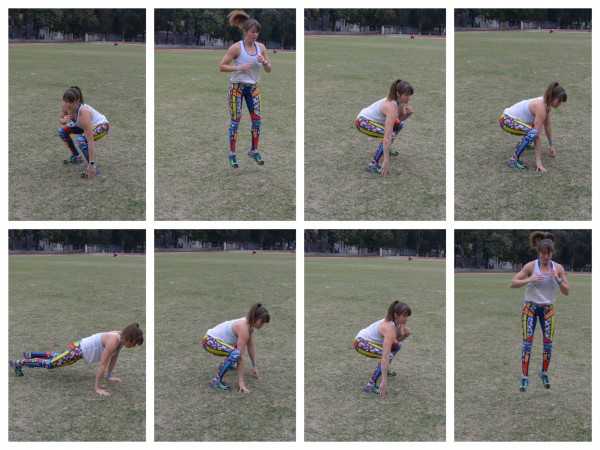 <iframe src="https://player.vimeo.com/video/195219609" width="640" height="360" frameborder="0" webkitallowfullscreen mozallowfullscreen allowfullscreen></iframe>
To do Snowboard Hop Burpees, start with your feet in a slightly staggered stance and your back foot out in front of your front foot. Look forward over that front leg and then squat down to place your front hand down on the ground by your toe. Do not simply round over to place your hand on the ground. Squat down. Do not touch the ground if that means rounding over with your butt up.
Then jump up and rotate, switching to land in the slightly staggered stance on the other side. Touch your hand back down to the ground as you sink into a squat on that side.
Jump back up and rotate back to the first side. Then in the squat, place your hands down on the ground and jump your feet back into a plank position.
Keep your core engaged and your body in a nice straight line. Jump your feet back in and come back into the squat.
Jump and switch to a snowboard hop on the other side. Repeat 3 jumps and perform the jump back on the other side.