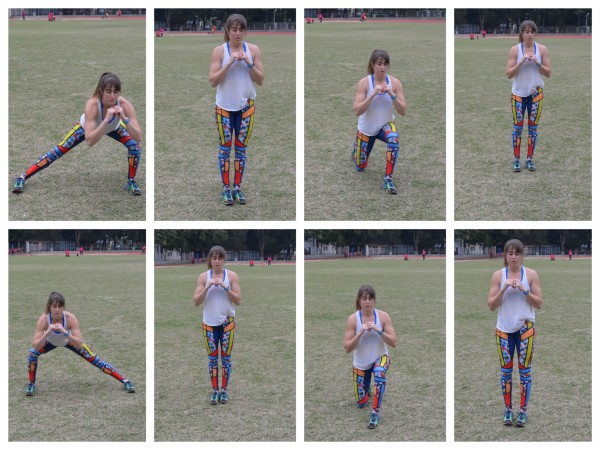 To do the Square Lunge, start to one side of the space you have to use. Then step out wide to the side, and bend the knee of the leg you stepped out with to sink into a deep side lunge. Keep your other leg straight as you sit your butt back and sink down. Keep both heels down as you sink and do not round over.
Then, drive up through the heel of your bent leg to stand up as you use your adductors to pull the straight leg in toward the leg you stepped out with. You will now be on the other side of the space from where you started.
Then lunge back. You can choose to keep the same leg working or alternate which leg works. Lunge back toward the back of your square, dropping your back knee down toward the ground while keeping your front heel down. Keep your chest up as you sink into the reverse lunge.
Drive off your front heel to push backward and come to standing. You will now be at the back of your square.
Perform another side lunge, stepping out to the side with the other foot this time. Sink down, pushing your butt back then stepping in with the straight leg.
Then lunge forward, dropping the back knee down as you keep your chest up. Step your back foot forward to come to standing and you've completed the square. Repeat, moving the same direction for a few more reps or alternate and reverse the square.