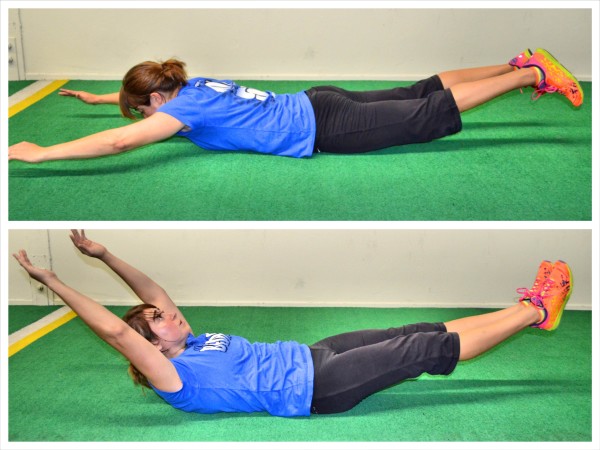 <iframe src="https://player.vimeo.com/video/194894699" width="640" height="360" frameborder="0" webkitallowfullscreen mozallowfullscreen allowfullscreen></iframe>
To do the Superman Banana, lie face down on the ground and reach your hands overhead with your legs out straight behind you. Then, squeezing your glutes, lift your chest and legs up off the ground. Try to get your chest up as high as you can and your quads up off the ground if possible.
You should feel this in your back and glutes. This is the Basic Superman.
Keeping your arms and lower legs up off the ground, roll over onto your back. Try not to push off with your hands or feet as you roll. You may need to use your arms just a little especially if you are a beginner, but the goal is to roll without pushing off.
Once on your back, keep your belly button drawn in toward your spine and your legs and arms up off the ground. Your neck and head should be in a neutral position. This is "Banana." Beginners may find they need to lift their legs up higher toward the ceiling or bend their knees to keep their low back against the ground and their abs engaged.
Then roll back over into Superman. Again do not push off with your arms or legs. Hold in each position (Superman and Banana) for a few seconds before rolling back over.