Hey Guys it's Cori from Redefining Strength! 
In this new season of The Fitness Hacks Podcast I'm going to be bringing you all new segments.
In this episode we'll cover…
1) 3 tips for kickstarting the new year, 
2) Get some amazing goal setting advice from my lead dietitian Michelle, 
3) Discuss 3 Key Macro Hacks
4) Go over a delicious one pan chicken recipe
5) Talk about an amazing training technique and then talk about dealing with hate as you work toward your goals.
One Pot Spanish Chicken and Rice Recipe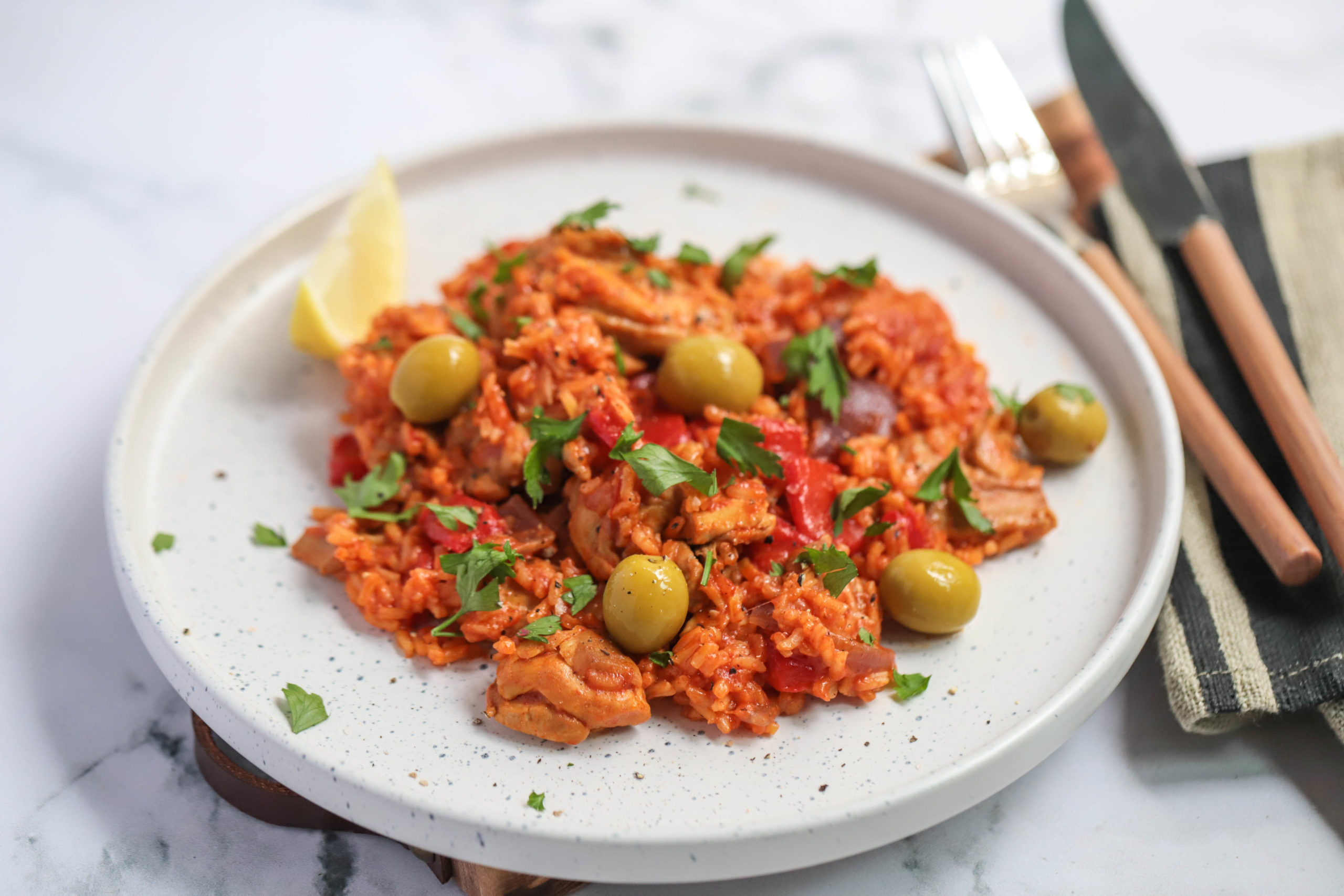 1 tbsp. olive oil
1 lb. (450g) skinless boneless chicken thighs cut into pieces 1⁄2 tsp. salt
1⁄2 tsp. black pepper
1⁄2 medium onion, diced
1 red bell pepper, diced
2 cloves garlic, minced
1 cup (160g) long grain white rice, rinsed
1⁄2 tbsp. smoked paprika
11⁄2 cups (360ml) chicken broth
1 cup (240ml) tomato sauce pinch of saffron
1⁄2 cup (70g) green olives
1⁄2 cup (8g) cilantro, chopped 1 lemon, cut into wedges
Heat the olive oil in a large skillet over a medium heat. Add the chicken and season with salt and pepper. Cook for 5-6 minutes until slightly brown.
Add in the onion, red bell pepper and garlic and cook for a few minutes until they slightly soften. Now add the rice, stir to combine and cook for a further 1-2 minutes.
Next add in the paprika, chicken broth and tomato sauce. Bring to a boil, then turn down the heat to low. Add the saffron, cover the pan with a lid and cook gently for 25 minutes until the rice is ready.
Season with a little more salt and pepper to taste, and stir through the olives and cilantro.
Serve with lemon wedges.
4 servings (macros listed PER serving)
370 Calories | 11g Fat | 43g Carb | 27g Protein