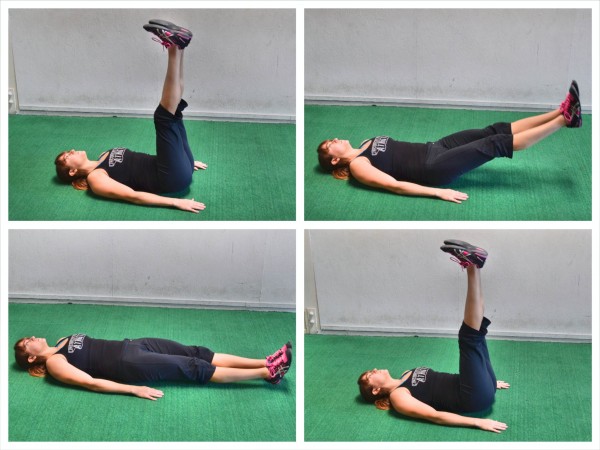 To do Leg Lowers, lie on your back with your arms behind your head or down by your sides and brace your abs by setting up in the pelvic tilt. Then lift your legs straight up toward the ceiling, keeping them together and as straight as possible.
Then with your low back firmly against the ground and your abs braced, lower both your legs down toward the ground. Lower them as close to the ground as possible without touching or without letting your low back come up off the ground. Keep your legs as straight as possible as you lower them down.
Then lift them back up, keeping your low back against the ground and your legs striaght. Use your abs to lift and lower.
If at any point while you lift and lower your legs, your low back comes up off the ground, stop and reset. Then either decrease your range of motion (not lowering as close to the ground) or regress to single leg lowers, lowering one leg down at a time.
If you can keep your abs engaged and not let your low back take over, lower your legs down so your heels are no more than an inch off the ground before raising them back up. You should also engage your glutes as you lower down and hover just off the ground.
And make sure that your legs stay as straight as possible throughout the movement.
Variations and/or Modifications: