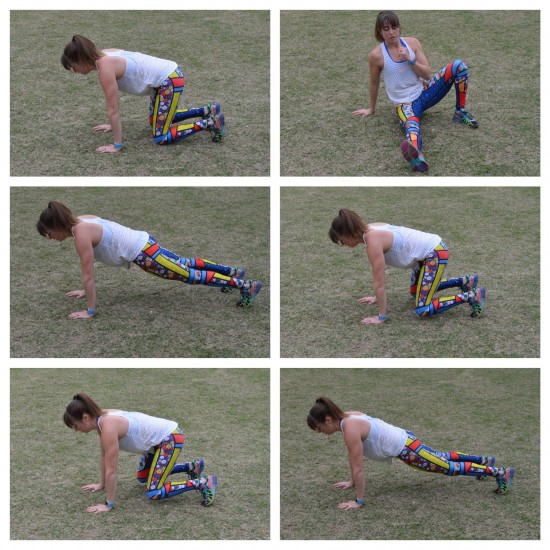 To do the Plank Sit Thrus, start in a bulldog position from your hands and feet, with your hands under your shoulders and your knees bent so that your knees are under your hips. Your knees should be about an inch off the ground.
Then jump  your feet back into the plank position with your hands under your shoulders and your body in a nice straight line from your head to your toes.
Jump your feet back into the bulldog position, then rotate into a Sit Thru on one side. Kick one leg under and through as you lift the opposite hand up off the ground. As you kick the leg under and through, your body should rotate so that you could "sit" on the ground with one leg out straight.
Bring the leg back under your body and place the foot back on the ground so you are back in the bulldog position. Jump back into a plank and then repeat on the other side.
You can also cut out an extra plank between Sit Thrus to make the move slightly easier. Move as quickly as possible and rotate all the way through with each Sit Thru.
Variations and/or Modifications: