WARM UP
Stretch and Roll Out:
Calves
Hamstrings
Quads
Groin
Hips/Glutes
Chest/Shoulders/Traps
Back/Lats
ACTIVATION
Complete 2 rounds of the circuit below.
CIRCUIT:
20 reps Glute Bridges
10 reps Thoracic Bridge to Sit Thru
10 reps per side Plank with Reach Back and Out
LOCOMOTION
After stretch and rolling, set a timer for 2-3 minutes and jog, backpedal, side shuffle, carioca, skip, do butt kickers and/or high knees. Move around at about 75% of your max effort to get your heart rate up and blood pumping.
WORKOUT
Set a timer for 1 minute of work, 20 seconds of transition time between moves. Rest 1 minute 40 seconds between rounds. Complete 3-6 rounds of the circuit. Make sure to pick a variation of each move that allows you to work the entire minute. You may find you need to work between 75-85% of your max effort to keep moving the entire time.
CIRCUIT:
1 minute Rower or other piece of cardio equipment
1 minute Towel Taz
1 minute Jump Rope
1 minute Wall Sit
1 minute Rope Plank Pulls
1 minute Crawling
1 minute Rest
COOL DOWN
Stretch and Roll Out:
Calves
Hamstrings
Quads
Groin
Hips/Glutes
Chest/Shoulders/Traps
Back/Lats
NOTES:
Make sure to work the entire minute and then rest between exercises for only 20 seconds. Work as hard as you can each minute, but make sure you don't go so hard you can't continue for the rest of the round.
Beginners may need to rest longer between rounds.
EXERCISE DESCRIPTIONS:
Glute Bridge – To do the Basic Glute Bridge for reps, bend your knees and put your feet flat on the ground just close enough that you can graze your heels with your fingertips when you stretch your arms down by your side. Your feet should be about hip-width apart. If you put your feet further away from your glutes, you will engage more hamstring than if you keep your heels in closer to your glutes. Bend your elbows to 90 degrees so that only your upper arms are on the ground. Then drive up through your heels and upper back to lift your glutes off the ground. Drive your hips up as high as possible, squeezing the glutes hard. Keep your belly button drawn in so you don't hyperextend your back. Focus and consciously squeeze your glutes at the top. Do not push backward off your heels. Make sure you are driving straight up and that your knees aren't caving in. Squeeze your glutes for second or two at the top and lower all the way back down to the ground before repeating. Do not rush through the move. To make the move harder, hold longer at the top or even slow down the lower back down to the ground. A slower tempo means more time under tension and more work for your glutes.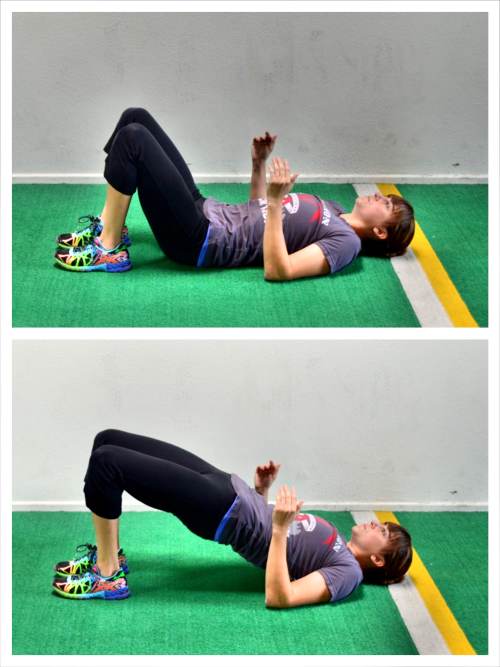 Thoracic Bridge with Sit Thru – Set up on your hands and knees with your hands under your shoulders and your knees under your hips. Flex your feet and lift up onto your hands and toes. Then lift your right hand and bring your left leg through and place your left foot flat on the ground. Rotate your hips up toward the ceiling, squeezing your glutes to lift them up as high as you can. While your lift your hips, reach your right hand down toward the ground, rotating your chest toward the floor. Feel your glutes working to keep BOTH hips up, while you reach your hand down. We have a tendency when we rotate to drop that hip down. Make sure both stay up. You should feel a nice rotation and stretch through your spine. You are twisting almost like someone wringing out a towel. Then drop your hips and step your foot back through while placing your hand back down on the ground. Rotate to the other side, bridging your hips up as high as you can.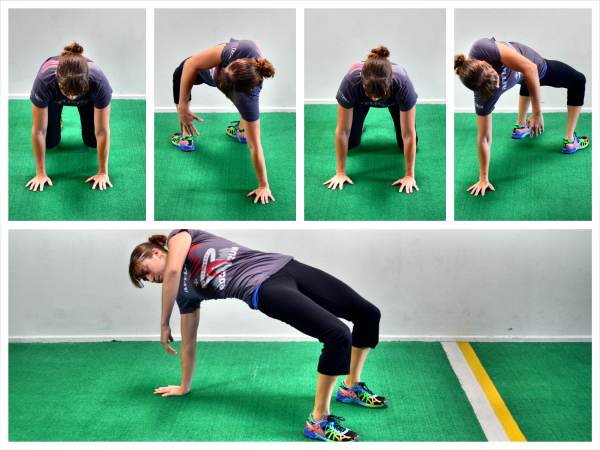 Plank with Reach Back and Out – To do the Plank with Reach Back and Out, set up in a Front Plank from your hands and toes with your hands under your shoulders and your feet about hip-width to shoulder-width apart. For this move, you will want your feet wider to create a more stable base. Beginners can do this move from their knees. Then from the Plank position, reach one hand back and across toward the opposite ankle, pushing your butt back and up toward the ceiling as you reach. Then reach back forward and out toward the wall in front of you, dropping your hips back into a nice plank position. Do not drop your hips too low and feel your low back engage. Keep your core tight to protect your low back as you come back into that nice plank position. Reach back and across with the same hand until all reps are complete on that side.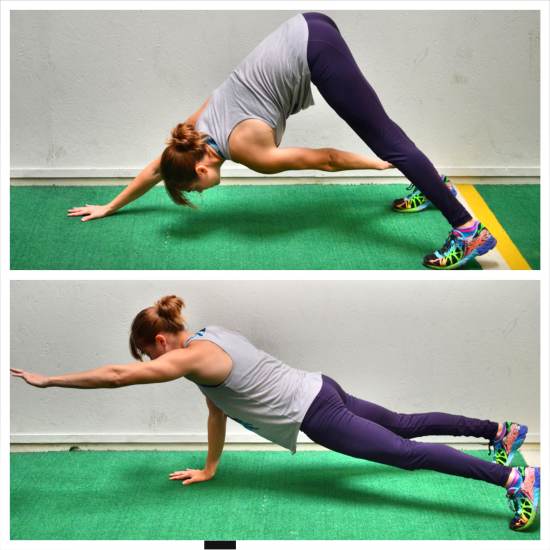 Towel Taz – For a complete guide to the Towel Taz, click here.
Jump Rope –  For jump rope you can do a basic jump, a run, a skip, or even double unders. If you struggle with jumping rope, you can fake it and do jumps without the rope! Play around a little and have some fun.
Wall Sit – To do the Wall Sit, stand with your back to a wall and your feet about hip-width apart. Then sink down into a squat and press your back into the wall behind you. When you sink into the squat, try to get your quads parallel to the ground and make sure your ankles are aligned under your knees. Hold there and drive your back into the wall. If you start to feel this in your low back, try engaging your core with a pelvic tilt. Press your low back into the wall. To make this move easier, don't sink as low in the squat or move your feet out just a bit from the wall. Do not let your ankles get too far out in front of your knees though. To make this move harder, hold a weight or even try a Single Leg Wall Sit.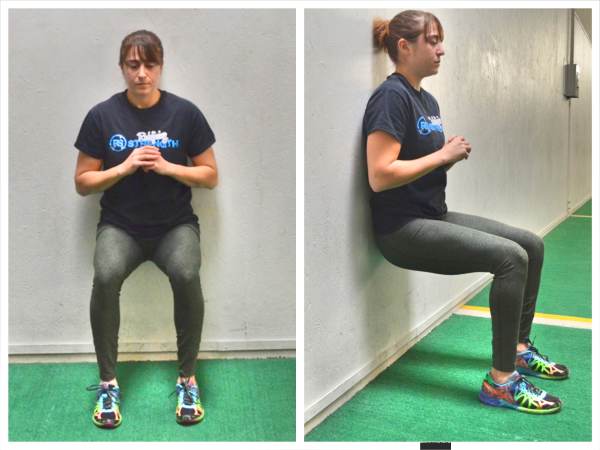 Rope Plank Pulls – Wrap the rope around a pole or anchor point. The more you wrap it, the harder the move will be. Set up in a plank position with the rope between your legs. Your hands should be about under your shoulders and your feet should be wide. Then sit your butt back toward your heels, bending your knees as reach one hand back through your legs to grab the rope. Push off the balls of your feet and drive your hips forward to pull the rope up under your body and through overhead. As you pull the rope through, extend your hips and squeeze your glutes to help you power the pull. You don't want to pull the rope through using only your arm. Then sit back again and reach the other hand back and through to pull the rope. As you pull the rope through, make sure to extend your hips so that your hips help power the pull. Keep alternating arms. If you pull the entire length of the rope just start pulling the rope back through the other way.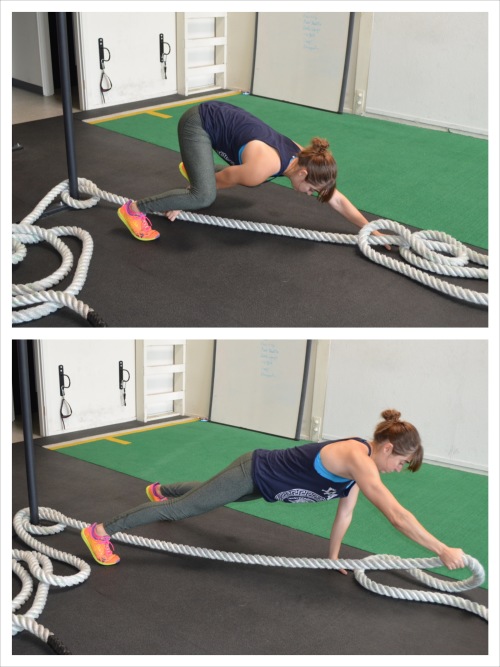 Crawling – You can do any crawling variation you choose. Here are 21 Crawling Exercises to help you choose!