WARM UP
Stretch and Roll Out:
Wrists/Forearms
Chest
Shoulders
Traps
WORKOUT
Complete as many rounds as you can in 15 minutes. Try to rest as little as possible and get as many rounds completed as possible.
CIRCUIT:
5-10 reps per side Fly to Push Up
8-15 reps per side Plank Forward Reaches
8-15 reps per side Self-Resisted Tricep Extensions
COOL DOWN
Stretch and Roll Out:
Wrists/Forearms
Chest
Shoulders
Traps
NOTES:
Do not go to failure on any exercise so that you can move quickly from one exercise to another without resting. You want to get as much work done as possible in the 15 minutes.
The first two moves can be done with sliders instead of towels and are shown below using the sliders. If you have hardwood floors, towels work best. With carpet, sliders may be a better option.
Need sliders, check these out – Valslides.
EXERCISE DESCRIPTIONS:
Fly to Push Up – This can be done from the knees or the toes. Start at the top of your push up with one hand on the towel. Then slide the hand out to the side and perform a push up. After the push up, slide the hand back into the starting position. Even though this is a wider push up, don't let your elbows flare way out by your ears. Beginners can do this without the towel and just step the hand out, do a push up and then step the hand back in. Intermediates may use the towel and slide out, do a push up and then slide back in. Advanced may put a towel on both hands and slide one out, do a push up, then slide it back in. Once they slide that hand back in, slide the other out and do a push up then slide that one back in. Keep alternating flyes until all reps are complete if you do the advanced variation. All push up to fly variations can be done from the knees or the toes. (For pictures of all the different variations, check out this post on Core Exercises.)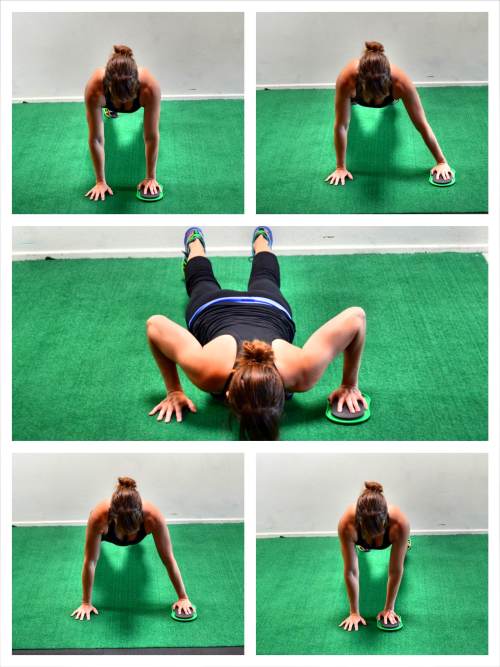 Plank Forward Reaches – Set up in a high plank position with your hands each on a towel. You can do the plank from your knees (beginner) or toes (advanced). In both positions, your legs should be together, your body should be in a nice straight line and your hands should be under your shoulders. Then slowly extend one hand on the towel overhead on the ground. Then bring it back under your shoulder and extend your other hand overhead. Keep alternating reaches while keeping your body in a nice straight line and your core tight. You should not feel this move in your low back.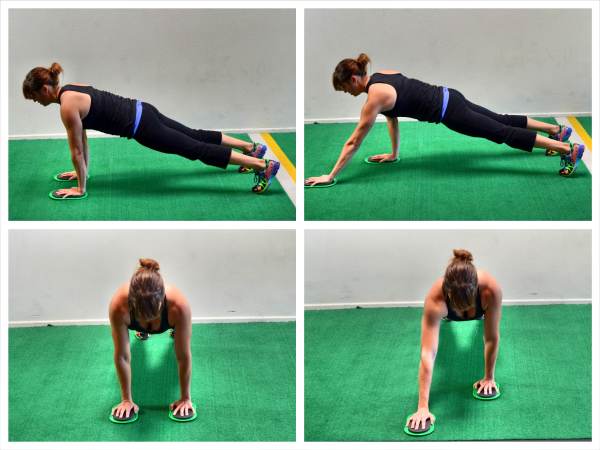 Self-Resisted Tricep Extensions – Hold a towel in one hand and reach your hand back behind your head so the towel is hanging down your back. Then reach up your back with the other hand to grab the towel. Pull down on the towel with your bottom hand. Resist being pulled with your top arm. Once you move all the way down, then pull up with your top arm, resisting with your bottom arm. One rep is down and up. Complete all reps on one side, moving slowly up and down, before switching to the other side.