Melody Schoenfeld
flawlessfitness.com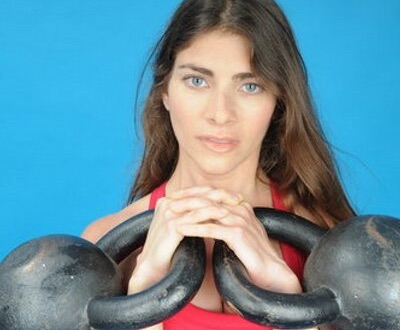 Melody Schoenfeld, is a Renaissance Fitness Woman! She is CSCS, CMT, RKC2, and SFG2 certified with over 20 years of training experience in many different disciplines. In addition to an excellent success record in creating fun, individualized training programs that help people to reach their weight loss, athletic performance, and muscle gain needs, Melody also is a CAMTC Certified Massage Therapist with significant training in various modalities, including Thai, Myofascial Release, Trigger Point Therapy, Swedish, Chair, and Deep Tissue massage.  Melody has four years of education in Chinese medicine and acupuncture.
She is an ex-amateur boxer, and has played on soccer and floor hockey teams. She has been dancing since the age of 3 (ballet, modern, jazz, ballroom, swing, Latin, and even a little Korean) and rollerblades.  Melody is a competitive powerlifter and even dabbled in Strongman competitions!
1. Remember part of your job as a trainer is to be your client's support system!
2. Make sure to test out your methods on yourself too!
3. Have fun playing around with new tools to learn new things and be innovative!
In this episode we talk with Melody Schoenfeld, owner of Flawless Fitness and Evil Munkey Enterprises. Melody is a true renaissance woman who tried numerous different jobs before sort of "stumbling" into fitness. On her way to owning her own studio, Melody worked at a big box gym and learned how to use a variety of tools, constantly seeking out more knowledge and certifications. 
Melody's story of trying to find her calling, building her strength and experimenting with competing in different sports and then working to build her clientele is one that most of us trainers can relate too! Melody reminds us that we got started in this industry because of our personal passion for fitness and that part of our job is to be that support for our own clients as well!
MELODY'S FAST FIVE FITNESS FACTS
Q: What's your favorite exercise?
Weighted Pull Ups OR Bending and Tearing Things
Q: What exercise do you hate…but love at the same time?
Dragon Flags
Q: What is the best book you've ever read?
Q: What is your favorite Pump Up Song?
Anything Metal, including Iron Maiden and Manowar
Q: If you could train with one person (alive or dead) who would it be? 
The Mighty Atom