The "secret" to results is consistency.
Obviously, yes, we have to have good habits in place that we are then consistent with, but I say that consistency is really the "secret" because too often we simply don't see results because we don't stick with something long enough.
And often we can't stick with something long-term because it really doesn't fit the lifestyle we want to live.
Sure, getting new results means making an uncomfortable change, BUT we want to make changes based on WHAT WE ARE CURRENTLY DOING!
That means that if you want to make changes to your diet you need to include:
Foods you enjoy.
Foods that your FAMILY enjoys.
Foods that satisfy your cravings and don't make you constantly feel deprived.
Meals that fit your busy lifestyle!
Too often when we go to make a change, our first focus is on CUTTING THINGS OUT.
Or following some arbitrary restrictive standards of what is "clean."
Yea yea yea…we all know fruits and vegetables and whole, natural foods are good for us.
BUT we also want things that really taste F%$% GOOD!
So our first focus should be on making small SWAPS over completely restricting foods.
I always tell clients if they want to increase their protein to start by adding just an ounce of meat to each serving in a recipe. Or SWAP quinoa for rice.
Or add in edamame to their stir fry for extra protein…
The key is just slowly adjusting things to meet our needs.
That's why I love these Buffalo Chicken Sweet Potatoes.
This meal satisfies my cravings for buffalo wings and fries and is a healthier SWAP.
Plus because you make part of it in the slow cooker, it's easy to prep AND you can make it ahead of time and even freeze to heat up when you need a quick meal!
Buffalo Chicken Sweet Potatoes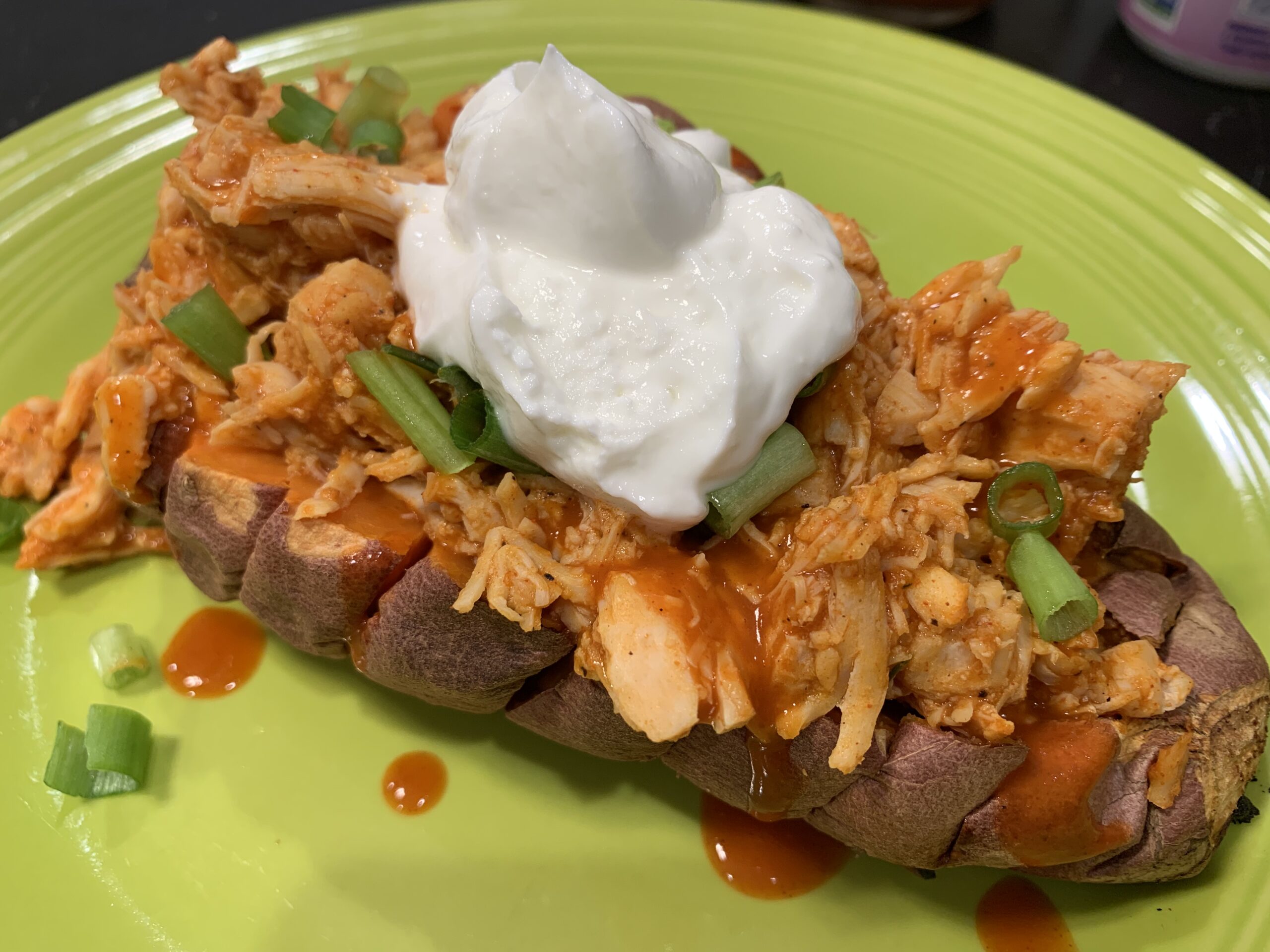 SERVINGS: 3
MACROS (per serving):
Calories: 340
Protein: 36 grams
Carbs: 39 grams
Fats: 4 grams
INGREDIENTS:
3 Large Sweet Potatoes
2/3 pound Chicken Breast (Boneless, Skinless)
3/4 cup Buffalo Wing Sauce
1 tbsp Cornstarch
INSTRUCTIONS:
Place the chicken in the bottom of the slow cooker. Pour the hot sauce over the chicken (I like Frank's).
Cover the slow cooker, then cook for 1 1/2 to 2 1/2 hours on high or 4 to 5 hours on low, until the chicken is cooked through.
Remove the chicken from crockpot and shred.About 30 minutes before the chicken is done, bake the sweet potatoes:
Preheat your oven to 400F. Prick the sweet potatoes all over with a fork, then place them on a foil-lined baking sheet.
Bake until the sweet potatoes are tender, about 45 minutes to 1 hour, depending upon the size of your sweet potato.
Turn off the oven and leave the sweet potatoes inside to keep them warm.
Once the chicken is shredded and while the sweet potatoes bake, mix the cornstarch and 1 tablespoon water together to create a slurry. Add it to the cooking liquid in the slow cooker, then whisk to combine.
Cover the slow cooker and cook on high for 30 minutes to allow the sauce to thicken, stirring once halfway through. Once thick, return the chicken to the slow cooker and toss to coat.
Divide the chicken evenly between the sweet potatoes.
****I often like to swap cornstarch for Potato starch, although you can also do Arrowroot or Tapioca Flour too. Use double the amount of each of those.
Ready to dial in your diet to get a lean, strong body with a plan that ACTUALLY fits your lifestyle?
Check out my Macro Hacks!