I firmly believe you want to eat as many whole, natural foods as possible. The cleaner your diet, not only the faster your results, but also the healthier you are going to be.
However, the diet that also works best is the one you can STICK to long-term. The one you can be consistent with.
The one that you can enjoy as you are getting results. 
That means finding a balance between being as clean as possible while still getting to indulge and enjoy foods that satisfy those cravings….All while hitting your macro ratios of course 🙂
That is why I think it is important that no food is ever off limits.
BUT that doesn't always mean you want to completely indulge. Sometimes you want a "healthier" alternative that will keep you on track and not set off other cravings.
That is when recipes like Protein Granola come in handy. This recipe makes it easier to stick to your macros while still satisfying cravings for granola and even sugary cereals.
If you're craving those sugary parfaits, this Protein Granola with greek yogurt and berries may be the healthier alternative you are looking for!
For me, recipes like this don't set off cravings for worse foods. There are some foods out there that are "gateway foods"…foods that set off further cravings and cause you to fall off.
Having a healthier alternative that satisfies my cravings BUT doesn't set off that desire for worse foods, is KEY for me staying on track.
That is why I love finding creative ways to stay on track that freaking TASTE GOOD!
Remember it is about consistency, not perfection. Sometimes adding in things that may be slightly off the "whole, natural foods" list is key to keeping you on track.
Yup…sometimes you have to give yourself some room to ENJOY!
So if you are looking to hit your macros and pack in some extra protein WHILE still indulging in some delicious granola, try this Protein Granola!
Protein Granola Parfait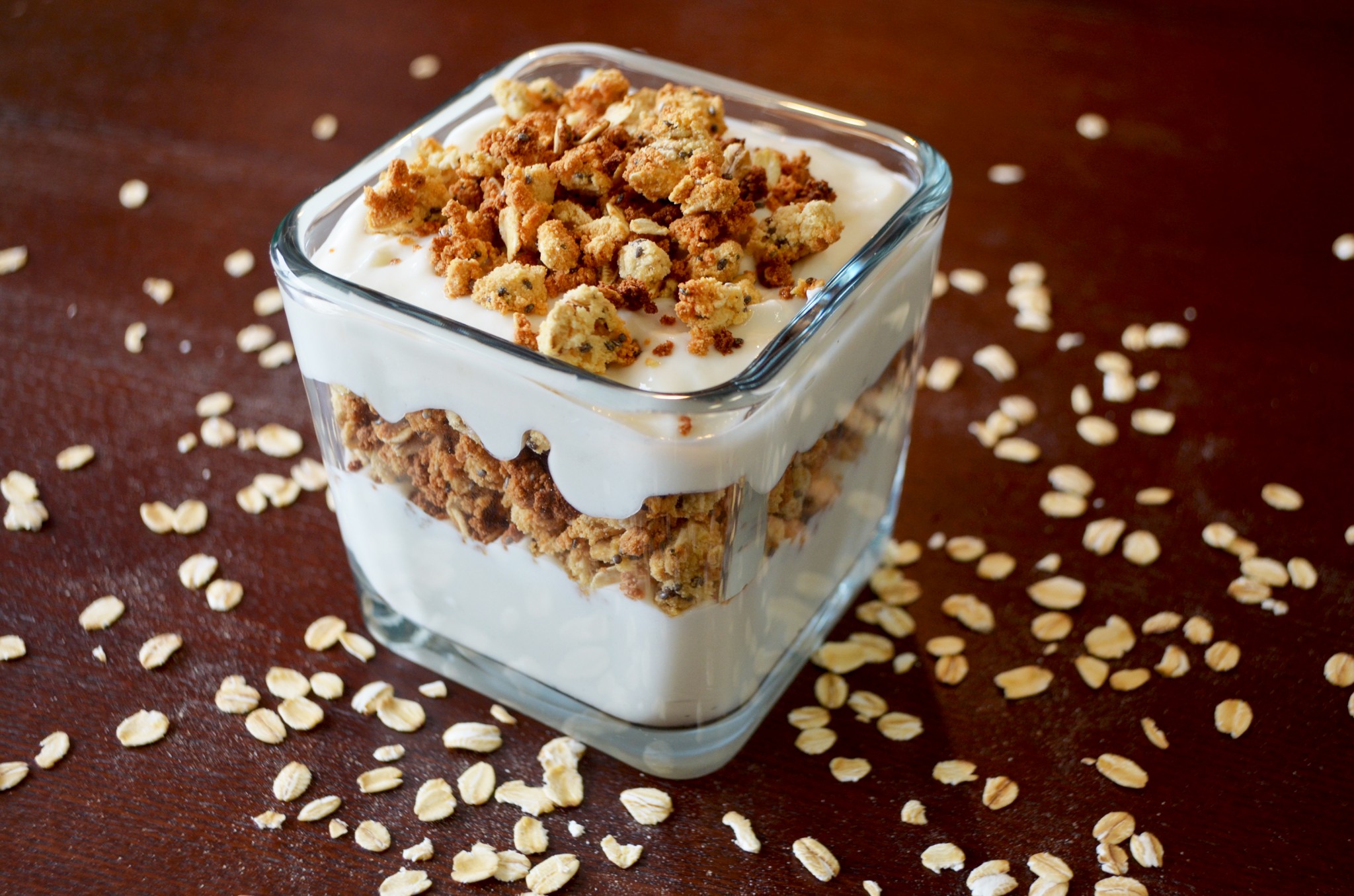 (photo courtesy of Ashley C.)
Servings 2
Ingredients:
2 tbsp Coconut Flour
1/4 cup TJ's Gluten Free Rolled Oats
1 scoop Vanilla Whey
1 tbsp Chia Seeds
3 tbsp Sugar Free Maple Syrup (you can use honey or real syrup or anything else!)
1/4 tsp Vanilla extract
1/8 tsp Baking Powder
Combine dry ingredients then mix in syrup and vanilla. Combine until crumbly.
Preheat oven to 350F and then put crumble mixture on foil on a baking tray. Spread it out and then place in the oven. Every 3-4 minutes you may want to mix it slightly. Cook until starting to brown. Then let cool before serving.
Combined with fat-free greek yogurt and even another scoop of whey and topped with half the granola for a delicious parfait!
Macros on the Protein Granola with the Protein Yogurt:
Calories: 365
Protein: 51 grams
Carbs: 27 grams
Fat: 5 grams
Are you ready to enjoy delicious foods while getting results?
Ready for something that will work when everything else has failed to help you get the body you really want?