Tacos are a great quick easy meal. You can easily prep the meat of the taco earlier in the week or even just throw some leftovers together in a corn tortilla.
Again, though, the key with any meal is to use ingredients that are minimally processed.
Here is a great Seared Tuna Taco Recipe with Peach Salsa and Avocado Cilantro Cream.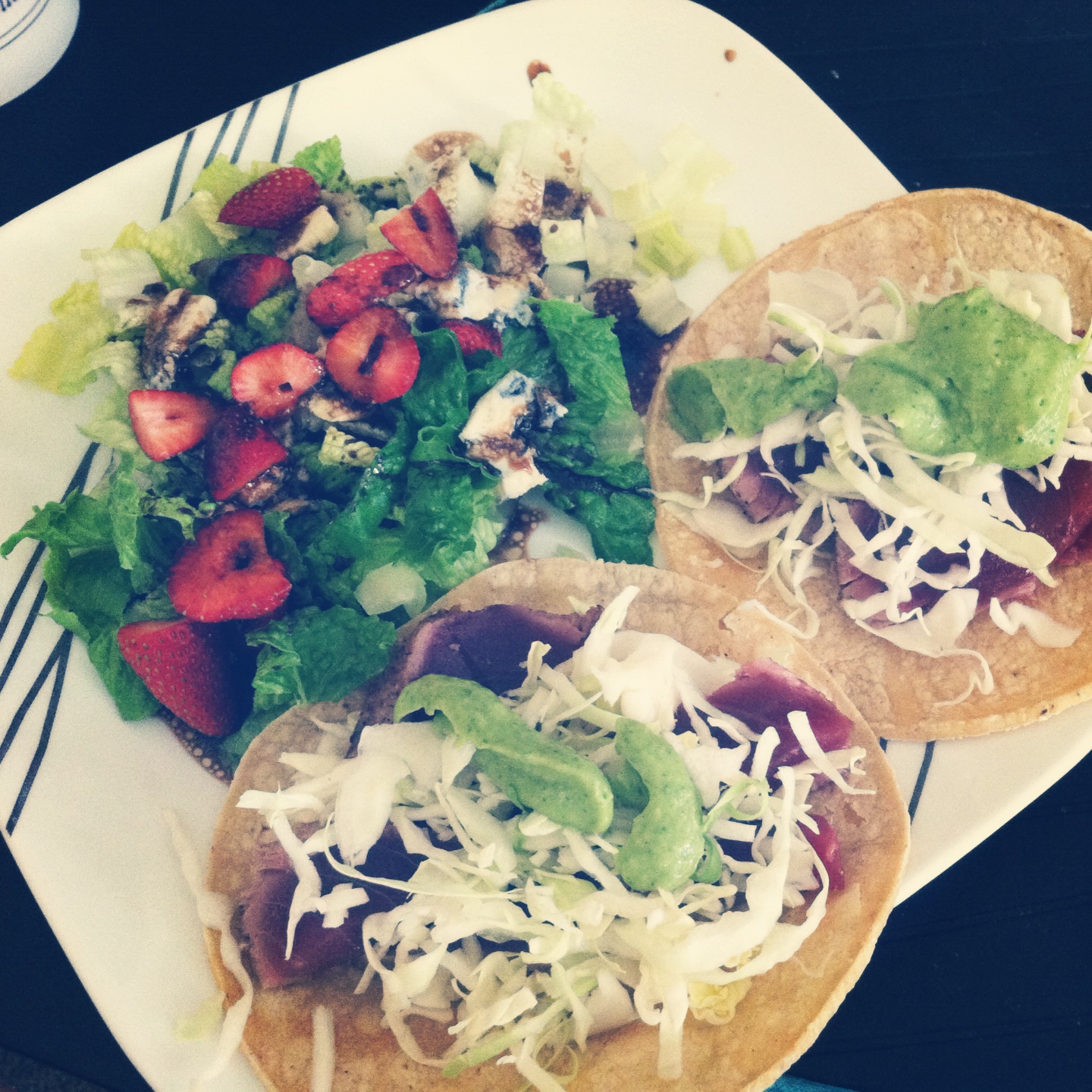 Ingredients:
TUNA TACOS:
3/4 lbs Raw Tuna (sashimi grade)
1/2 tbsp Cumin
1 tsp Chili Powder
Salt and Pepper to taste
4-5 corn tortillas
1/2 cup Green Cabbage, shredded
1/4 cup Trader Joe's Spicy, Smokey Peach Salsa
AVOCADO CILANTRO CREAM:
2 Avocados
2 tbsp Cream
2 tbsp Salsa Verde (TJs)
2 tsp Olive Oil
3 tbsp chopped Cilantro
Sprinkle the raw tuna with the seasonings. Heat a skillet on high and place the tuna in the hot skillet with just a little sesame oil. Sear on each side, about a minute. (You need sashimi grade tuna to do this. If you don't have that, please cook through.)
While tuna is being seared, place all of the avocado cilantro cream ingredients into a food processor. Blend until smooth and then set aside.
When tuna is about done, heat corn tortillas. You can do this in a skillet or microwave. Heat for a just a minute or two.
Then slice tuna thinly and add strips to the tortillas. Divide salsa between tacos and top them with cabbage and avocado cream.
Super simple and delicious tacos that went great with a little Romaine, Strawberry and Blue Cheese Balsamic Salad.