Whether your a vegetarian, or just not that huge a fan of chicken or meat in general, you can still get in your protein AND lots of vegetables.
Eggs, or even egg whites if you want something a little lower fat to hit your macros, are a great source of protein!
So if you're looking for a delicious protein-packed meal, try this Spinach And Sun-Dried Tomato Omelet Sandwich from my 6-Week Macro Cycling Shred!
Spinach And Sun-Dried Tomato Omelet Sandwich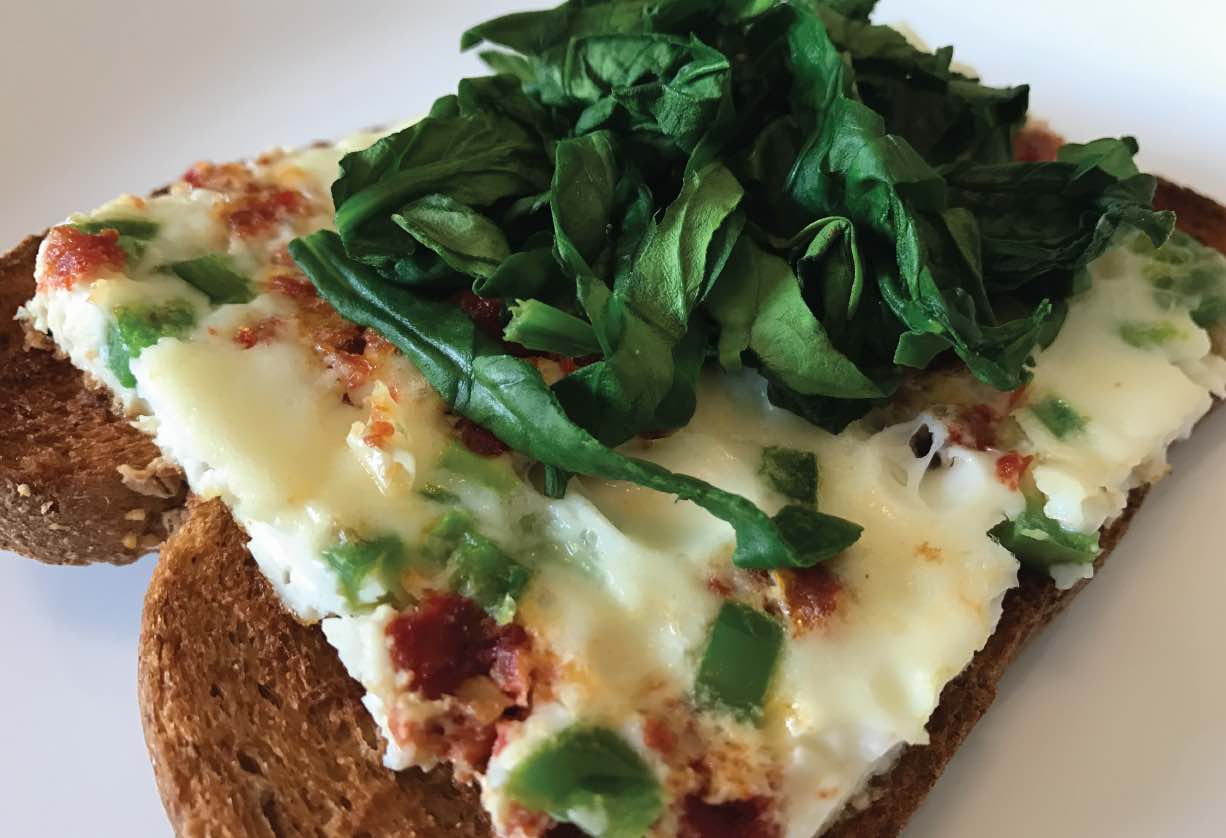 Servings 3
INGREDIENTS:
1 Jalapeno Pepper
3 slices of 100% Whole Wheat Bread*
1/4 tsp Black Pepper
1/4 tsp Salt
50 grams Sun-Dried Tomatoes
6 cups Organic Baby Spinach Leaves
2 1/4 cups 100% Liquid Egg Whites
DIRECTIONS:
Coat a medium (10″) non-stick pan with olive oil or coconut spray and heat over medium heat.
While the pan is heating up, cut the jalapeno in half, remove the seeds and chop very finely. Also chop your sun-dried tomatoes and place it all to the side.
Add the egg whites to the now hot pan and swirl it around a bit to spread the egg whites evenly over the entire surface of the pan. Sprinkle in the jalapeno, tomatoes, salt and pepper, covering the entire surface of the omelet.
Swirl a bit more then lower the heat and cover loosely while cooking for 3-4 minutes. You want the egg whites almost completely set and opaque.
While your omelet is cooking, chop up your spinach finely and even put the leaves in the microwave for about 25-30 seconds to wilt slightly. Now would also be a good time to toast your bread if you want it toasted.
When your omelet is fully cooked, remove it from the heat and add in the spinach, placing it in the center. Fold the omelet over the spinach to create a little "package."
You can then cut the omelet and spread evenly over the 3 pieces of toast to enjoy!
* If you are gluten-free you may select a gluten-free bread or even place over sweet potatoes. Just make sure to adjust your macros for any swaps!
MACRO BREAKDOWN (for ingredients listed):
Calories: 251
Protein: 28 grams
Carbs: 27 grams
Fat: 2 grams
Enjoy!
Want more delicious macro-friendly meals to help you increase your protein and get the lean, strong body you've always wanted? Learn more about Macro Cycling HERE!