I LOVE the flavor of Buffalo Chicken. I literally could make myself some sort of Buffalo Chicken something EVERY. SINGLE. DAY! (Heck, I actually have for the last month hehe!)
That is why it was love at first sight when one of my trainers shared this Buffalo Chicken Lettuce Wrap she made as part of her Macro Cycling Plan.
It has that awesome little kick that Frank's hot sauce has, but is still light and refreshing and perfect for Summer.
Try this macro-friendly Buffalo Chicken recipe. Delicious and full of protein! It actually even makes a great dish for a picnic or BBQ!
Buffalo Chicken Quinoa Lettuce Wraps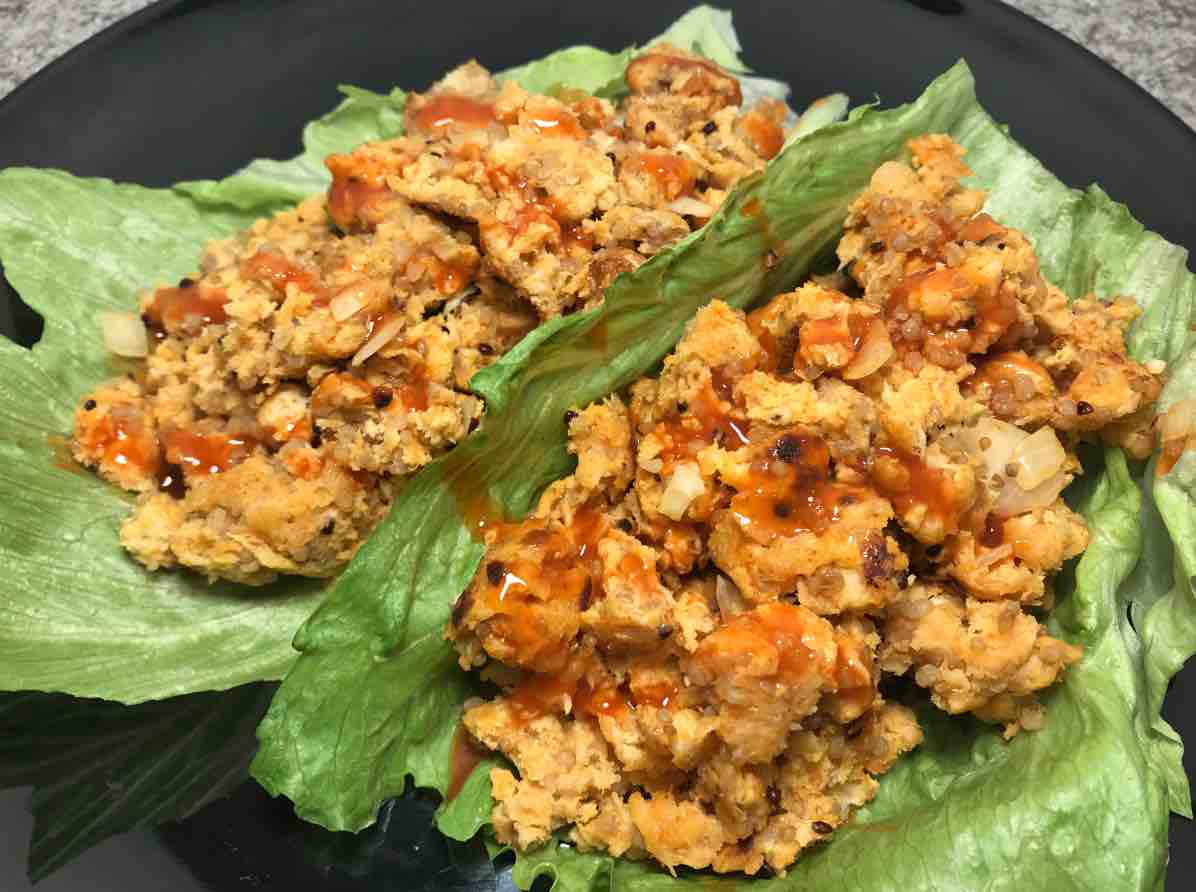 SERVINGS 3
***NOTE: This makes approximately 2 wraps per serving
INGREDIENTS:
6 leaves Romaine or Iceberg Lettuce
1/2 cup Diced Onion
1 pound Ground Chicken
1/4 cup Frank's Hot Sauce
1/2 cup Panko Breadcrumbs
1 cup Cooked Quinoa
1/4 cup Green Onions Chopped
DIRECTIONS:
Cook quinoa according to package and let cool.
Combine all ingredients (including quinoa, excluding green onions) in a bowl and mix well.
Heat a nonstick skillet over medium heat. You can form mixture into balls and make meat balls or cook as a meat crumble by just adding the mixture directly to the skillet.
Cook until meat is throughly cooked through.
Add mixture into lettuce pieces. Top evenly with green onions.
If you're storing for later on, divide the meat mixture evenly into containers and then only add to the lettuce when you are planning to eat.
**To make this gluten-free you could omit the breadcrumbs or sub in ground up gluten-free oats or even a rice cereal or almonds if preferred. Vegetarians may even sub in tofu or tempeh or even eggs for the chicken! Please note though any subs may change the macros!
MACRONUTRIENT BREAKDOWN:
Calories: 320
Protein: 40 grams
Carbs: 30 grams
Fat: 6 grams
Looking For Some New Macro-Friendly Summer Recipes To Try?
Check out my 13 Macro-Friendly Summer Recipes Guide! –> Learn More!