I believe eating well is a balance…and sometimes that balance even means having no balance aka what I consider "cheat days."
But for those days you don't fully feel like indulging but do have a hankering for some of those not so healthy treats, it can be fun to come up with macro-friendly alternatives.
These macro-friendly recipes help keep you on track while still satisfying your cravings so that you don't want to binge.
They are a great way to find balance with eating well so that you don't feel deprived and can still stay focused on your goals.
They help you create that oh so elusive LIFESTYLE so many people talk about.
And one of my favorite macro-friendly treats is this Pita Pepperoni Pizza!
No this isn't the cleanest meal you'll ever eat, but guess what?! Sometimes you NEED that!
So if you're craving some pizza but want to stay on track, and potentially trigger worse cravings, try this Macro-Friendly Pizza alternative!
The Pita Pepperoni Pizza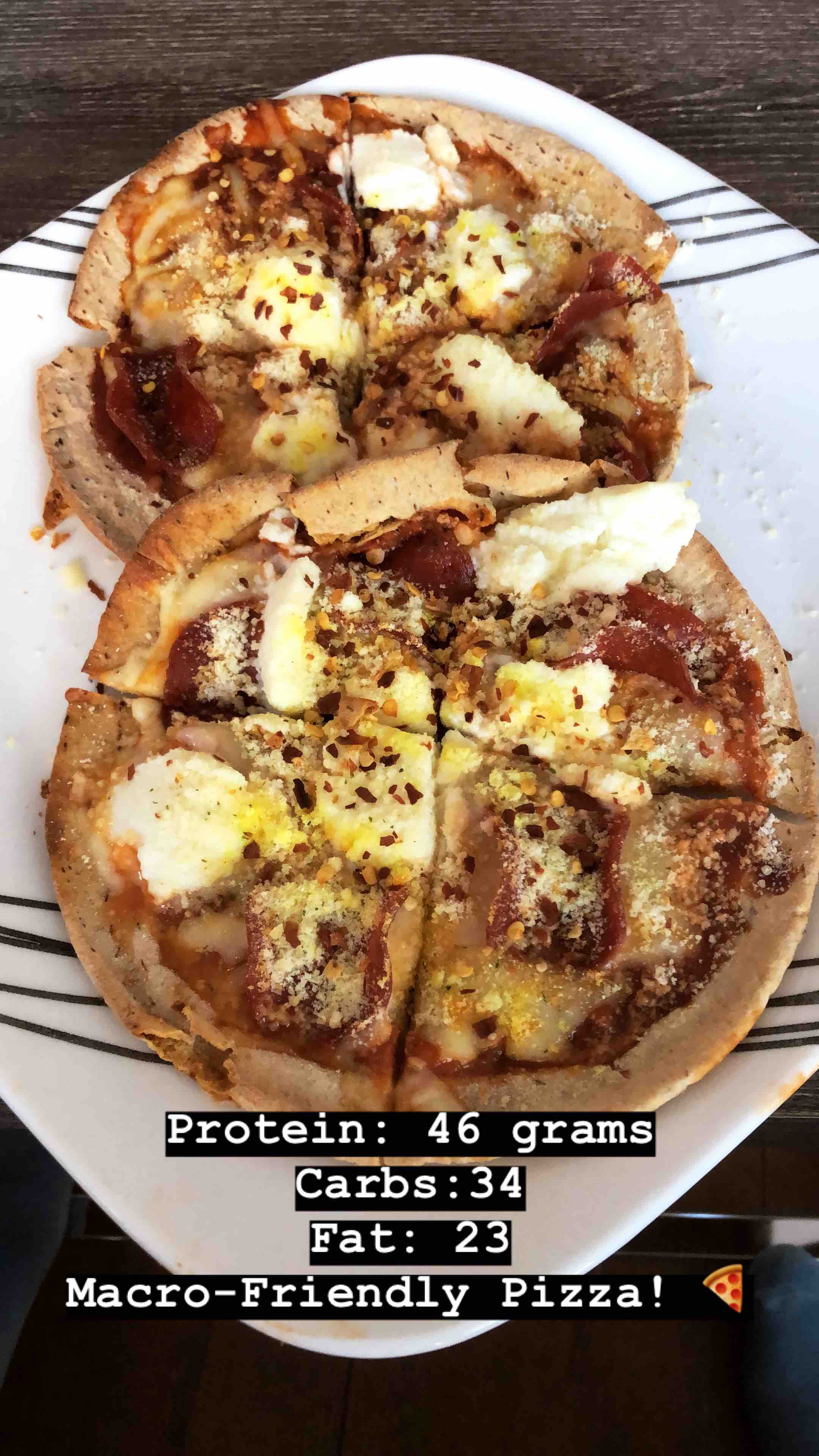 SERVINGS 1-2
INGREDIENTS:
2 pitas (Joseph's Flax Oat Bran & Whole Wheat Pita Bread)
16 slices Turkey Pepperoni (65% Less Fat)
1/2 cup Mozzarella Cheese Shredded
1/2 cup Italian Herb Organic Pasta Sauce
1/2 cup Ricotta Cheese, Low-Fat
1 tbsp Parmesan & Romano Grated Cheese
Sprinkling of Red Pepper Flakes
DIRECTIONS:
Preheat the oven to 350 and place the pita bread on the middle rack for 3-4 minutes just till it starts to get crispy but not brown.
Then remove from the oven and split the ingredients between the two pitas. I like to measure as I put the toppings on, especially if I'm not eating both at that meal.
Top first with tomato sauce. Then the pepperoni. Then sprinkle with the mozzarella before spooning on chunks of the ricotta. You can also spread the ricotta on if you don't want bigger chunks.
Place in the oven again on a baking sheet and cook till the edges of the pita start to brown and the cheese is melted.
Then remove from the oven and top with parmesan and red pepper. Enjoy!
You can of course place any other toppings on that you like. Others that are good include olives, onions, spinach, mushrooms…The options are endless! Just make sure to adjust the macros below based on the ingredients you use!
MACROS FOR BOTH PITA PIZZAS:
Calories: 475
Protein: 46 grams
Carbs: 34 grams
Fat: 23 grams
FOR A SINGLE PITA PIZZA….just in case you wanted to be lazy and not do the math ;-):
Calories: 237.5
Protein: 23 grams
Carbs: 17 grams
Fat: 11.5 grams
Ready to strike a balance between indulging in the foods you love and eating clean and according to your goals?
Sick of trying to find a "lifestyle" when most diets force you to cut out the foods you love?
It's time you learned a bit more about Macro Cycling. CLICK HERE!