I have mixed feelings about eating "healthier" alternatives to the treats we love and sometimes crave.
I think it is important we know when we need those macro-friendly versions to keep us on track and even when it is simply better to indulge in the real thing.
And I will personally do both, depending on the situation and even the specific craving.
Because we can find a balance between indulging and staying on track toward our goals. What that balance is though, will be unique for each of us!
Like I LOVE dessert.
Do I need a sweet treat at the end of the night?
No.
But do I want one?
HECK YES!
And especially as the weather warms up, my cravings for ice cream increase.
But I know if I get a pint of…well…anything…that whole pint will be gone.
And then I'll feel crappy and won't sleep well from the sugar and have a crappy workout the next day.
Now, sometimes, despite the fact I know this will happen, I still indulge and enjoy. (Balance, right!?)
BUT often I find I just feel better, and stay on track toward my goals, when I swap in a satisfying, but more macro-friendly alternative!
That's why I love this Chocolate Greek Yogurt Ice Cream from my 4-Week Macro Accelerator!
I can make the one serving, satisfy my sweet tooth and even pack in 20 grams of protein!
So if you're an ice cream fiend too, try this delicious recipe!
Chocolate Greek Yogurt Ice Cream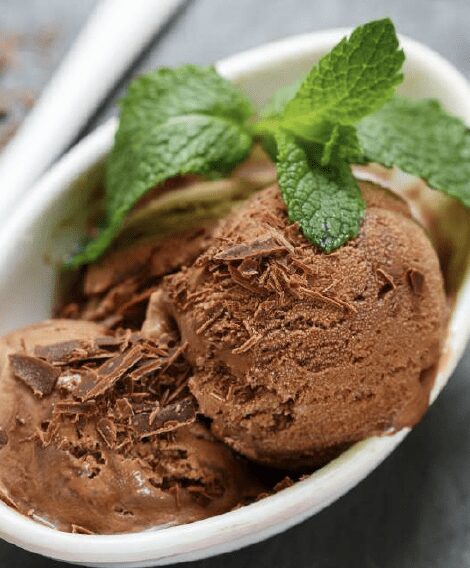 INGREDIENTS:
2 1/2 oz Fat-Free Plain Greek Yogurt
1/2 scoop Vanilla (or chocolate) Whey Protein
1 tsp Hershey's Special Dark Cocoa Powder
1/2 cup Unsweetened Vanilla Almond Milk
1 tsp Vanilla Extract
2 tbsp Stevia or sweetener of choice
Blend yogurt, protein powder, cocoa, stevia and almond milk thoroughly.
Place in freezer.
Take out the ice cream after an hour and turn it over gently with a spoon to avoid it becoming one big ice block. Do it again every 30 minutes until it has the right consistency (it should take about 2 hours total).
You can either eat it right away (after the 2 hours) or keep it in the freezer for up to a week. If you leave it in the freezer, take it out 5-10 min before you serve it to let it soften up a bit.
MACRO BREAKDOWN:
Calories: 130
Protein: 20 grams
Carbs: 6 grams
Fat: 2 grams
ENJOY!