It isn't always about making an exercise harder to get results. Sometimes it is about doing the same, but different.
What that means is that you are doing the same basic movement but with different positioning, for instance doing something seated vs. standing.
This change in positioning is a great way to challenge our body especially with moves that aren't necessarily meant to be done with heavy loads.
It is also great to improve our mind-body connection to muscles that we may struggle to activate, and muscles with fibers that are actually worked by slightly different movements or when our body is in slightly different positions.
All of this especially applies to exercises for our GLUTE MEDIUS!
Strengthening this muscle can not only prevent and alleviate low back, hip, knee and even ankle pain by improving our stability, but it can also help our glute maximus function better.
This means we can only only build sexy glutes when we work this muscle but also prevent injury and run faster and lift more!
So if you want to strengthen your glute medius, and even the upper fibers of your glute maximus, try these 6 Abduction Exercises to work your glutes from every angle!
6 Abduction Exercises
These 6 moves will work your glutes when you're lying down, seated, standing, planking and even quadruped!
Include a variety of these as part of your warm up before your runs or lifts, as part of your lifting workout on your glute or leg days or even as a burnout after to really target those glutes for faster results!
Lying Jacks:
If you want to work on your hip extension and abduction aka really work your glute medius and your glute maximus at the same time, you want to use the Lying Jacks!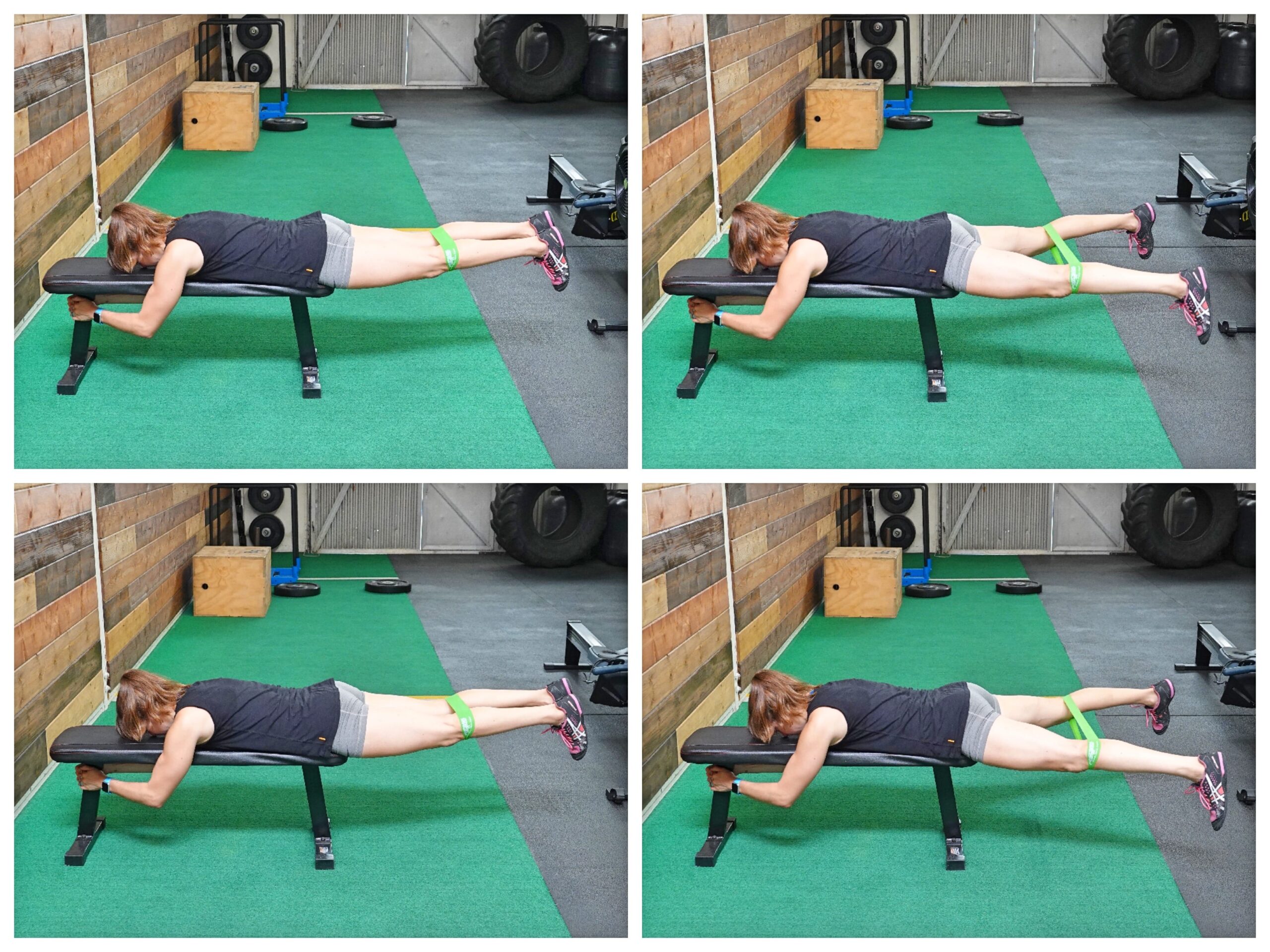 To do Lying Jacks, place a mini band right below your knees and lie face down on a bench with your hips right on the edge of the bench. To make the move easier, place the mini band above your knees. To make it harder, move it down toward your ankles.
Then engage your glutes to lift your legs up to about parallel to the ground with your legs together. Press your hips down into the bench and make sure that you don't hyperextend your lower back. Better to have your hips slightly flexed and legs below parallel then to arch your back just to keep your legs up higher.
Holding this position, press your legs open against the band and feel the outside of your glutes working. Then in a controlled fashion, bring your legs back together. You can change the range of motion, bringing them all the way back together or pulsing at the end range of motion for even more of a pump.
If you feel your hips trying to engage you can rotate your toes slightly in or even try squeezing your butt to raise your legs up a bit as you press open.
3-Way Seated Mini Band Abductions:
Work your glutes from three different angles to really create a pump and burn so you can strengthen the entire muscle and really establish that mind-body connection with the 3-Way Seated Mini Band Abductions!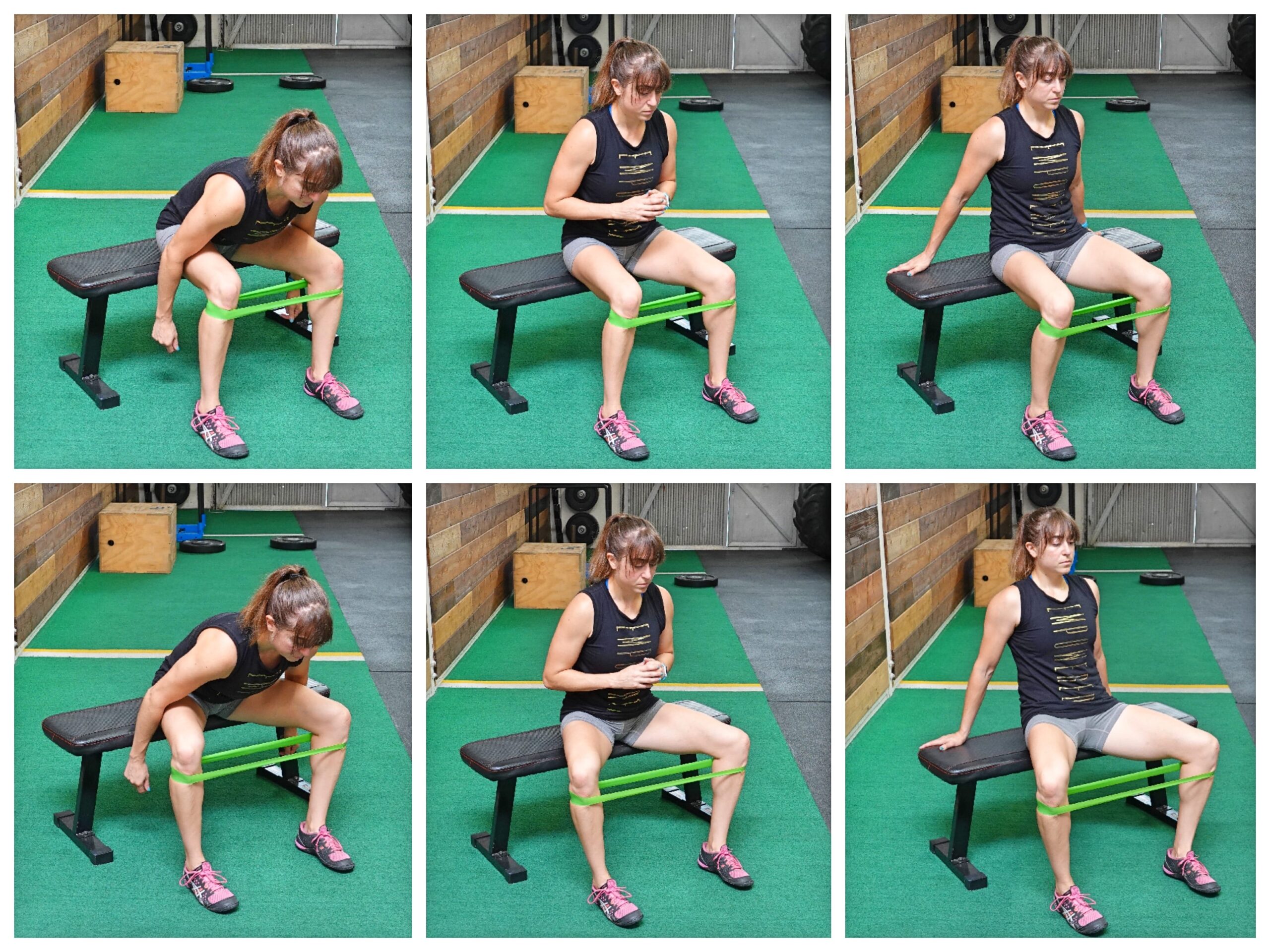 To do 3-Way Seated Mini Band Abductions, place the mini band right below your knees and sit on a bench. Start by sitting toward the front of the bench so you can lean back and put your hands on the bench behind you. Place your feet about hip-width apart.
Then press your knees open against the band as you lean back. Your feet may rock open but focus on using your glutes to press the band open with your knees. Do not let your knees cave in as you come back to the starting position. Complete all reps then move to sit up nice and tall.
Sitting nice and tall repeat, pressing out with your knees so you feel your glutes working. After completing all reps, lean forward and repeat the movement. You can hold on the bench outside your legs to lean forward or just lean over even lightly resting your arms on your legs.
Complete all reps in each of the 3 positions. Make sure you're really focused on pressing your knees out to feel your glutes while controlling the band back in. To reduce tension, you can start with a lighter band or put your feet slightly closer together, but make sure there is tension on the band even in that starting position.
Fire Hydrants:
This may be a very basic abduction move that we see all over the place, but that is because it is a MUST-DO move! The fire hydrant strengthens your glutes but also your abs!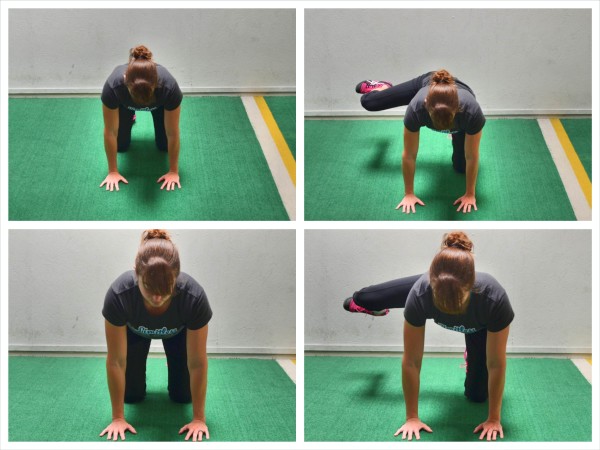 To do Bent-Knee Fire Hydrants, start on your hands and knees with your hands under your shoulders and your knees under your hips. Flex your feet. Keeping your arms straight and your feet flexed, raise your right leg out to the side with the knee bent to 90 degrees.
As you raise your leg out to the side, you want to keep your ankle in line with your knee and not let your foot get above your knee or your knee go up above your foot. You want to try to raise your lower leg parallel to the ground when you lift your leg out to the side.
You should feel the outside of your hip and glute working to lift the leg to the side. Don't simply lean away to get your leg up higher. Keep your core tight and lift from the hip using your glute. Hold at the top then lower back down.
Make sure to hold for 1-2 seconds. Do not rush through the lift or simply swing the leg up. Make sure you do not bend your arms to get your leg up higher. Squeeze your butt and make sure you feel it activate.
Range of motion isn't important as long as you feel your glute working. You may even feel this in the leg you are kneeling on because your glute is working to stabilize. Complete all reps on one side before switching.
You could also do a straight-leg variation to increase the challenge!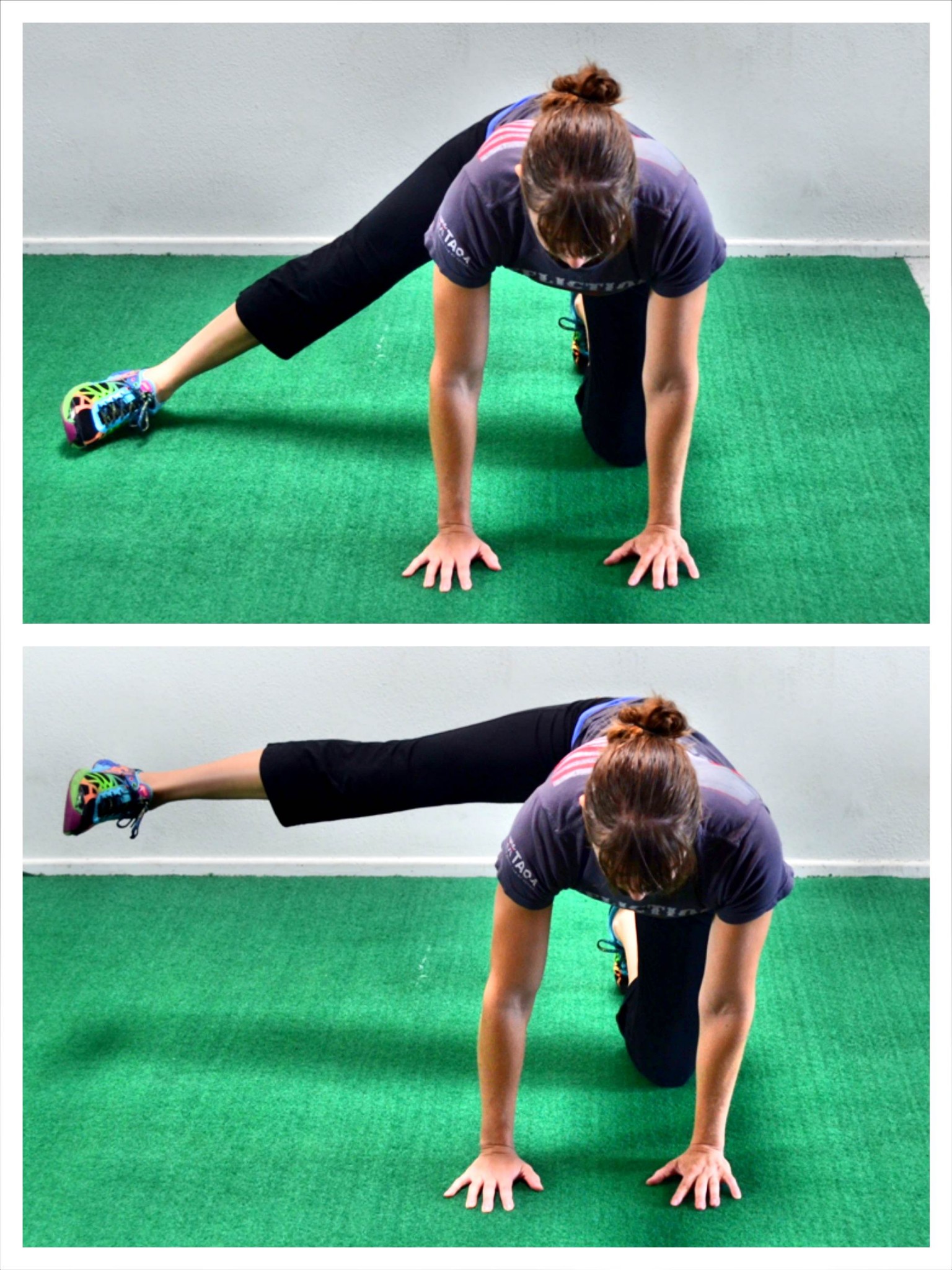 Mini Band Alternating Side Steps:
Get your blood pumping a bit and work your glute medius with this Alternating Side Step move! This is a great move to do especially if you plan to do any balancing or hinging movements during your workout!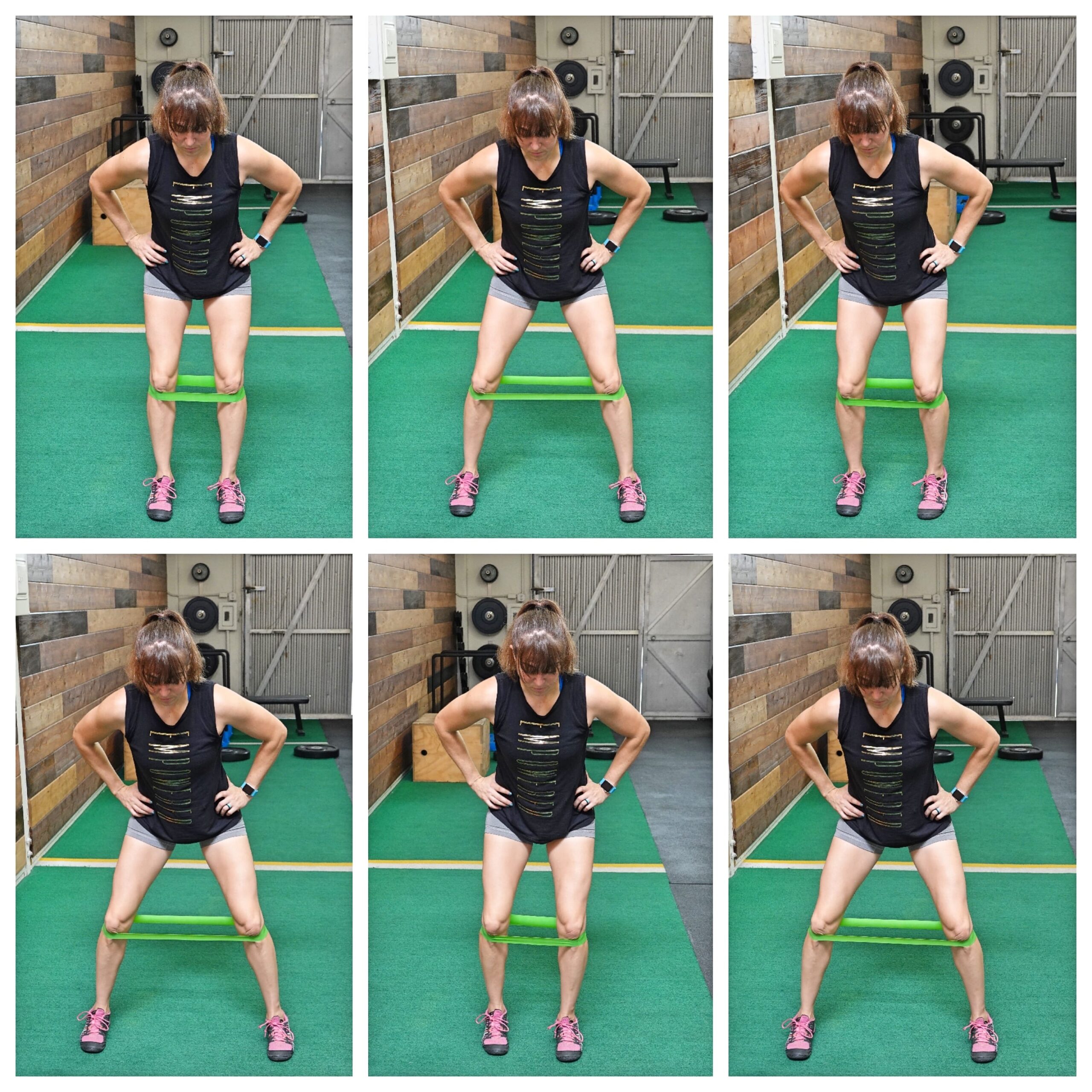 To do Mini Band Alternating Side Steps, place a mini band right below your knees. To advance the exercise, place the mini band toward your ankles or to modify place the mini band above your knees.
Stand with your feet a few inches apart so there is just a little bit of tension on the band. Push your butt back slightly and soften your knees so you are in a slightly hinged position. Then step one foot out to the side. Step the other foot toward it without fully stepping together and losing tension on the band.
Then step that foot back out and bring the other back to the starting position. Keep alternating steps back and forth, staying in that slightly hinged position as you go. Do not step so wide your knees cave in. Make sure you can really press out against the band.
Mini Band Side Plank Leg Raises:
Work your obliques and your glutes with this move that is perfect if you want to improve your core stability! Beginners can even get great results by doing this without a band to start!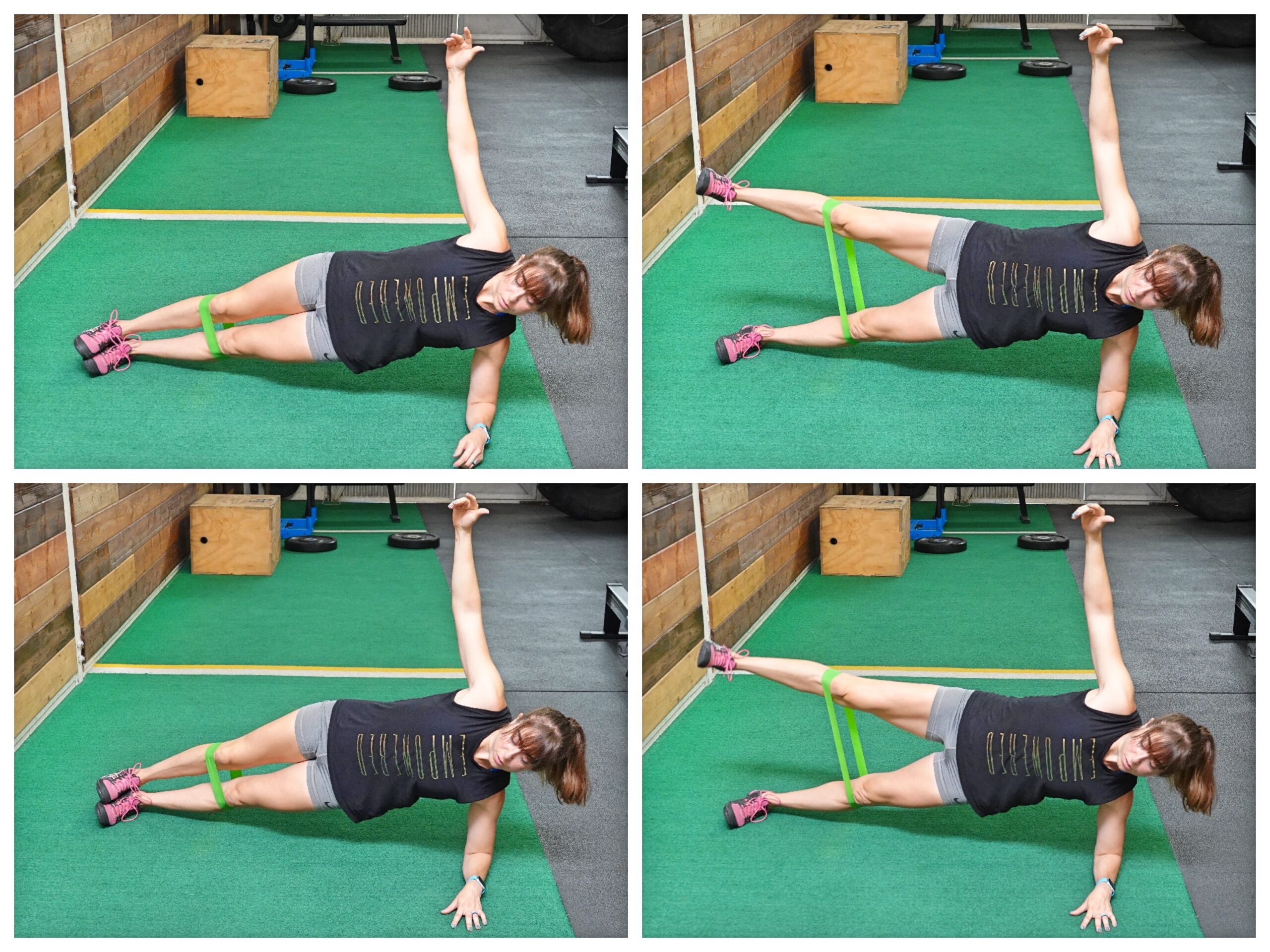 To do Mini Band Side Plank Leg Raises, place the mini band right below your knees, or to modify, right above your knees. Set up in a side plank from your forearm with your elbow under your shoulder and your feet stacked. You can drop your bottom knee to the ground if you need to modify. Lift up into the side plank and flex your feet.
Then, keeping your bottom hip up, hold in that side plank position as you lift and lower the top leg. Control the lift and lower so that the band isn't controlling you and making you lower quickly. Don't dip your hip just to kick up higher or really rotate your top toe open. Hold as you feel your glutes working to lift and lower that top leg.
Beginners can also modify by placing their elbow up on an incline or even by removing the mini band altogether!
Side Balance With Forward/Backward Taps:
This move helps build hip stability and core strength. It can also be good to help you slowly improve your hip mobility. And not only will you feel the glute on top working to lift the leg, but you'll also feel your glute working on your balancing leg to help stabilize!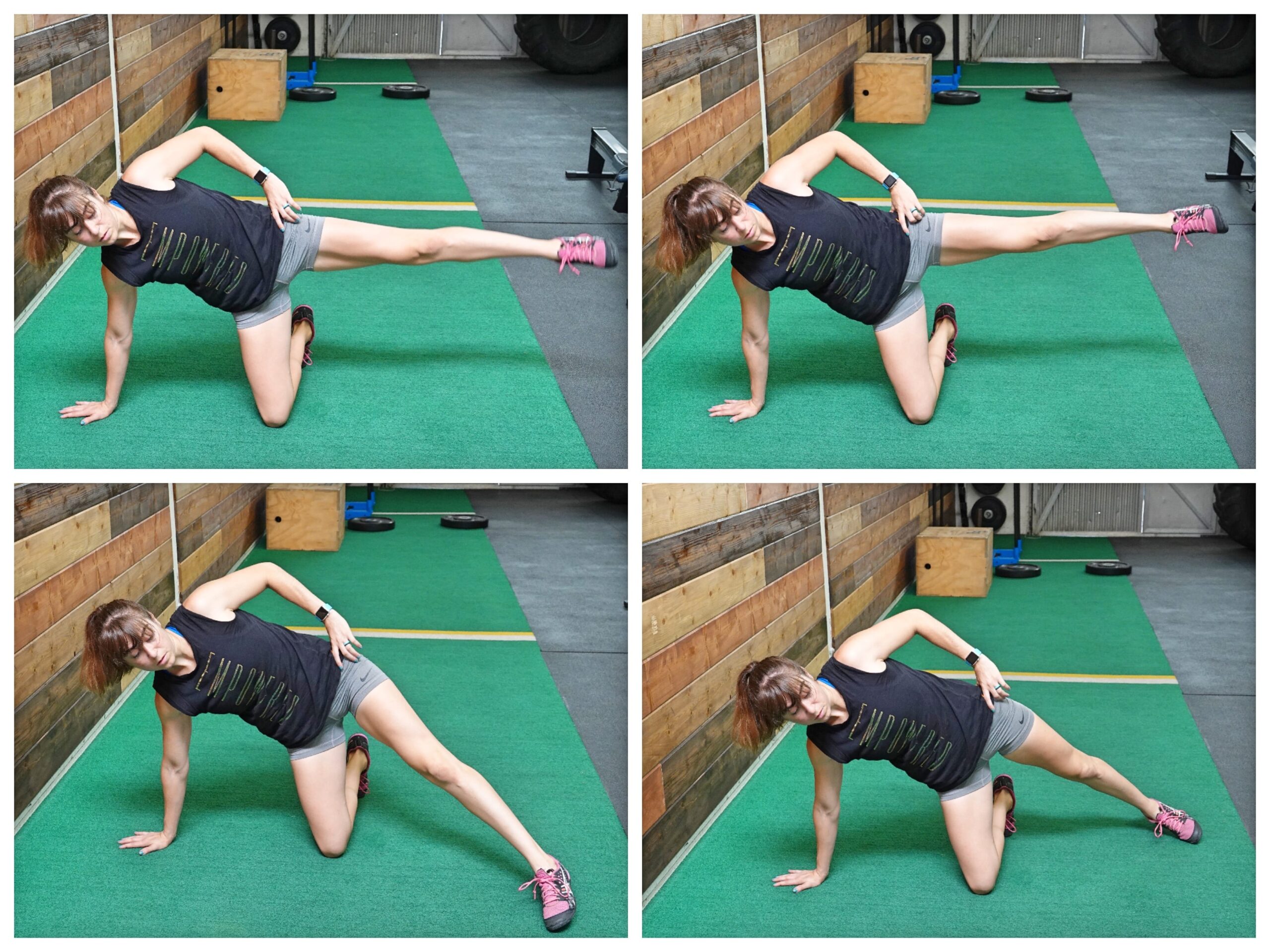 To do the Side Balance Forward/Backward Taps, set up in the Side Balance position with one knee down and your hand out to the side next to it. You are setting up almost as if you are doing a side plank with the knee in closer. Straighten your other leg out to the side so you aren't rotated toward the ground.
Keeping your top hand up, lift your straight leg up to parallel to the ground and then kick it slightly back behind you before lowering it down. Touch the ground behind you.
Then lift your leg back up and kick it back forward, tapping your toe down in front of you. You want to almost create a triangle or arch, lifting up center to tap down behind and in front of yourself. Complete all reps on one side before switching.
Really pause at the top and feel the outside of your hip and glute working to lift. Complete a full range of motion, moving slowly. Try to keep your body from really wiggling around as you lift forward and backward.
Ready to work your glutes from every angle to prevent injury and build strong, sexy glutes that help you run faster and lift more?
Learn more about my Glute Camp!